Best Accounting Software for Amazon Sellers
Before pursuing an account and a shop on Amazon, however, there are different preparations that need to be done to ensure that a business can succeed against all odds. One of these aspects is to find the best accounting software for Amazon sellers. Accounting software will help sellers plot out how they need to manage their business earnings and expenses. It's also a way for them to track their business's growth.
Every business owner needs to have a reliable set of programs to ensure that every part of their company is kept in check. Programs and applications that can manage tasks, finances, and product lists are important, especially if a business's items are sold online.
You might also like: Best Accounting Software for EBay Sellers
Best Accounting Software for Amazon Sellers
One of the most profitable means of selling products online is through the famous Amazon.com. Not only can aspiring entrepreneurs profit off of the most popular retail platform online, but they can also call the shots with how they want their business to be like. 
It can be difficult to find the right kind of accounting software. Some have a lot of complicated and unneeded features. Some are locked behind unreasonable paywalls, despite their lacking features. In this list, we'll be listing the best accounting software for Amazon sellers. Hopefully, our picks can help aspiring business entrepreneurs create good decisions and strategies for their brand's growth.
Quickbooks is well known within the business community. It remains one of, if not the best platforms, for small business owners or entrepreneurs who are new to handling a business. It features all of the essential tools that you will need to run your business. 
The first feature we'll talk about is their ability to create customized payment receipts. This is one of the most important things for sellers because other accounting software can limit the number of details you need to disclose and keep track of whenever you make any kind of sales. With Quickbooks, this will no longer be an issue. You can customize different elements of your receipt, such as by adding a logo, editing the color scheme, and adding information that you deem fit.
Another handy feature of Quickbooks is its automated payment reminder system. This allows you to schedule whenever you want to remind customers when their payments need to be given. This ensures that your cash flow remains intact, while also taking the hassle out of finding individual customers to remind them.
There are a number of other features that are greatly valuable, such as automatic bank feeds, which smartly manages and records all your transactions, and creating customer groups to ease your way of handling your business. 
There are three different pricing plans for Quickbooks. The first package called the Simple Start plan offers all of the basic features of Quickbooks for $8.50/month. The second and third packages are considered premium plans priced at $13/month and $18/month, respectively.
Xero is another accounting software that can be used by anyone because of how simple yet effective it is. It has features to accommodate all kinds of activity that you'll have to deal with in your business. In managing and paying business expenses, Xero helps you by tracking bills, needed reimbursements, and all spending activity by you and your employees.
In Xero, you can link all of your bank accounts to set up bank feeds. This feature allows you to track all transactions between these different accounts. When it comes to selling your products and services, the platform allows you to create and send invoices to customers, and record all of the files related to your payment plans. 
There are many other features that help you with other business responsibilities, such as keeping track of inventory, purchasing items and orders online, and the like. All of these tools are housed under Xero, making it one of the most optimal accounting platforms for both beginner and expert Amazon sellers.
Xero's starter plan is priced at $25/month, while its standard and premium plans are priced at $40/month and $54/month, respectively. If you're unsure with what plan works for you, you can try out Xero for 30 days for free. 
You might also like: How do you Compute Net Income for a Merchandiser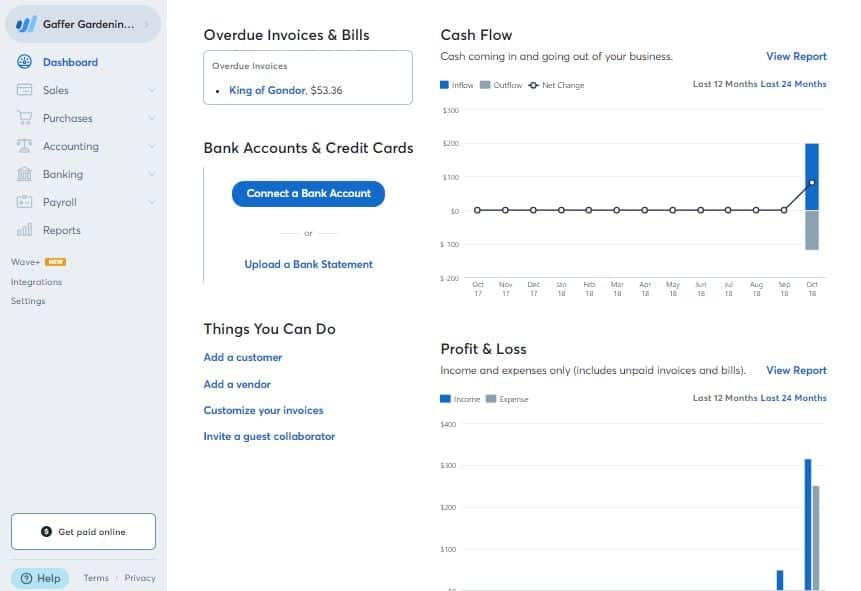 For small business owners, Wave is their best friend for helping out with accounting matters. Wave is a beginner-friendly and easy-to-use platform, known for making it simple and hassle-free to create materials such as invoices for your business.
Their invoice templates and features allow you to control how you want your invoices to look. Wave also sends reminders to customers with overdue payments, and all invoicing and payment activity will sync to the platform. 
Besides this, Wave is also popular for providing tools to help you monitor the state of your business. You can check different reports such as your profits and losses. It also easily organizes all of your income, losses, and incoming payments. 
Unlike other accounting software, Wave also supports a simple and straightforward payroll software. This makes it easy for business owners to pay their employers on time, with little to no error. There are other unique features that can be accessed on Wave, such as bookkeeping support and accounting coaching.
The best part about Wave is that most of their features are completely free. You can use their invoicing, accounting, and banking software completely for free. If you want to use their payments, payroll, and advisors features, however, you will have to pay a certain fee according to the type of feature you want. 
The final platform on our list of the best accounting software for Amazon sellers is Freshbooks. Freshbooks allows you to use features that will make your business look and function professional without the complicated processes. You can customize invoices that will include different payment options, and you can also schedule automated late payment reminders.
There are also other tools and features that can help you handle bookkeeping, accounting, expenses, and payroll. There is also an option to discuss your business activity with experts to help you continue your growth. 
Freshbooks is the cheapest alternative for an accounting software. Their cheapest plan starts at $6/month, with the premium version costing $22/month. There is also an option for custom billing, which allows you to pay for more features to accommodate the unique needs of your business. 
You might also like: Top 12 eCommerce Software with Inventory Management in 2023