Best Drawing Software with Wacom
Best Drawing Software with Wacom
Wacom products are one of the most affordable and accessible to beginner and experienced artists. Wacom creates products such as drawing tablets and compatible styluses that are used together to create professional art easily. They specialize in creating the physical tools artists need to translate their skills into a digital space. This means that to maximize the features of Wacom products, users need to find the best drawing software that will do the job.
There are a lot of different software that Wacom products work well with. In hindsight, most programs that run on computer systems can accommodate Wacom hardware. However, not all of these software will be able to handle its different features in the long run, most possibly because of the programs' underdeveloped features. This is why artists need to choose the right platform that has a balance between extensive features.
In this guide, we will share the five best drawing software to use with Wacom products. These best software for a Wacom will be a combination of premium platforms that require payments for access and free platforms that can be accessed without any payment.
You might also like: 15 Best Anime Drawing Softwares
Best Drawing Software with Wacom
Despite being a free program, Krita is one of the best software you can use with your Wacom products, such as your drawing tablet and stylus. Krita makes art fresh and fun because of its high-quality features that aren't locked behind a paywall. You can choose to paint or draw with all kinds of brushes, and these tools can be further customized to fit your needed specifications. 
In creating your artwork, Krita has different tools to help you manage your layers. This makes it easy to organize all of the elements on your canvas. There are even drawing assistants and training resources if you need assistance utilizing Krita as a platform. Overall, Krita is the best free drawing software for your Wacom products.
Krita can be downloaded on iOS and Android, making it compatible with Wacom tablets and available on desktops.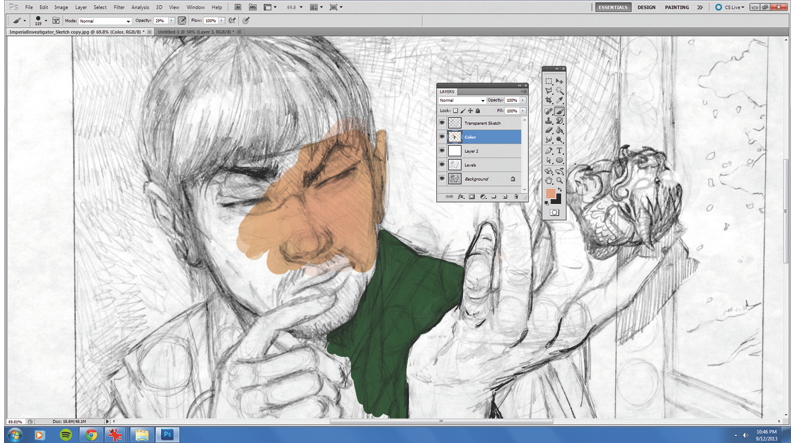 For premium software widely used by amateur and professional artists who want to make art using extensive tools and features. Photoshop is also one of the most popular drawing software professionals use because it accommodates other kinds of art compatible with its features. This includes photo retouching or manipulation and 3D graphics. This makes it a more flexible option for artists who want to be more experimental with their mediums.
Photoshop has a number of features, including basic tools like essential brush sets, a complete color palette and picker, and more. There are also other Photoshop-unique tools to help you create your art with much more ease and precision.
Photoshop is available on desktops, for macOS and Windows systems, and on tablets that run iOS and Android systems. To use it, subscribe to an Adobe Creative Suite Cloud Plan that suits your needs. You can purchase a plan that only gives you access to Photoshop or another one that includes other Adobe CC applications.
If you're a long-time artist, chances are you've heard of ibisPaint. If you aren't already a fan of its features, you're about to be, especially with its compatibility with Wacom products. ibisPaint is a very easy-to-use software that still gives you the freedom to choose and experiment with abundant features. There are over 15,000 brushes to choose from and 5,300 kinds of materials you can add to your art. 
ibisPaint is also an advanced drawing software for those who want to work on manga and story art because of its frame divider tool and text bubble tools. There is also a ruler tool to help you practice and perfect your line work, making ibisPaint one of the most flexible and helpful software for artists who want to excel in hand-drawn, digital art. 
ibisPaint is a premium platform. Before you buy a premium subscription, it provides a free trial to give you a feel for its features.
You might also like: Best Software for Vector Graphics
Corel Painter is one of the best software for a Wacom drawing tablet. It even promotes bundles where you can purchase the software with Wacom products. Corel Painter is a professional software and is the latest and updated version of the comprehensive drawing software.
The app also features high-quality features and tools, including various brushes like fluid ones, watercolor, and even particle-like brushes. These can be further customized using other tools to manipulate their appearance. You can also create your brushes, patterns, and palettes, giving you control over what you want to include in your art. 
Corel Painter 2023 is compatible with your choice of drawing tablet, including Wacom products. It also has support for .psd files, making it compatible with Photoshop. Finally, you can access Corel Painter on your PC, whether it's Mac or Windows. This is premium software. And you can choose between purchasing it in full for lifetime use or purchasing a subscription instead. 
The final software on our list is Paint Tool Sai. It is one of the oldest and most reliable drawing software available today. Paint Tool Sai is a lightweight program that allows users access to almost everything they need to create quality art without the confusion that overly complicated features can bring. Paint Tool Sai's price is also reasonable. It is a much more affordable alternative than newly developed drawing software that can be used on any computer today. 
It has all the essential selection and text tools with new painting and color-picking features. You can also manage different layers in your document to ensure that elements are separated. You can download Paint Tool Sai on Windows desktop devices. 
Also see: Best Software To Use with Graphic Tablet
What features to look for in a drawing tablet?
When choosing a drawing tablet, there are several features to consider. The software options are crucial, as some tablets come with completely free programs, while others require additional purchases.
Wacom works well with many software packages, making it a popular choice. Pro software partners like Affinity Designer and Sketchbook Pro offer advanced tools for professionals. Additionally, having an app that allows for easy integration between the tablet and other devices is also important.
FAQ – Frequently Asked Questions
1. What is a Wacom tablet?
A Wacom tablet is a device that digital artists and designers commonly use to create artwork directly on a computer. The graphic tablet allows users to utilize a stylus or a digital pen for precise drawing and painting.
2. Which drawing software works best with Wacom tablets?
The best drawing software for Wacom tablets depends on personal preferences and requirements. However, popular options include Adobe Illustrator, Photoshop, Krita, Sketchbook, Clip Studio Paint, Corel Painter, and Autodesk Sketchbook. Many of these programs offer various features and tools for digital artists.
3. Can I use a Wacom tablet with other graphic design software?
Yes, Wacom tablets are compatible with various software programs used for graphic design. Some popular options include Adobe Photoshop, Illustrator, Corel Painter, Autodesk, Affinity, and Inkscape. The tablets are designed to work seamlessly with these software programs. Yes, you can use a Wacom tablet with other graphic design software. Wacom tablets are known for being one of the best drawing tablets in the industry.
While you will need a Wacom driver to connect the tablet to your computer, you cannot use only the Wacom drawing software. You can use the tablet for drawing or painting in various graphic design applications such as Adobe Photoshop or Illustrator, as well as other vector software. The tablet works seamlessly with the Wacom pen tablet, allowing for precise and natural drawing. Some Wacom tablets also come with software included to enhance your drawing experience. If you want to buy a  Wacom tablet, you can use it with various graphic design software.
4. Are Wacom tablets suitable for digital painting?
Yes, Wacom tablets are widely used by digital artists for digital painting. They offer pressure sensitivity and precise control, allowing artists to create detailed and realistic artwork. Popular digital painting software programs like Clip Studio Paint, Artrage, and Artweaver Free are often used in conjunction with Wacom tablets. Wacom tablets are highly suitable for digital painting, especially in programs like Photoshop.
When it comes to photo editing and creating digital art, it is essential to use the best tools available. Wacom tablets offer several features that allow artists to immerse themselves in digital creativity. While there are free options like Paintshop Pro, many programs do not have the drawing formats and level of precision that Wacom tablets offer. Invest in a Wacom tablet if you want to create real art digitally.
5. Can I try the software before purchasing?
Many software programs, including those compatible with Wacom tablets, offer free trials to allow users to test the software before purchasing. It is advisable to check the software's official website to see if they offer a trial version.
6. Are Wacom tablets easy to use?
The Wacom drawing tablet, specifically the Wacom Intuos, is known for being simple to use. Its compatible drawing programs and art software provide the best art experience for digital drawing and photo editing.
The drawing tools and software you'll find with the Wacom Intuos are easy to navigate, and some software options even come for free. Its various drawing features enable users to create real art effortlessly.