Best Medical Practice Software
Working in the medical field is naturally hectic. This is why there are specially made programs and software for professionals in the medical sciences to help them streamline all of their work. These softwares are called practice management softwares, otherwise known simply as practice programs. These programs are also often abbreviated simply as PMS. 
The platforms aim to streamline all of a medical institution's administrative and billing processes. This includes filing all patients' profiles and data, generating reports, providing patient billing for medical services and expenses, and scheduling appointments. A good practice program needs to accomplish all of these and more. If you're a medical professional looking for a good practice program, or simply an up-and-coming medical worker, this guide is for you. We'll be outlining the best practice programs.
You might also like: 5 Best Study Planner & Productivity Apps for Medical Students
Best Medical Practice Software
Cloud-based management software is becoming more and more of a trend because of its convenience. This is one aspect that makes RXNT one of the top medical practice programs available to date. The practice management features of RXNT mostly focuses on bridging the gaps between administrative duties and patient care. Its features include streamlined payment processes which encourage timely collections of medical bills from patients, automatic and scheduled tasks for practitioners, and telehealth-friendly tools such as virtual appointment options. 
Besides their tools for practice management, there are also valuable tools for EHR and EMR. RXNT allows its users to manage a thorough patient portal while also creating custom patient charts and reports.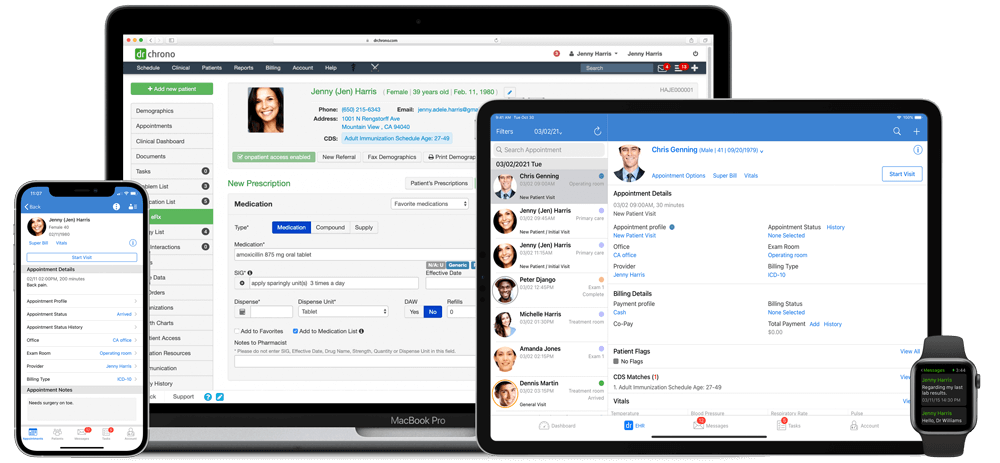 The second management system in our list is another cloud-based electronic health record (EHR) and electronic medical record (EMR) platform. The software has numerous features that were created to accomplish their slogan of "practice medicine, not administration."
As an EHR platform, drchrono has features such as customizable medical forms and telehealth, which is a feature that allows you to schedule and perform appointments over a video call, where professionals can simultaneously access and edit patient charts. Through drchrono, electronic prescriptions can also be sent to pharmacies across different pharmacies in the US. 
As a practice management software, drchrono also features multiple features that are greatly valuable to an institution's staffers. The platform allows individuals to schedule email, phone, and text reminders for patients to remind them of scheduled appointments. It also allows all staff members to have granted access to all patient information and records, given certain permissions. One of the best features of this software as well as their advanced patient portal which makes it easy for patients to schedule appointments, sign forms, and accomplish requirements online.
Pabau makes management for clinics easy because of how intuitive their features are. This software promotes itself as a "specialized clinic management software," which makes it ideal for all branches and fields of the medical profession. Its services have been used by renowned clinics and institutions in the country, which amounts to over 2,000 clinics. 
Its features include all kinds of tools to run a clinic, which not only include features to manage patients and patient information but also tools to better market the clinic and manage staff. For managing the clinic itself, Pabau allows you to schedule appointments, create custom consent forms for patients, automate emails such as pre and post-care instructions, and more. Pabau's interface is incredibly easy to use, as well as modern and sleek. 
Pabau is a software that was developed especially for industries such as the cosmetic surgery industry, physiotherapy, spas & salons, and more. If you are interested in subscribing to Pabau's software, you can contact them to consult on whether or not they're fitting for your personal clinic or institution. 
You might also like: 7 Best Medical Dictionary Apps for Android & iOS
Frequently Asked Questions
What is best practice program?
The best practice program will depend on the kind of institution or clinic. Institutions that are dealing with different kinds of doctors and services will require a more comprehensive practice management program. More specialized clinics won't need these softwares and may prefer to have more minimalist platforms to manage their business. 
Which medical software is best?
Again, the best medical software will depend on what an institution needs. Besides the three platforms mentioned on our list, there are other good picks for medical software such as Kareo, athenahealth, and more. 
What is an example of practice management software?
You can compare practice management software to the likes of other task management software or accounting software. They all deal with finding ways to better streamline and automate processes such as patient payments, patient records, and even appointments.  All of the programs listed in our guide accomplish these tasks and more, depending on what unique tools they wish to highlight. 
Does best practice software work on a Mac?
Best Practice Software is another practice management software medical professionals can use. It is compatible with Windows systems, but you can access it using MacOS systems via Remote Desktop.  
You might also like: 8 Best Free Anatomy Apps for Medical Students