10 Best Professional Numerology Software
Are you interested in learning more about angel numbers? Do you feel like you have a deep and spiritual relationship with certain numbers? Regardless of the reason, numerology is something that can be discovered in our daily lives. Numerology can be understood as the language of numbers, and this language is used to uncover different truths and even future events that will come to us in our lives. 
It's quite daunting to get into numerology as a total beginner or outsider. This is where numerology software comes in. Numerology software essentially helps you in "reading" or interpreting numbers around you. It also provides you with information on different numerology systems that exist today.
In this list, we'll be rounding up the best numerology software and websites that you can use to figure out what the numbers in your life mean.
10 Best Professional Numerology Software
Cafe Astrology is one of the most widely used astrology and numerology websites. this is because it provides simple and universally understood results, all for free. With all of its results, it also gives you a thorough breakdown and explanation of what your results mean. 
For checking your numerology report, it provides results for your Life Path Number, Lucky Number, Soul Number, Karmic Lesson and Karmic Debt Numbers, and more. The information you need to get these reports isn't complicated at all: it simply asks for your name and birthdate. 
iFate is another software and website that provides free readings on astrology, tarot cards, and of course, numerology. The website is a bit more outdated than Cafe Astrology, however, it gets the job done by providing you with a quick and easy summary of your life's numbers. The report includes your Life Path number, Destiny number, Soul Urge number, and Inner Dream number. 
It also provides in-depth explanations on different concepts related to numerology. You can definitely learn something new when getting a reading from iFate.
Astroccult is a website that provides a numerology software called Head Numerologist, which can be used on Windows systems. Head Numerologist is a software that provides you with different forecasts, such as daily, weekly, or even yearly forecasts to help you understand the nature of yourself better. 
You can either try out the free version of the software or purchase the Pro version for more in-depth and extensive features for your numerology readings. 
Another free software on our list is VeBest Numerology. This makes it on our list because of its accessibility and simple interface. If you're looking for numerology software that calculates your own personal numerology chart using a simple interface, this software is the one for you. You'll be able to get information as well about other celebrities' charts and even compatibility for love between your crushes!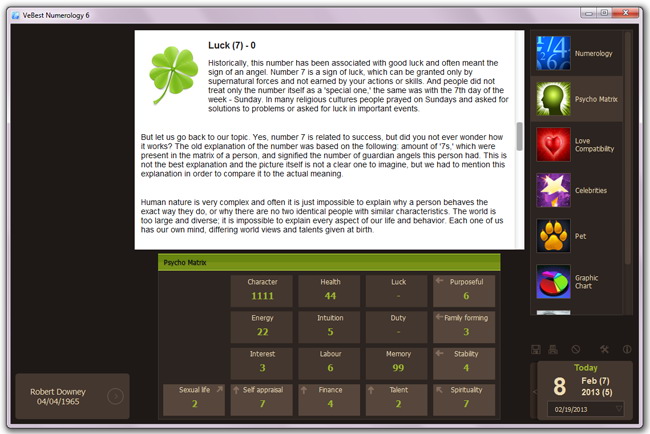 Numerologist.com is one of the most popular numerology websites to date, and for good reason. The chart readings and results that you receive from this site are highly accurate, and it provides different features and information to reveal about your numerology charts. It's beginner friendly and includes all of the information you need to know about numerology.
You can get a free reading on the website, but you can also purchase different kinds of packages that give you more in-depth and specific information, depending on what kind of numerology forecast or reading you want.
Numerology Toolbox is a software that essentially acts as a calculator, like most numerology websites and software. Numerology Toolbox uses Chaldean numerology as its system to create your personal numerology chart, as well as predictions for your life. 
Simply provide your name and birthdate to generate your personal numerology chart. Numerology Toolbox is completely free, and it provides ample information to help you understand your results. 
Numerology 369 is another free numerology calculator and PC software that will provide you with information on your numerology chart and readings. Numerology 369 has both a website and an application that you can download. The website simply asks for your name and birthdate. The application will provide much more comprehensive information on your results. 
Royal Numerology is another highly popular numerology platform because of its accuracy and accessibility. It provides a free report based on your birthdate, and it will reveal different characteristics about your personality and even life events. If you want something more comprehensive, you can purchase a Premium reading from their platform. 
MB Numerology is a free-to-use software for those who want to receive a simple and understandable numerology report. The features from MB Numerology aren't extraordinarily unique, as they will simply display what you can find from other platforms that provide numerology reports. However, it remains a viable option for beginners, especially. 
The final item on our list of the best numerology software available is Decoz Numerology Software. Decoz Numerology is one of, if not the oldest, numerology software from our picks, making it a highly trusted source for numerology reports. It profiles personal profiles, as well as daily to yearly forecasts based on your information. There are other special kinds of features that will reveal other aspects of yourself.