11 Best Software Asset Management Tools in 2023
In today's fast-paced digital landscape, organizations are increasingly relying on robust software solutions to streamline operations and maximize productivity. To effectively manage their software assets, businesses need reliable tools that can help them optimize licensing, track usage, and ensure compliance. In this article, we will explore some of the best software asset management tools available in the market.
These tools empower businesses to gain comprehensive visibility into their software inventory, reduce costs, and make informed decisions regarding licensing and software usage. Whether you're a small business or a large enterprise, finding the right software asset management tool is crucial for maintaining a well-organized and efficient software ecosystem. So, let's dive in and discover the top solutions that can revolutionize your software asset management practices.
What are Software Asset Management Tools?
By automating operations linked to managing software, such as patch and licensing management, inventory tracking (including identifying inefficient usage of licensed software), defining policy, and lifecycle management, software asset management tools (SAM) assist in managing and organizing IT assets.
What makes the best software asset management tools?
The most effective software asset management (SAM) technologies combine many characteristics and strengths. Effective SAM technologies provide powerful scanning and asset discovery capabilities. They do this across the network of a company, including both installed and unauthorized software.
Software licensing management and tracking capabilities are essential. The solution should offer the following:
Precise licensing reconciliation

Guarantee adherence to the terms and conditions of software vendors

Optimize license consumption to cut down on wasteful spending
Our Top Picks: Best Software Asset Management Tools
It is a cloud-based and fast-growing service management company that went public in 2012. The IT Service Management bundle offers an agent workspace with all kinds of features. It has knowledge management, modules for issue tracking and problem-solving, change, release, and configuration management, and ITAM and software asset management.  
ServiceNow IT Service Management (ITSM) offers businesses a collection of tools and capabilities to efficiently manage and provide IT services. Organizations can replace disjointed and manual operations with a unified and automated approach by consolidating their IT service management activities into a single system with the help of ServiceNow ITSM.
Software asset management (SAM) tool Snow License Manager by Snow Software is a pioneer in SAM and Software Asset Optimization (SAO). Snow License Manager assists businesses in managing their software licenses, maximizing software utilization, and reducing software expenditures. 
It enables efficient management and control and aids in giving enterprises a complete picture of their software assets. Snow License Manager features powerful software finding and recognition capabilities. It has the ability to search a company's network for installed software, both allowed and illegitimate. This gives businesses access to their software inventory and enables them to spot any compliance problems. 
Organizations may better manage their software assets, make the most of license usage, and cut down on software expenditures with the aid of FlexNet Manager.  
With the use of this tool, the management of software and hardware licensing can be easier. With the help of this program, users can keep a check on software installs that they may be unaware of and track license usage. It provides insights regarding software license entitlements, compliance, and usage, helping firms make wise choices and get the most out of their software investments.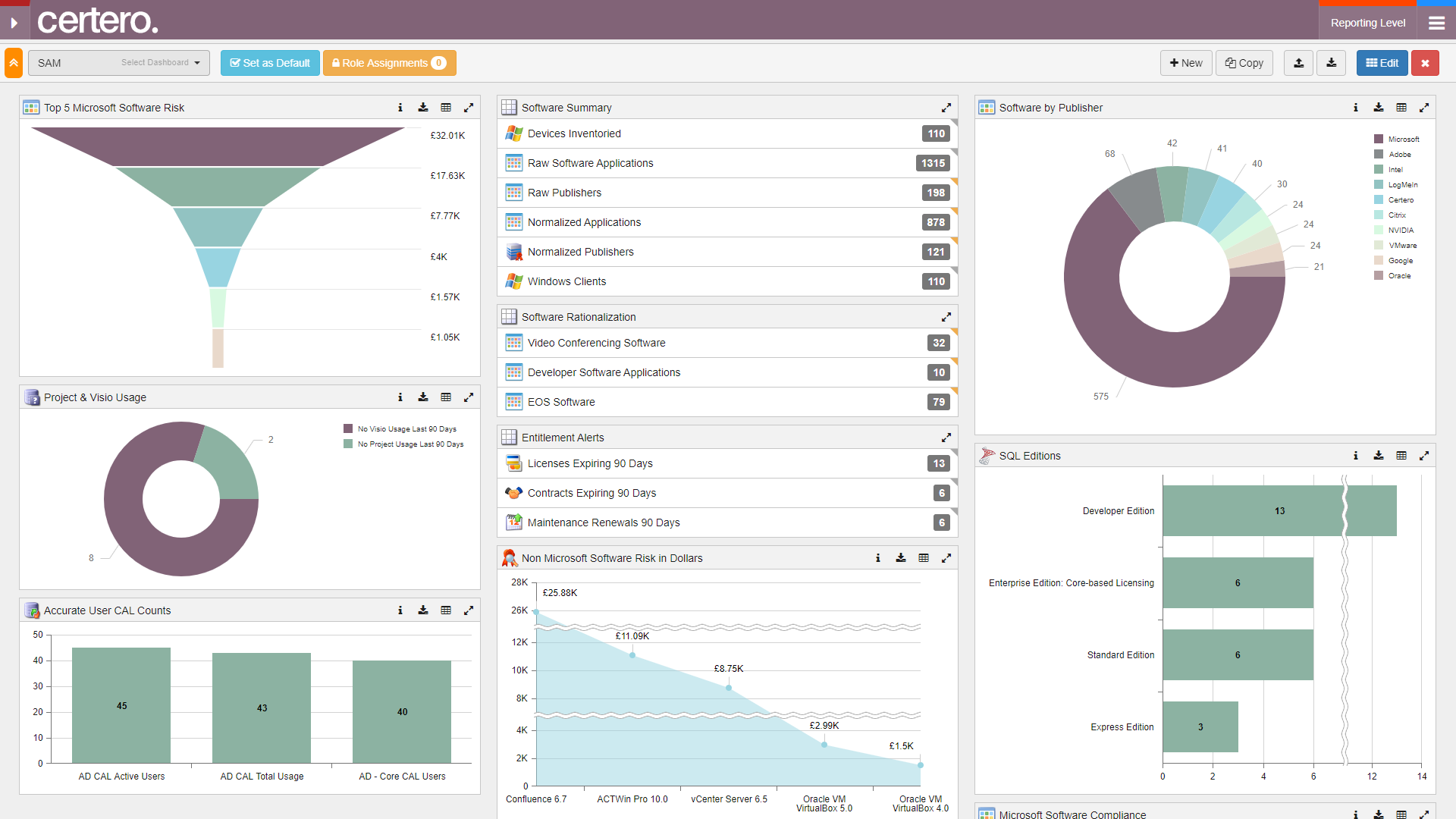 A full ITAM & SAM solution, Certero for Enterprise SAM offers everything an organization needs to find, view, govern, report on, actively secure, and reduce expenses across IT assets.
The data that Certero gathers is enormous, and it offers much more than 'simply' a SAM solution. It offers a single, unified, and cleaned-up information source for your whole IT infrastructure, including networks, PCs, data centres, attached, and remote devices. everything. It is a complete and comprehensive information source, allowing for the automation of many complex SAM operations as a result of a better understanding of the world around us.
Managers can provide specific user application access with Certero for Enterprise SAM based on usernames, locations, firewall configurations, IP addresses, and other details. It offers a range of capabilities, such as reporting, access control, database monitoring, and more. It also enables IT professionals to automate repeating operations, track software release dates, and reduce security and compliance concerns. 
Through the use of APIs, Certero for Enterprise SAM enables interaction with a number of external configuration management databases (CMDBs), software asset management databases, and IT service management databases (ITSM). Pricing is custom upon request, and organizations can request for assistance online,  through phone, email, and other channels. 
A network security management tool called Qualys Cloud assists enterprises with real-time monitoring of IT assets and threat prioritization. Administrators can respond to possible risks by receiving notifications about vulnerabilities, strange activity, and attacks. 
The platform enables administrators to keep track of out-of-date operating systems, program versions, and licenses. Teams can assess files in conformity with the Health Insurance Portability and Accountability Act (HIPAA) and Payment Card Industry Data Security Standard (PCI DSS) thanks to Qualys Cloud. On a single interface, operators can also access endpoints to quarantine files, correct configuration issues, and remove exploits. Businesses can link Qualys Cloud with a number of third-party systems, such as Amazon Web Services, Microsoft Azure, and Google Cloud Platform, thanks to its application programming interface (API). 
 The AI-driven IT and Enterprise Management Suite SymphonyAI Summit can increase the speed, responsiveness, and efficiency of both IT and business. The modular, cloud-based, and AI-powered IT Management Suite from Summit unifies crucial operations management, asset management, and service management procedures into a single solution. The goal of SymphonyAI Summit is to help businesses profit from increased productivity, agility, and automation.
Summit may reduce IT help desk costs by up to 20% annually and improve total cost of ownership by up to 45%. The way that people do ordinary chores  can change because of the SymphonyAI Summit. Through chat or voice interfaces, users can communicate with CINDE in natural language and get thoughtful, individualized responses.   Summit can direct the remaining issues to the appropriate human agent while resolving user issues. Summit seeks to resolve up to 50% of end user tickets and can boost productivity for both operations employees and end users. 
BMC Helix is a collection of SaaS products that provide cognitive service management that is quick, precise, and affordable in environments with many clouds, devices, and channels.  Cognitive service management transforms every stage of service delivery, which incorporates cutting-edge technology like artificial intelligence (AI) and machine learning (ML) into the company. 
Customers have the option of running their business processes from the BMC cloud or the AWS cloud thanks to this end-to-end cloud offering that employs containers. Enterprises can convert their service management from reactive to proactive and predictive with BMC Helix services. It incorporates cognitive capabilities (Bots/AI/ML) and assists save costs while increasing accuracy and speed.
ManageEngine AssetExplorer is a web-based solution stuffed with tools and capabilities. It can handle all facets of asset management, including inventory management, software license administration, compliance assessment, and more. The ManageEngine has advanced technology, simplicity of installation, and affordable price. 
The feature-rich toolset of ManageEngine may be a bit overwhelming for companies that are new to asset management. However, you can reduce the learning curve if you begin with its 30-day free trial. The configuration can seem quite complex due to the abundance of tabs and drop-down menus. However, ManageEngine has a great Quick Links tool that will help you keep your attention on the job at hand. 
For 250 IT assets, ManageEngine starts at $995 per year, but you must speak with ManageEngine for a more accurate cost. Another important differentiation is the availability of 24/7 technical assistance to all ManageEngine AssetExplorer users. It is also unusual in that it supports virtual hosts and virtual machines. The sole drawback is that it cannot support a large number of mobile devices.
An outstanding cost-saving tool for tracking all software licenses and determining which licenses customers actually need is USU License Management (SmartTrack). Formerly known as Apsera, it simultaneously verifies that all software is following compliance policies. 
It aids in finding both cloud-based services and virtual systems in addition to local systems. The tracker assists the legal and financial teams in keeping track of the licenses that have expired for various applications and serves as a reminder for them to renew such licenses. This keeps it from missing the deadlines for renewal and prevents any service interruptions.  
Symantec Asset Management Suite provides a thorough inventory of your apps, their licenses, and vendor contracts, improving insight into IT assets. It can follow software through its lifecycle, optimize investments, stop buying unneeded software, and prevent penalties and fines for non-compliance provided they have a thorough grasp of your assets. 
With the suite's powerful reporting and analytics features, businesses can create unique reports on asset inventories, license compliance, software usage, and other pertinent indicators. It enables stakeholders to see data connected to assets and make data-driven decisions. Organizations may increase operational effectiveness, lower IT expenses, uphold compliance with software license agreements, and efficiently manage their IT assets over the course of their lifetimes by utilizing Symantec. 

Ivanti's bigger portfolio of business technology products includes several offerings, one of which is Ivanti Neurons for IT asset management (ITAM). It features essentials for managing IT assets, including hardware and software, from original purchase through disposal. 
With Ivanti, you can manage assets while on the go and keep tabs on vendor interactions. These tools let you track asset performance, monitor expenses, and keep track of crucial service and renewal dates. Ivanti has pre-built reports and dashboards, but the software is highly adjustable, allowing you to customize the asset management tool to meet your needs.  
The software has barcode scanning so you can track actual IT assets like many other ITAMs do. Ivanti offers an asset repository with a product catalog that enables you to evaluate asset usage and availability to meet user needs while controlling company IT costs. All in all, Ivanti is an advanced ITAM that is best suited for big businesses with complicated asset management requirements. For those that have already invested in the Ivanti suite of products, it's also a good option.
FAQs
What are software asset management tools?
A business's software license usage can undergo tracking and management using software asset management (SAM) technologies. Many SAM products have expanded their range of functionality to include tracking SaaS assets. Businesses use software for asset and user access management (SAM) for a variety of functions, including cost tracking, contract management and compliance, and licensing management solutions.  
Why is asset management software important?
Asset management software helps modern firms cut down on administrative expenses related to maintaining assets. They simplify asset management by providing better asset visibility, enabling you to reduce repair and maintenance costs.
What is the benefit of using asset management software in my business?
Live trackers are a feature of asset management software that is well-known. Finding the whereabouts of our assets and determining who is in control of them become a lot simpler with the use of barcodes, GPS trackers, and tags. As a result, inventory management is quicker and more effective. We can give particular teams of employees access to resources and role-based access thanks to this program. Supervisors won't have to micro-manage the flow of check-ins and check-outs thanks to features that make delegation simpler. Spreadsheets increase the possibility of asset data errors. 
There may be information missing from the asset information because everything is manually entered. But since asset management software provides history records where you can retrieve earlier data, it won't be a problem.
What is an example of a software asset management?
Flexera FlexNet Manager Suite is an illustration of a Software Asset Management (SAM) product. A prominent supplier of software licensing, compliance, and optimization solutions, Flexera created the FlexNet Manager Suite, a comprehensive software asset management program. A variety of tools and functionalities are available in the FlexNet Manager Suite to support enterprises in managing their software assets throughout their life cycles. 
What are the best digital asset management tools?
The finest digital asset management platform for you may depend on your individual requirements and financial constraints. Adobe Experience Cloud, Bynder, Widen Collective, MediaValet, and Celum are a few of the most well-liked choices. To select the solution that performs the best for your company or organization, it is worthwhile to think about the features and integrations that are crucial to you. 
Is asset management software secure?
 Depending on the particular solution and the safeguards put in place by the vendor, asset management software, like any other software, might differ in terms of security. However, trustworthy asset management software suppliers typically place a high priority on security and take measures to safeguard confidential information and guarantee the software is secure. Organizations seeking asset management software should carefully compare the security capabilities and procedures of various vendors. 
How much does asset management software cost?
The annual cost of an asset management program might range from $300 to $250,000. Even if there is a significant price difference and it may seem like a lot of money, take into account the time you will save by employing automation.