Best Software for Temperature Monitoring
Having a PC is one thing, but maintaining it to keep its performance at its peak is a whole different one. High-performing PCs are desired by everyone, even for those who have a unit that is on the lower end of the price market, or for those who are aiming to purchase one but have a smaller budget than others. PCs that perform well last longer and are more efficient in performing all kinds of daily tasks, such as surfing the internet and running platforms such as Word or Powerpoint. But, some also need to run well in order to meet more specialized needs, such as running video editing, computer-aided-design, or drawing software. 
Regardless, one aspect that needs to be monitored by all PC users is their device's CPU temperature performance and patterns. Monitoring this aspect of the PC is a great indicator of your general unit's health. 
Excessive heat when using your device can cause significant damage to all kinds of components of the PC, resulting in different complications. Such complications can lead to slow performance, sudden crashes, and permanent damage to your computer's hardware. This is why monitoring the temperature of your computer's CPU is good practice in preventing these issues, and solving them before they get any worse.
In this guide, we'll discuss four of the best software for temperature monitoring. These software can help in helping you consistently measure your CPU's temperature and your unit's general performance. 
You might also like: How Much does a PC Set Up Cost
Best Software for Temperature Monitoring
The first platform on our list is CoreTemp. CoreTemp is a sought-after platform because of how compact it is, while still being incredibly efficient and effective. The software allows its users to display the temperature of each core processor in their computer. CoreTemp does this by taking advantage of the digital thermal sensors (DTS) found in x86-bit processors, allowing for more accurate temperature readings compared to its older versions in the past.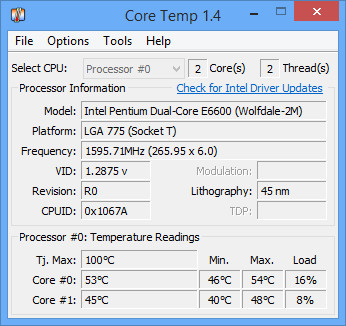 Despite its effectiveness, CoreTemp manages to still maintain a low-resource usage so that its activity won't affect the performance of your computer. CoreTemp is easy-to-use and its interface is also customizable. You can choose to add different plug-ins if you want to monitor other aspects of your PC. Finally, you can choose to have the software alert you if your device is overheating dangerously. The software works with Microsoft Windows XP, 7, 8, 10, and 11 operating systems, and Intel, AMD, or VIA x86-based processors. It is completely free to download and use. 
You might also like: 12 Best Portable Antivirus for Windows PC
HWMonitor is another popular software that is used to monitor not only a computer's temperature, but also the performance and state of its other hardware. The program can effecctivfely handle monitoring a device's temperatures, but also other parameters of its health such as its voltages, currents, fan speeds, and more. HWMonitor has to ability to monitor your device's CPU and GPU, memory modules with thermal sensors, SSDs, and more.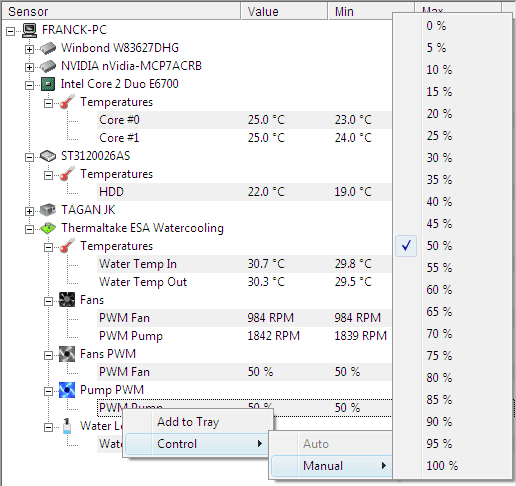 Like CoreTemp, HWMonitor is also a free platform to use. 32-bit and 64-bit versions for Windows are available for download.
You might also like: 6 Best Free Blue Light Filter for Windows PC
SpeedFan is a software that is able to monitor your computer's voltage, fan speeds and temperature. Unlike other similar competitors, SpeedFan also has an online counterpart that adds support to a computer's hardware that cannot always be monitored offline.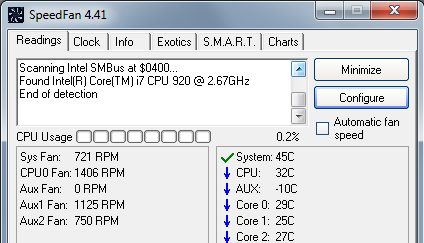 SpeedFan is notable because it is able to handle and support numerous quantities of South Bridges, hard disks, hardware monitor chips, temperature and voltage readings, and more. This allows users to bypass limitations that can restrict them with other temperature monitoring software. SpeedFan is completely free to use, making it another highly accessible option for those who need to monitor their device's performance. 
You might also like: 6 Best Internet Speed Test Apps for Windows PC
How can I monitor my system temperature?
There are multiple ways that you can monitor your system's temperature. The most common way is the one that is already built-in to your computer. These kinds of monitoring programs allow you to check both in-depth and summarized details of your computer's performance, including the current temperature of your device. Other applications that also display this information include the Resource Manager or by opening the computer's BIOS for Windows, or the Activity Monitor for macOS devices.
The other common way is through downloading temperature monitoring software, such as those on our list. These platforms can be more helpful than built-in programs in pinpointing potential issues or specific performance stats.
Does Windows 10 have a CPU Temp monitor?
Yes, computers running on Windows 10 have a temperature check that can be accessed. Users can do this by opening their device into BIOS mode. However, this can be quite difficult or daunting to do, so downloading and using a third-party application is much more reliable for most users. 
How do I monitor CPU and GPU temps?
The best way to monitor CPU and GPU temperature is through using a temperature monitoring software, such as the ones on our list. Most of these platforms can simply run in the background and provide information on your device's temperature as it changes in real time.
Is Core Temp free?
Yes, CoreTemp is completely free to use and download.