11 Best Software License Management Tools for Streamlined Operations
In the ever-evolving landscape of software usage and compliance, finding the best software license management tools has become essential for businesses of all sizes. These tools enable organizations to efficiently track and manage their software licenses, ensuring compliance with legal requirements and optimizing resource allocation. From comprehensive license inventory management to automated license tracking and reporting, the best software license management tools provide a range of features to streamline operations and minimize the risk of non-compliance. In this article, we will explore some of the leading solutions in this space, helping you make an informed decision for your organization's license management needs.
What Is Software License Management?
Software License Management is the practice of providing an organization with the tools and strategies required to manage its software licenses. Vendors of software utilize this capacity to monitor, assess, and guarantee the proper use of the program. The overall software asset management (SAM) system includes software licensing management (SLM), which is a crucial component. It involves the method of lowering and controlling overall IT costs. In a word, SLM is the procedure that enables you to keep track of and manage each software license that is active across all of the devices in your organization.  
Why Is Software License Management Important?
 By lowering software expenses and preventing costly errors, penalties, and audits, software license management helps businesses save money. Additionally, it makes them more effective and guarantees that they adhere to the terms of their software license agreements. 
This procedure guarantees that companies utilize all of their software resources. Businesses can also use effective software licensing management to make future plans and assess whether their demands are being satisfied. Companies can work more successfully and save the most money when they are completely aware of their software inventory and requirements. 
Enterprise licenses are likely to be a company's largest IT expense. They also have more intricate requirements, which can make compliance more challenging. Enterprise license management is generally the same as managing other software licensing management, but because of the added expense and complexity, you need to be extra cautious while evaluating them. In our comprehensive guide, find out more about business asset management.  
The Best Software License Management Tools
 Software Asset Optimization (SAO) is a sophisticated software asset optimization solution from Altair. The software can use accurate data to right size the software portfolio of an IT company so that they can make smart business decisions. IT administrators may easily collect, analyze, and visualize data with the help of SAO's software asset optimization, which offers more than 70 reports. SAO forecasts are also used to fine-tune the business's existing setup and direct next capacity plans.  
IFS, a leading provider of corporate software, has created IFS Assyst, an enterprise service management (ESM) solution. It aims to support firms in managing and improving their service operations, including ITSM, field service, and customer service. IFS Assyst offers a full range of features and capabilities to optimize service delivery, enhance customer happiness, and expedite service operations.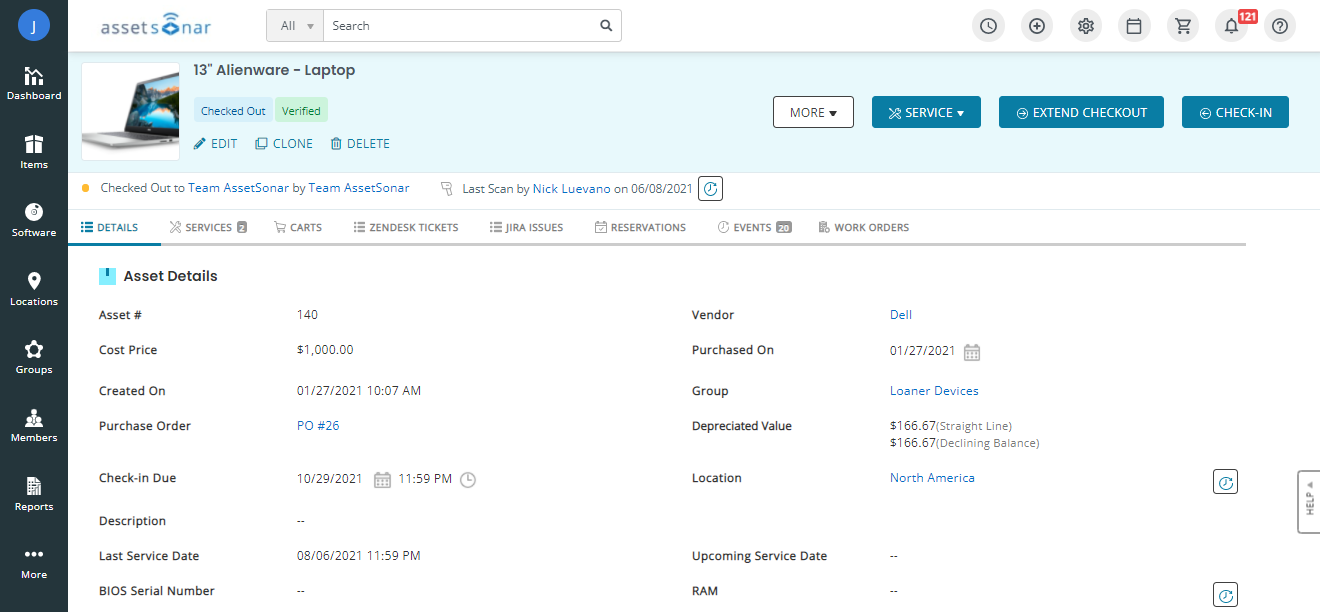 AssetSonar facilitates thorough software license management. It guarantees licensing compliance, maximizes software expenditures, and aids in preparing the business for audits. AssetSonar enables management of all license information for a company on a single platform. Maintaining compliance, minimizing software spending by tracking license consumption, and mitigating adult risks with up-to-date license information can help businesses avoid fines and true-up charges. 
With the use of thorough reports, the program can examine and identify any holes in the business's licensing framework. By identifying every instance of unlicensed software on the company's network and receiving automated alerts for all impending expirations, renewals, and payments, it can also prevent fines and licensing true-up fees.  
Software asset management (SAM) and licensing optimization are two functions of FlexNet Manager, a product of Flexera. It assists businesses in managing their software licenses, maximizing software utilization, and ensuring adherence to license terms and laws. To manage software assets efficiently over the course of their lifecycle, FlexNet Manager provides a variety of capabilities and functionalities. 
It is capable of automatically locating and gathering information about the software and hardware that is present on all of the network's devices, including computers, servers, virtual machines, and cloud environments. In order to improve license distribution and reduce expenses, FlexNet may also examine software usage patterns and license entitlements. It finds chances to recover unused licenses or investigate different licensing arrangements to cut down on software spending.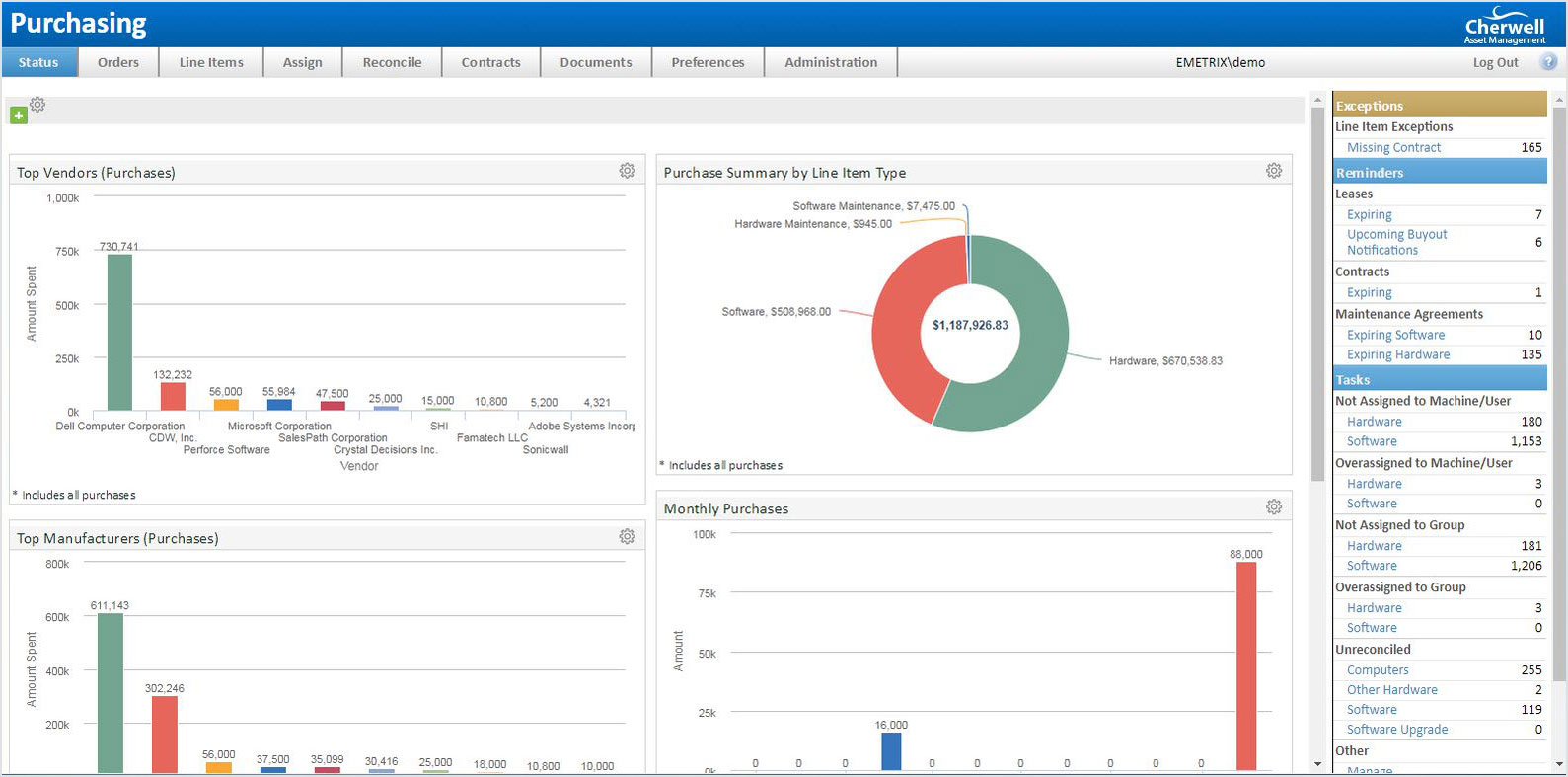 Cherwell Software created the software asset management (SAM) solution known as Cherwell Asset Management. Its goals are to assist enterprises in keeping track of and managing their software assets, maximizing the use of licenses, and ensuring license compliance. The intuitive and user-friendly design of Cherwell Asset Management is frequently recognized for making it simple for users to navigate and carry out tasks effectively. 
It earned its reputation for its adaptability and customization possibilities. It enables businesses to modify the solution to suit their own requirements and work processes. In order to provide a more comprehensive picture of IT assets and streamline procedures, you can integrate Cherwell Asset Management with other IT management systems, such as IT service management (ITSM) tools. 
Quick License Manager from Soraco Technologies safeguards  Applications used by businesses. It can do this by using secure symmetric licensing keys. These license keys connect to one particular laptop or mobile device only. IT administrators can create trial license keys with a time limit or completely automated workflows for subscription-based solutions using Quick License Manager.
This program aids in online or offline license activation. The ability to gather analytics about each application, monitor for updates, schedule and send personalized emails to change forthcoming renewals, and offer online or offline license activation are some of its important features.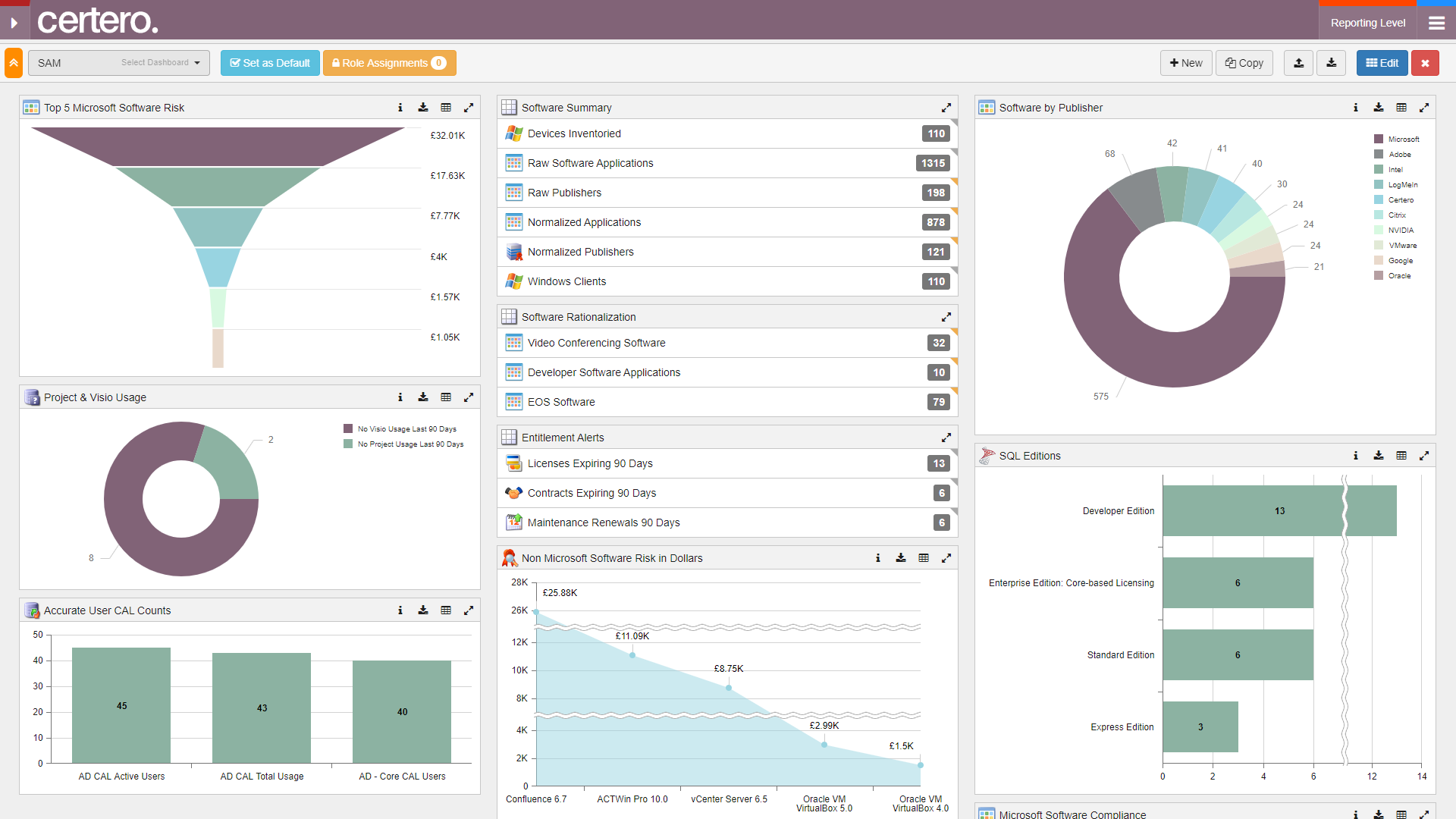 With Certero for Enterprise SAM, businesses can optimize how they use their software licenses while cutting costs, upholding compliance, and automating their software asset management procedures. It offers resources and knowledge to aid businesses in efficiently managing their software assets and licenses. Software asset management (SAM) solution Certero for Enterprise SAM is a platform by Certero. Certero is a business that specializes in IT asset management and optimization.
To accurately collect information on installed software across the organization's network, including desktops, servers, and virtual machines, it offers full software discovery and inventory capabilities. Businesses can track and manage software licenses, including their purchase information, entitlements, and use rights, with the aid of Certero for Enterprise SAM. It helps to ensure compliance with license agreements, detect unused licenses, and optimize license allocation.  
Businesses can track and manage All of the IT licenses utilized in a company with the aid of this cloud-based asset management application. Moreover, this software can handle the planning phase to disposal. Companies can add, remove, or maintain any software and hardware using ManageEngine AssetExplorer. When businesses use ManageEngine AssetExplorer, it is nearly impossible to create loopholes. It protects secrecy since no employee can set up and use unauthorized software on a piece of corporate equipment. 
The biggest benefit of employing this technology is the cost savings, especially when it comes to user licenses. It is possible to pinpoint the software that aids in decision-making but is rarely used. It is compatible with tracking applications running on Windows, macOS, and Linux, as well as other popular operating systems. One can control software acquisition, cost comparisons, etc. 
Reprise Software's Reprise License Manager offers all the functionality a business requires and anticipates in an enterprise-class license manager and is simple to run on-premises or in the cloud. Every day, RLM manages software licenses for thousands of end-user businesses and hundreds of software publishers. RLM aids IT businesses in gaining new clients and boosting sales from current ones. The straightforward RLM API supports diagnostics from every licensed client and can handle complicated licensing structures. RLM now has a very flexible license structure, a simple API, and a wealth of functionality at competitive prices. 
The Ivanti licensing optimizer reduces IT overspending by recovering unneeded licenses, assisting with compliance, anticipating true-ups, and helping to stay compliant. This application finds out what software is present in a company's environment, monitors utilization, and points out places where businesses can use IT resources more effectively. With software licensing monitoring and software insights in the Ivanti cloud, Ivanti has a strong license engine.  
Organizations can manage software licenses with the help of the License Manager from the License Dashboard. This application ensures that complex license metrics are correctly calculated. It also provides advanced licensing automation and expedites routine activities for software asset managers. 
The license manager ensures that the company is getting the best return on investment on its software investments, frequently saving companies up to 30% of their software budget. Organizations' existing IT infrastructures can integrate with license managers, and entering inventory and entitlement data into licensing managers is simple and rapid.  
What is a SAM tool?
A SAM (Software Asset Management) tool is a piece of software created to help businesses properly manage their software assets. SAM tools offer a single platform and a selection of services. They can track, manage, and improve software licenses, usage, and compliance. 
SAM tools assist businesses in finding and gathering information on installed software across their network, such as program titles, versions, and installations. Organizations can manage software licenses using SAM technologies, which track license entitlements, purchase information, and usage rights. They support license allocation optimization, identify under- or overused licenses, and guarantee adherence to license agreements.  
What features should I look for in a software license tracking solution?
You should think about a number of key elements when choosing a software licensing tracking system. A central repository for tracking all software licenses throughout your firm should be available. Firstly, it should be able to support different licensing types, such as open-source, perpetual, and subscription-based licenses. 
Software licensing agreements should also comply with up-to-date standards with actively monitoring license usage. It should also provide real-time information on license usage, license expiration dates, and any relevant compliance problems. To find unwanted or underused licenses, the solution should also monitor the actual usage of software licenses. This function helps to reduce wasteful spending and optimize license distribution.  
To meet the expanding needs of your firm, take into account the solution's scalability. It need to be capable of managing a sizable number of licenses and evolving with your software environment. Additionally, it's critical to have customization flexibility and compatibility for a variety of platforms and providers. The solution ought to offer an easy-to-use interface that makes licensing management activities simple.
A user-friendly design lowers the learning curve for administrators and promotes user adoption throughout the company. It's critical to assess these aspects in light of your unique requirements. Consider also the complexity of the software license environment in your organization. Your choice of the best software license monitoring solution will can improve by doing a thorough examination and taking your organization's requirements into account.  
What is the best way to manage company software licences?
There are several crucial elements involved in efficiently managing company software licensing. Start by compiling a thorough inventory of every software license that is currently in use inside your company. Information about the license, including the kind, version, number, and dates of purchases of each license as well as the license keys and serial numbers. This inventory will act as the cornerstone for efficient licensing administration. Create a centralized system or software license management solution that gathers all license-related data. The tracking, monitoring, and updating of license information will be simpler thanks to this unified repository.  
Create a system for monitoring license expiration dates and make sure renewals happen on schedule. Set up notifications or reminders to notify you before upcoming renewals. Renew licenses proactively to prevent any hiccups in software usage and any non-compliance. Keep your relationship with software vendors positive. Keep in touch with them to learn about any modifications to the terms of the license or new product offerings.
Maintain regular contact with vendors to discuss any licensing issues or, if required, to bargain advantageous licensing terms. These methods will help you create efficient software licensing management procedures in your company, assuring compliance, reducing expenses, and getting the most out of your software investments.  
What businesses benefit most from license management solutions?
Solutions for license management can help a wide range of enterprises in different sectors. Solutions for license management can be quite useful for large enterprises with a sizable software portfolio and complicated licensing needs. These solutions aid in the centralization of license data, compliance monitoring, license utilization optimization, and streamlining of the whole license management procedure.
Software licensing management is a common task for IT service providers. This includes managed service providers (MSPs) and cloud service providers (CSPs). They can manage license consumption, keep track of licenses across various client environments, and maintain compliance for their clients' software assets with the aid of license management tools.