Top 9 Best Software Like QuickBooks in 2023
When it comes to efficient financial management for businesses, QuickBooks has established itself as a go-to software solution. However, if you're looking for alternatives that offer similar functionalities and capabilities, there are several top-notch options available. These software solutions, like QuickBooks, provide powerful accounting features, streamlined bookkeeping, invoicing, and expense tracking. With their user-friendly interfaces and robust reporting tools, these best software like QuickBooks can help businesses effectively manage their finances and make informed decisions for growth and success.
What is QuickBooks?
One of the most widely used accounting software programs for small businesses today is QuickBooks. Quickbooks is a basic yet well-designed inventory management software. Its features and beginning bundle are largely responsible for its success. The QuickBooks program is available both online and on a desktop. Invoice management, bill payment, cash flow tracking, and, most significantly, the creation of financial records and tax planning are all made possible by QuickBooks for business owners.
Along with all of these features, QuickBooks also provides a variety of account types and payment schedules. QuickBooks is a fantastic choice for start-up business entrepreneurs because everyone can test it out for free for 30 days.  
What are the pros and cons of QuickBooks?
QuickBooks' Pros
All of QuickBooks' capabilities are incredibly simple to use and to master. For small business owners without a dedicated accounting department, this makes it a fantastic option. It has several third-party and other system integrations. Additionally, it allows you to sync your work across all devices and make accounting reports.
QuickBooks' Cons
As for its cons, if you need to use all of the functions, it may get expensive. There aren't many industry-specific capabilities, such as e-commerce systems, lot tracking, or barcode scanning. A small number of users can only access the software at once, and there is no actual professional support. 
Best software like Quickbooks
The cloud-based tool is straightforward, which is why the business calls it "beautiful." Small business owners appreciate that Xero is straightforward and free of accounting lingo. Just plain language that makes it straightforward to decide what to do with your transactions, no debits or credits here. 
Additionally, the application offers several of the same fundamental accounting capabilities as QuickBooks Online, such as bank feeds, logical bank reconciliation, and straightforward inventory tracking and reporting. All three of Xero's pricing packages offer an unlimited number of users. The $12/month Early plan might be suitable for you if you run a very tiny company, but bear in mind that you can only enter up to five bills and 20 invoices.  
To upgrade to the $34/month Growing plan, most small firms quickly outgrow this package. The Established plan, which costs $65 per month, is for more complicated enterprises that work with several currencies, need to claim expenses, and need to manage projects.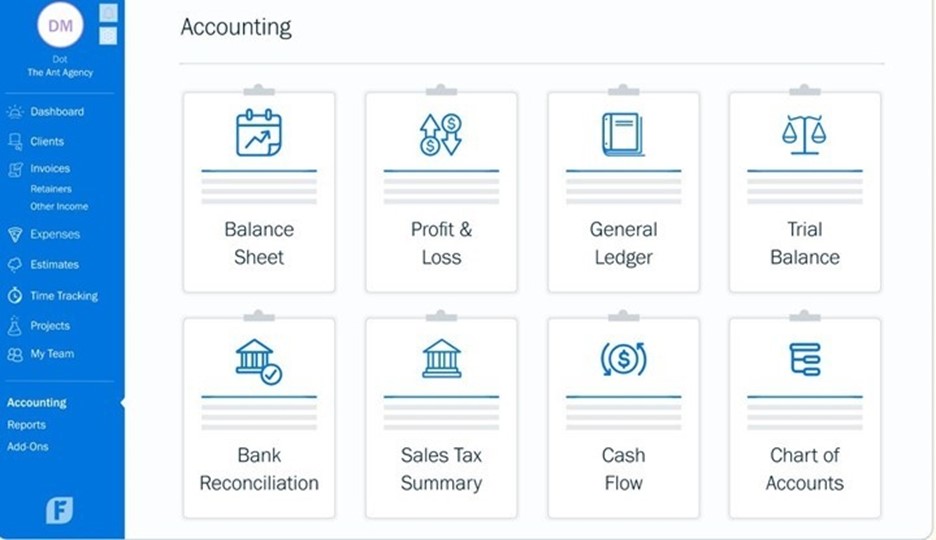 If you're a small business owner looking for cloud-based accounting software, FreshBooks is a good option. It's one of QuickBooks' key rivals and is the best invoicing program in our opinion. This program has recently added double-entry accounting to its portfolio of functionality.
Besides this, it has supplementary features including software connectors, time-tracking tools, and contract management capabilities. With an internet connection, your staff can use the software from any location in the world. FreshBooks is an all-encompassing alternative to QuickBooks, providing a more flexible feature set and a far better pricing structure, especially for those with new accounts.  
If you want a cheap approach to run your small business, Sage is a great alternative to QuickBooks. In addition to bank reconciliations, balance sheets, inventory control, and cash flow management, it provides a full accounting package. It incorporates Microsoft 365 as well.  For self-employed individuals and micro businesses, Sage Accounting's cloud-based solution includes a $10 monthly plan. For small companies, it has a $25 monthly plan. The latter grants access to limitless collaboration, quotations and estimates, cash flow forecasting, and purchase invoice management. 
Additionally, it offers POS connectors, e-commerce capabilities, sales and marketing tools, and HR applications. Similar to Intuit, the company behind QuickBooks, Sage offers a wide range of solutions to assist you in growing your company, including an accountant partner program and a dedicated calendar of conferences. 
You may manage your cash flow and accounts, generate invoices, and make payments using these tools.  You can access contacts in Outlook, read reports in Excel, and backup data with OneDrive thanks to the integration of Microsoft 365. Once the data is in the cloud, you may access it all using your Microsoft account without having to download Sage on your computer.
The accounting program in the Zoho customer relationship management (CRM) suite is Zoho Books. Even though you must purchase both software programs individually, Zoho Books will automatically merge if you buy Zoho CRM. Many of QuickBooks' capabilities are also available in Zoho Books, but at a significantly lower cost. 
With this software package, businesses with limited accounting budgets may discover everything they require. Its invoicing facilities, which let you bill your clients anywhere in the world, are some of its best features. Additionally, it offers capabilities for time monitoring, bank reconciliation, estimates, and accounts payable. 
The software is generally more user-friendly and intuitive. Time tracking, project management, and fixed asset management are among its regular accounting functions. Additionally, it has strong security protections to safeguard your data. In addition to being easier to use than QuickBooks, Zoho is also cheaper and provides all the advanced capabilities as well as better mobile apps.  
You can connect your business bank account to Wave Accounting, which is absolutely free accounting software, to have your bookkeeping data show automatically. The solution comes with a number of tools, including connections provided by Zapier, receipt scanning, unlimited collaborators, accounting reports, and invoicing. But be in mind that extra fees apply to features like sending and receiving payments and managing payroll. As a result, we are unable to suggest Wave for huge teams. However, Wave is the best option available if you need a straightforward accounting solution that is free.  
Wave's invoice customization feature, which enables you to add your logo and branding to invoices, is its most impressive feature. Additionally, you get access to a selection of templates and the option to build a new one from scratch. Wave provides you everything your business will need regarding transactions on a single page, listing all the entries with date, description and status. The flexible transaction management tools Wave gives are hard to match by any other free accounting software.  
The next product on our list of QuickBooks alternatives is Bonsai, an all-in-one product suite with some handy accounting features for independent contractors. By defining an expense, associating it with a project, and including those charges in an invoice, Bonsai allows you to keep track of your billable expenses. To import your spending, you can also link your bank account. 
Additionally, Bonsai generates analytics and expense reports so you can track your company's spending over time. You can set up recurring payments using Bonsai and get paid with a credit card, an ACH transfer, PayPal, or even Bitcoin. A freelance tax calculator, reporting features, time tracking, and the ability to design unique client proposals and contracts are additional tools.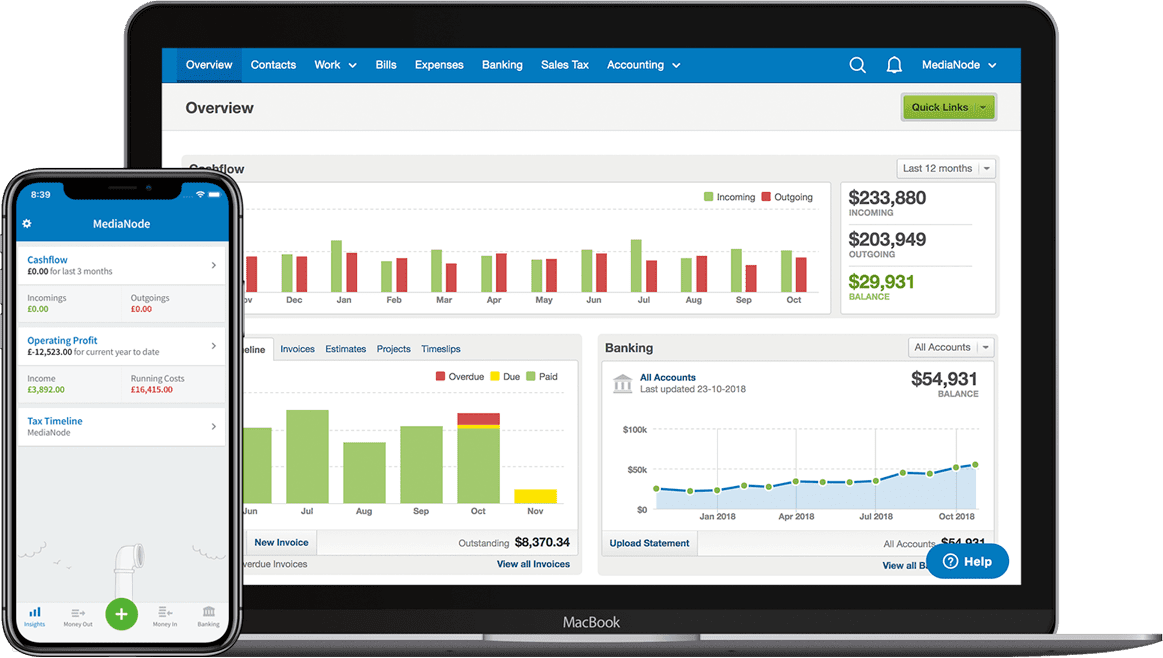 An accounting program called FreeAgent is a platform made especially for proprietors of small businesses. Accounting firms can access their clients' financial records as well as their own using the FreeAgent program. It has a single monthly cost of $24 and offers nearly all the accounting features you could ask for. 
This includes sending invoices, keeping track of expenses, figuring sales tax, and providing you with a dashboard that shows you your cash flow in real-time. Unlimited users, automatic bank feeds, and a mobile app are additional benefits of FreeAgent.  
One of the best accounting systems is ZarMoney, and you can try it out without spending any money. It's also a very cost-effective option with a powerful set of tools. Account-tracking tools, bank reconciliation, account administration, and tax support are some of the features. 
You may accept payments and promptly sync those payments with your accounting spreadsheets because it also supports ACH payment processing. For inexperienced accountants or small firms, ZarMoney can be a decent option. It includes numerous seminars and webinars that can aid in your understanding of wise accounting procedures.  
By selecting several company apps that add functionality, Odoo transforms into an ERP system, CRM for customer relationship management, website builder, eCommerce, and Marketing Automation software. Odoo is open-source software that may users can use on-premises or in the cloud. Customers may see brief delays in replying to support tickets, according to Odoo's online customer service policy. 
Odoo SaaS pricing begins with a per-user cost of roughly $28 per month for Odoo plus a monthly fee for each selected Odoo app, which can range from $12 to $72 per month (with many costing $24 per month). Odoo can become more expensive than many QuickBooks software solutions as a result of these charges accumulating. Odoo provides a Community edition that is free but has less functionality.  
Determining the right Quickbooks alternative for you
The more straightforward your company is, the more straightforward your accounting software should be. The problem arises when you need to upgrade your accounting software and assume that simplicity will last as your activities expand and develop. When you switch accounting platforms, you normally have to import all of your company's data and transactions. That is because it is a chore if it sounds like one. However, if you pay extra on a platform with capabilities you will value in the future, you can avoid that process can.
FAQs
What are the best alternatives for QuickBooks in the USA?
In the USA, there are a number of QuickBooks alternatives for accounting and financial administration. Wave is the first choice you can make. 
Small businesses and freelancers will benefit greatly from using Wave, a free accounting program. It offers fundamental accounting capabilities like billing, spending tracking, and financial reporting. Additionally, Wave provides paid extras like payroll and payment processing. 
Besides Wave, you can take into account systems like NetSuite. NetSuite is an extensive cloud-based ERP (Enterprise Resource Planning) system with accounting capabilities. It offers features including financial management, inventory management, order management, and CRM (Customer Relationship Management) and serves enterprises of all sizes.  
FreshBooks is a third choice. The main target market for FreshBooks is independent contractors and small service-based businesses. It has functions including time tracking, expenditure management, project management, and billing. The user-friendly interface and outstanding customer service of FreshBooks are well renowned. 
These are but a few illustrations of the possibilities that are available. The ideal alternative depends on the nature, scope, and price range of your particular business requirements. The ideal fit for your company depends on comparing the features, costs, scalability, and customer support of each piece of software.  
Which accounting software is better, Tally or QuickBooks?
Your unique business requirements and preferences will play a role in your decision between Tally and QuickBooks. The user-friendly interface and intuitive design of QuickBooks are frequently complimented for making it simple to use and comprehend. On the other hand, Tally offers a more conventional interface, which could involve a learning curve for new users. 
Tally and QuickBooks are very different from one another geographically. Tally includes effective localization capabilities tailored to the Indian market, including as support for several languages, tax compliance, and the statutory reporting necessary in India. On the other hand, QuickBooks caters to meet the accounting and compliance standards of several nations, like the USA, Canada, and others.  
The feature sets of both systems are substantial. Invoicing, cost monitoring, bank reconciliation, inventory management, payroll processing, and extensive reporting capabilities are just a few of the services that QuickBooks provides. Tally offers functions including accounting, inventory management, taxation, and statutory compliance. It was originally created for the Indian market. 
The best accounting program between Tally and QuickBooks ultimately comes down to your unique business needs, where you operate from, and the capabilities you require. It is best to compare the features, user reviews, and support offered by each piece of software to see which one best suits your company's needs.  
What is the low-cost substitute of QuickBooks?
Though QuickBooks is popularly used, there are many free and cheap alternatives that can definitely accomplish the tasks you need. Here are some free software applications that you can use for all of your accounting and finance needs.
Free accounting software called Wave offers fundamental accounting functions like spending tracking, invoicing, and simple reporting. The essential accounting services are free, but it does offer expensive add-ons for things like payroll and payment processing. 
GnuCash is an open-source, free accounting program that both individuals and small businesses can use. It provides functions including invoicing, expense monitoring, double-entry accounting, and fundamental financial reporting. 
The fundamental accounting functions of invoicing, spending monitoring, and financial reporting are all included in Manager, a free accounting program. It is desktop-based software that can users can access both online and off. This makes it appropriate for companies without reliable internet connectivity. 
These low-cost or free alternatives might not offer QuickBooks' full range of features, or they can have scaling and advanced functionality restrictions. They can still be good choices for small enterprises or startups with limited resources.