10 Best Software Review Sites for Honest Insights
When it comes to finding reliable information and insights, exploring reputable software review sites is essential. In this article, we will discuss with you the best software review sites, and share everything you need about product review sites.
Why are software and product review sites important?
Thanks to reviews, buying, and selling have become really simple. One cannot dispute the fact that around 90% of consumers today check product review websites before making an online purchase. Customers find it simpler to purchase a product with reviews that consider performance and other factors. Customers value feedback from peers who have already made a purchase. 
Customers of B2B and SaaS software now prefer to read reviews and product information before making a purchase. This is thanks to the rise of software review websites. With the abundance of these websites, customers frequently conduct online product research before speaking with the vendor. 
Before choosing a piece of software, consumers consult online reviews. Positive and negative reviews are important because they give the product or software more legitimacy. It raises the buyer's confidence. Large-scale businesses are more likely than small- or medium-sized ones to consult saas reviews sites before making a purchase decision. Companies who make software and goods must submit listings for both on B2B software review websites. 
As review sites frequently appear high on Google's list, it helps to reach a larger audience of customers. These review sites appear at the top of searches for B2B software and goods by consumers.  
What are the advantages of listing your software on a software review website?
The influence on consumers' purchasing decisions is one of the main benefits of listing your software on a review site. Buyers are looking to software review websites for guidance as the selection process becomes more difficult due to the variety of software options accessible (particularly B2B solutions). Websites that review software are "objective third parties." Additionally, they do a great job of outlining the drawbacks of each choice.  
Software is never perfect. While salespeople might promise perfection, such are not truthful or impartial statements. Users are aware of this and trust a third party as a result, which has both advantages and disadvantages. The main benefit of having your program included on a review website is trust. especially from websites that provide objective, verified reviews from actual people and skilled professionals. 
Higher brand visibility is another benefit of advertising your program on a review website. A listing and favorable evaluations with review sites can help you as well since they frequently rank well on Google.  
How does software review websites work?
Simply said, software review websites evaluate software and give users a thorough summary of these reviews. Connecting people to a sorted selection of pertinent and practical software solutions is the goal. 
When it comes to product details and features, the information provided is frequently very in-depth. Some websites employ their very own "experts" to evaluate and rank various software solutions. Others only rely on reviews from actual customers, or they mix the two.  
Simple star ratings and sophisticated proprietary algorithms are both used in these ratings, which are specific to each review website. G2 relies on reviews from actual users, but their own team screens and verifies each review to assure its veracity. They then base their in-depth comparisons on those verified reviews.  
What are the best software review sites?
Capterra aims to support business buyers who want to expand their company but lack the time to become technological gurus. Visitors can rapidly evaluate the software solutions that are best suited for their unique demands thanks to Capterra's comprehensive picture of the market. For small-business buyers looking for software solutions in particular areas, the platform is best.  
Reviews on Capterra have a particularly intriguing past. It was a software-specific internet business directory when it first launched in 1999. When it came time to decide whether to include user evaluations on the website in 2007, one founder was in favor of it and the other wasn't. On Capterra, buyers requested user reviews, but many suppliers balked at providing them. The most frequently requested feature by customers of Capterra was reviewed. But when Capterra polled 1,000 paying vendors, 50% of them expressed concern over unfavorable evaluations. Negative evaluations could discourage sellers from utilizing Capterra.
P2P offers free software evaluations with a focus on peer-to-peer marketing tools. These include affiliate marketing, loyalty marketing, employee advocacy, influencer, and brand ambassador marketing, and referral marketing tools. Each review receives a score out of five depending on a number of factors. 
These consist of user experience and happiness, cost, and a thorough semantic analysis of all reviews that are currently available online. P2P is especially focused on marketing managers looking for solutions in this market, in contrast to the other websites on this list. This will help with selling specialized software solutions, but it might work against software designed for other industries.
 P2P regularly releases successful blogs and instructions. Once you submit your answer, P2P will highlight it in a blog post that is appropriate for your target audience. This implies that you will gain from the additional exposure and the trust signal provided by an authoritative website in your niche.  
G2 is a 2012 startup with its corporate headquarters in Chicago, Illinois. This business focuses on user feedback while integrating corporate software. Based on customer reviews, they offer the greatest comparison of business software and services. Additionally, they offer software reviews for CRM, ERP, HR, CAD, PDM, and marketing programs.
The G2 is the largest tech market in the world, where companies may look for, evaluate, and manage the technology they require to succeed. The most popular user-trusted review and rating site for software services is G2 Crowd. With more than 160,000 ratings and reviews for the most recent software, it has an advantage over the competition.  
Enterprise technology investors, business analysts, and purchasers are avid users of the website. They access it to compare and select software and products backed by peer ratings. Businesses see it as an opportunity to urge listing on G2 Crowd since it modifies and transforms the corporate business environment. 
 GetApp is a website that provides free interactive tools for comparing and rating small business software as well as providing the finest software deals based on your needs. The company's main goal is to provide your industry with practical, appropriate software. They also assist you in gaining the knowledge required to choose software wisely. GetApp assists small and medium-sized enterprises in their search, comparison, and review of business software with its review area featuring more than 3000 apps.  
5. Clutch
Clutch is a global B2B review and rating platform; it is an unaffiliated platform that gathers customer feedback. They use this platform every month, with a half-million people buying and selling services. You may rapidly complete your profile using this platform, which is a terrific method to attract more customers. Creating a company profile and getting a feature on the website with The Clutch is the best strategy to get people's trust. Many users utilize the corporate to look for software, consultants, and business services.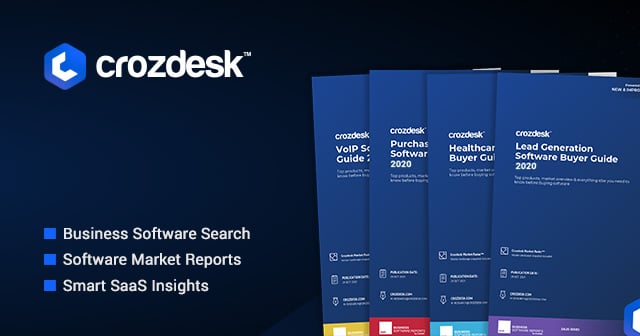 More than 290 different software categories are available from Crozdesk for use in applications in almost every industry and field. The website offers side-by-side comparisons and incredibly extensive product information. Crozdesk bases its evaluations on actual customer feedback, and data from numerous online sources. They also rank software based on their relative positions in the market using their own "Crozscore" algorithm. The 'Crozscore' is a helpful metric for determining how your software stacks up against the offerings of rival companies. A "buzz score" based on how much online "buzz" there is about your software is also included. As a seller, knowing this information is also helpful. 
A global online reviews platform called Trustpilot was launched in 2007. On this website, around 1 million new reviews appear each month. There are more than 300,000 companies and 80 million reviews. It is a network of reviewers that fosters customer and company transparency. By gathering client feedback, one might develop a reputation. 
For busy buyers who prefer talking to an expert for individualized, personalized support, Software Advice is available. In contrast to other review sites, it offers free phone consultations with software consultants to assist purchasers, so the experience isn't entirely self-guided by visitors. Software Advice began its website in 2006 with a focus on software for the construction sector. 
Then, in 2009, they expanded to include software for the medical sector, encouraged by a stimulus measure to fund the development of electronic medical records. Medical swiftly grew to become 60% of their business, which aided in business expansion and provided funding for their diversification into other software areas. 2014 saw the acquisition of Software Advice by Gartner (Digital Markets).  
A website called Software Suggest aims to assist organizations in finding the best software by listing, reviewing, comparing, and providing the software in accordance with their needs. They assess software in over 800 different areas in accordance with industry standards. They facilitate the connection between software sellers and vetted prospects during this procedure. The finest software service review site, SoftwareSuggest, has an evaluation tool to assist consumers in locating the best software for their needs.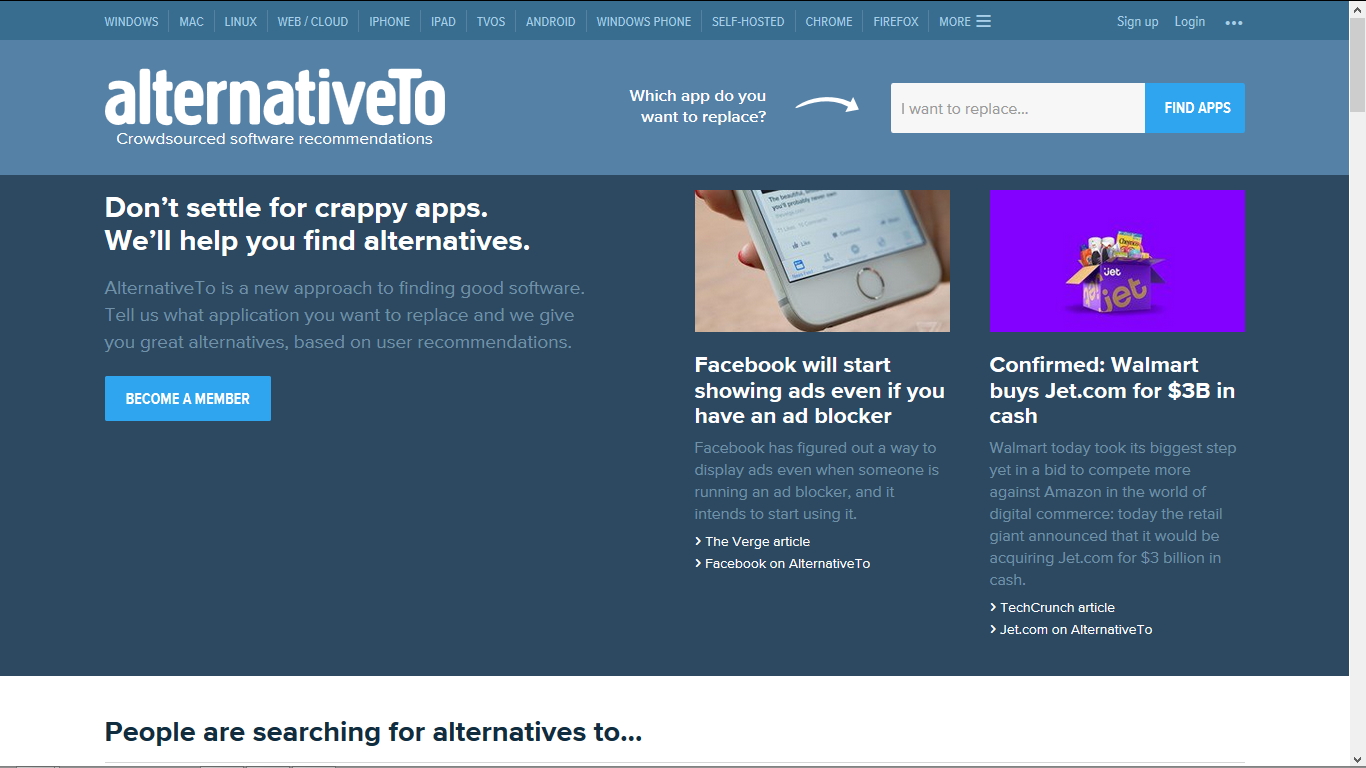 The website AlternativeTo is completely crowdfunded. They provide less expensive (or even free) substitutes for virtually all the software you can think of. Users can perform a search for the name of the software they want to replace, and it will return a list of possible substitutes with the same features and functionality. In addition, AlternativeTo offers details on pricing, customer service, and OS compatibility. Since this is a community-driven website, suggestions are completely dependent on user submissions, comments, and feedback.  
How can you list your software on a product and software review website?
You can use these general guidelines to list your program on a website that reviews products and software. Locate pertinent review websites by conducting research to find software and product review websites that are popular in your industry and cater to your target market.
Search for websites with sections or categories dedicated solely to software reviews. Compile all the data about your software that you'll need to provide in the review submission. This could include the name of the program, its description, its features, screenshots, videos, its cost, the platforms it supports, and any other pertinent information.  
Visit the software review website where you want to submit your application. Search for a section or website devoted to software reviews or submissions. You might be able to use a "Submit Software" or "Add Product" button or link on some websites. Create an account on the review website if necessary. 
This procedure is typical on many review platforms so that you may manage your software listing and get alerts. To submit your program, follow the procedures on the review website. Normally, you will have to complete a form or give the necessary details regarding your program. To make your product more understandable to reviewers and potential users, be sure to include accurate and thorough information.  
What is the best tech review website?
There are many well-known and reliable tech review websites that offer insightful analysis and knowledge on a range of technological products. Depending on one's interests and particular requirements, there may be more than one "best" tech review website.
CNET

provides thorough evaluations, news, and how-to articles for a variety of technological categories. They cover everything, including smart home gadgets, laptops, and upcoming technology. 

TechRadar

offers comprehensive analyses, comparisons, and buying tips for electronic devices, software, and other technological goods. They cover topics like tablets, laptops, cameras, gaming, cell phones, and more. 

Computer hardware and software are the main topics of

PCMag's

reviews and ratings. They offer in-depth evaluations and comparisons of peripherals, computers, laptops, and other tech-related goods.  
Best review/comparison sites for MSP software?
There are a number of review and comparison websites for Managed Service Provider (MSP) software that can offer helpful information and guide your decision-making. 
G2 is a well-liked website for evaluating and contrasting applications. It provides feedback from users, rankings, and thorough comparisons for a variety of MSP software products. G2 offers information about features, costs, customer service, and consumer satisfaction levels. 
You can also find reviews, comparisons, and buying advice for MSP software in TechRadar's business software section. They offer professional judgment and insight into various MSP solutions, including their capabilities, efficacy, and applicability for diverse business requirements.