Best Software to use with XP Pen
If you're an illustrator or graphic artist, chances are you've heard of the XP Pen. XP Pen is one of the msot popular companies that provide graphic drawing tablets and other products hat help you create digital art. Their products are highly extensive, which give both professional and amateur artists a lot of freedom to choose which of their products best suit their needs according to their niche and skill level. With how much variety there is to their products, it can be difficult to also figure out which of their products work best with what kind of drawing or creative software. In this guide, we'll be discussing the best software, specifically illustrating software, that you can use with your XP Pen devices.

You might also like: Best Software To Use with Graphic Tablet
Best software to use with XP Pen
Among XP Pen users, the best free drawing software that can be used with their devices and hardware tools is Krita. With Krita, you get all kinds of premium features with a sleek user interface, all for free. The interface of Krita is highly intuitive, which makes it suitable for beginners, even with limited knowledge and a wide array of features to choose from. This is also good for professionals despite its price point because it has all of the essential tools an artist needs, and more, which are developed in high quality. 
Among these features, here are some of the most notable and useful! You can customize your workstation, such as choosing different colored themes and using over 30 dockers for optimal functionality. Krita also provides a wide array of tools such as a collection of over 100 professionally designed brushes, together with brush stabilizers. You can also import other brush packs and texture packs from different artists or sources if you're looking for something specific that Krita might not have. 
Krita is one of the best choices to use with XP Pen software because of how versatile and easy to use it is. The software is even better because of how compatible it is with XP Pen products.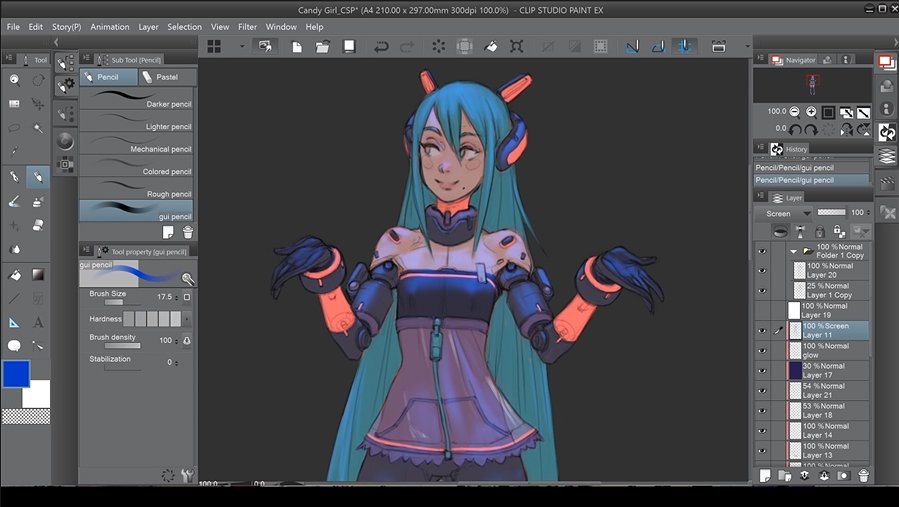 If you're an XP Pen user that prefers a paid software with much more extensive features, Clip Studio Paint is one of your prime options. Clip Studio Paint is a paid platform that is best for anyone and everyone who wants to create digital art. There is a PRO and EX version: the Pro version is best for those who want to create concept art, character art, and illustrations; while the Ex version is suitable for those who want to make art that is akin to comics, manga, and animations.
Regardless of the version, you may prefer, Clip Studio Paint's features are a dream for any illustrator. THe platform features over 40,000 kinds of customizable brushes that can be used on any illustration in an infinite amount of ways. You can even create 3D elements and figures using the software's tools, which can be difficult to do with other platforms.
XP Pen is greatly compatible with Clip Studio Paint. Using their products together with this software will surely make creating art an enjoyable experience for illustrators. 
Photoshop is the premiere software for any kind of media creation. This is because Photoshop has all of the essential tools that you will need to use to illustrate and manipulate other kinds of media like images. All of these tools also have different customizable settings. Photoshop is best known for its thorough layers feature, together with selection tools and different blending modes that are unique to the platform. 
Photoshop is known for also being compatible with almost, if not, every kind of hardware device and tool such as graphic drawing pads and styluses, and the XP Pen brand is one of them.
You might also like: Best Software for Vector Graphics
What software do you use with XPPen?
You can use virtually any drawing software with XP Pen. However, you first need to make sure that the software is compatible with your device. It also needs good support for additional hardware devices. Such as graphic drawing tablets and styluses. Some software is better at doing this than others. Which is why it is important to research what the best ones are, and the three ones we pick are some of them.
Does XPPen work with Microsoft Word?
Yes! You can use XP Pen products with other platforms outside of drawing software, including Microsoft Word. You can also use your XP Pen product with other office applications, such as Powerpoint, Excel, and OneNote.
Does XPPen support Krita?
As mentioned in our list, yes! Krita is one of the best softwares that supports XP Pen products. 
Can I use procreate with XPPen?
Unfortunately, you cannot use XP Pen with ProCreate. This is because ProCreate is an app made exclusively for iOS devices, such as the iPad. XP Pen products only work with desktop or laptop devices, which makes it incompatible with ProCreate. 
You might also like: Best 3D Animation Software Without A Graphics Card