Email Review: How Good is Protonmail?
You pay for your webmail account by allowing the provider to mine your messaging for information that helps target adverts (among other things). Just because you don't receive a bill for your webmail account doesn't mean it's free. Consider switching to an encrypted email provider, like ProtonMail, that prioritizes your security if you find it creepy. 
ProtonMail is available for free or for a charge that unlocks additional features and lifts the restrictions of the free edition. No one other than you, not a dishonest employee, nor a lawyer brandishing a subpoena, can access the data that ProtonMail saves using zero-access encryption. You receive end-to-end encryption when corresponding with other ProtonMail users. 
There are many more aspects to ProtonMail that make it a preferred choice among experts in different fields. In this article, we'll break down the service's features and answer: How good is Protonmail?
Protonmail: Overview
A group of researchers from MIT and CERN developed ProtonMail as an email service in 2013. Privacy and security are their first priority in this end-to-end encrypted email service. ProtonMail is a Switzerland-based service. Switzerland is greatly known for its rigorous privacy rules and neutrality. ProtonMail has established a reputation as one of the most secure email services on the market, and privacy advocates like Edward Snowden support it. The service provides a user-friendly interface with a clear and straightforward layout. There are both free and premium versions of it, with the latter providing greater functionality and storage. 
How good is Protonmail: Security Features
Physically, all ProtonMail servers are in safe buildings in Switzerland. As a result, Swiss law protects the data of ProtonMail users, which generally offers greater privacy protections than laws from the USA or the EU. The service makes it clear that they will give Swiss authorities any information they have about you if you break Swiss law. Here is where the absence of message subject line encryption can cause issues. If this happens, authorities can access your messages' Subject lines and addressing information. However,  the body of your messages and any attachments should stay securely encrypted.
Multi-factor authentication is a helpful security feature that Gmail offers. Naturally, this feature is also present in ProtonMail. You need an Authenticator on your smartphone, or another app that generates Time-based One-Time Passwords (TOTPs). You need this to get ready for multi-factor authentication. Then click Password & Recovery under Settings, open the Multi-Factor Authentication section, and select it. To add ProtonMail to your authenticator, you do as usual by scanning the QR code. Your encrypted messages are now secure even if a cunning thief obtains your password. ProtonMail displays a list of one-time emergency passcodes while this is happening. 
How good is Protonmail: Other Features
The Easy Switch function can import messages, contacts, and calendar events from your previous email address. The software provides detailed instructions for configuring Google, Yahoo, and Outlook accounts. This includes information for setting up other providers to enable IMAP (a need for importing), among other settings. When your previous account is ready, click Start Easy Switch and adhere to the instructions. My contact at ProtonMail said that the process can get throttled at the provider's end, which is why the software flashed a warning that "Large imports may take several days." Google, for instance, only allows 2.5GB of exports per day.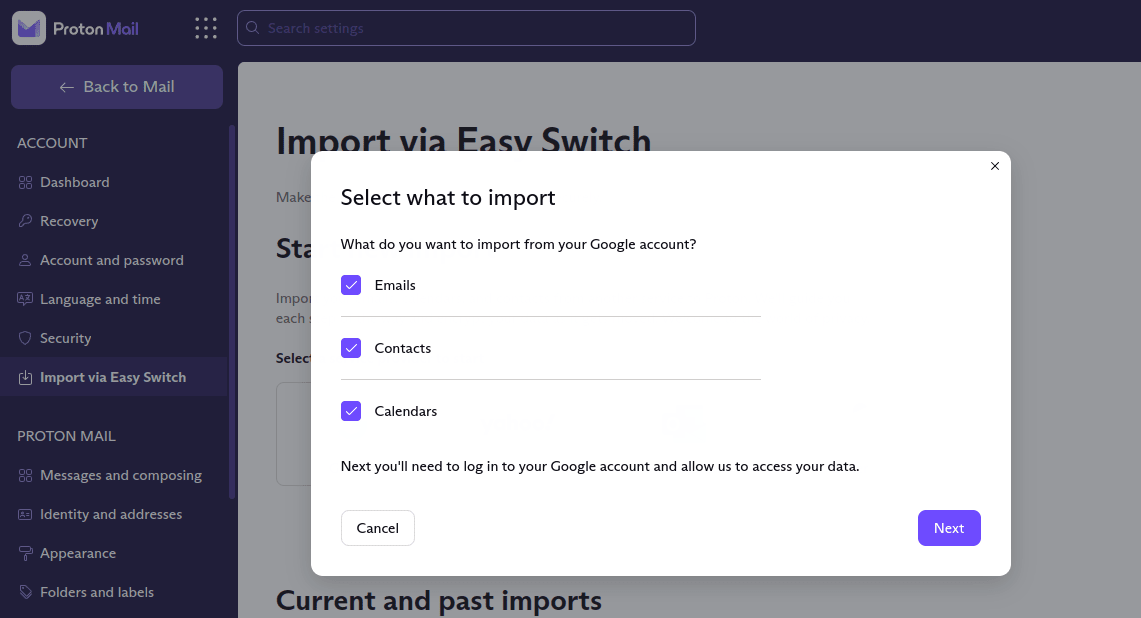 As soon as the import procedure has begun, you can resume using ProtonMail. Check the progress bar in the list of recent and ongoing imports on the Easy Switch page if you want to know how it's progressing. ProtonMail suspended the import while testing with a free account when it had used roughly 75 percent of the 500MB of message storage. While the storage cap is in effect, my contact confirmed that import doesn't go toward the daily message cap. In actuality, users of the free service shouldn't attempt to import an existing account. 
Using ProtonMail to send emails is very similar to using any other webmail provider. It has all of the necessary features for sending messages, viewing responses, and forwarding mail. For instance, when you click a link, a warning appears and you must confirm your decision before the link will open. The level of protection is evident in the little lock icon next to each From address. If the sender is also a ProtonMail user, pointing at the lock causes the phrase End-to-End Encrypted Message to appear in a floating tip. The suggestion advises other senders to store their data with zero access encryption. The majority of individuals certainly don't want to lose communication with their current connections, but if you're sick of all the emails you get, you could just start again with an empty contacts list. 
Pros and Cons of using Protonmail
A secure and private email experience is the main goal of the email service ProtonMail. Although it provides a number of benefits, there are a few disadvantages to take into account. Here are ProtonMail's benefits and drawbacks:
Pros of Protonmail:
User emails remain secure by ProtonMail on encrypted servers, even if attackers compromise them. This increases security against unwanted access by a further layer.

The code for ProtonMail is open-source. This means that security professionals can examine and validate its security measures. This openness fosters greater faith and assurance in the offered service.

Users can easily explore and manage their emails with ProtonMail's simple, intuitive user interface. To properly organize emails, it provides tools like labels, filters, and folders.  
Cons of Protonmail:
ProtonMail features a free plan, however, it has some restrictions. In comparison to subscription services, free users get less amount of storage, fewer customization choices, and fewer email filters. Only premium versions include advanced capabilities like email forwarding and auto-responders. 

ProtonMail's compatibility with outside programs is fairly constrained. Although it offers integration with specific email clients and services, its level of compatibility may not be as high as that of other well-known email providers.

ProtonMail does not include an internal mechanism for email recovery because of the end-to-end encryption and privacy safeguards. A user loses all access to their encrypted emails if they forget their password, which results in irreversible data loss. 
How to create a Protonmail account
It's simple to set up a free account. You choose a username first. This name must be unique, but given the smaller user base, you might find it easier to secure a name that is more accurate and specific to your likes. Your account's default domain is protonmail.com, though you also have the choice of protonmail.ch, which is the Swiss equivalent. The abbreviated domain pm.me is available to paying users. To protect your account, provide a strong password and an optional recovery email. Final step: use a straightforward CAPTCHA or a code received through email or SMS to confirm that you are human. I'm done now.  
You may install the ProtonMail app by scanning a QR code that appears during the onboarding process with your smartphone. That's wise because reading email on a mobile device these days is just as likely as reading it on a desktop or laptop. Six themes are available for you to select from along the journey, two of which will appeal to fans of dark mode.
FAQs
How Much Does ProtonMail Cost?
If the term ProtonMail seems familiar, you undoubtedly have ProtonVPN in mind, a premium VPN provider that places a high priority on physical security. The membership that includes both items will save you money. You should try out the free edition first to see if you like it. You must pay $5 per month or $48 annually if you want the premium features or if you enjoy it well but encounter its restrictions. 
 Some alternatives are more expensive. For instance, a year of StartMail costs $59.95, and Private-Mail costs $49.95. Tutanota, like ProtonMail, provides a calendar even at its free tier; unlike ProtonMail, it does not place any limits on the number of messages for free users. SecureMyEmail, on the other hand, costs $29.99 per year, whereas you can get a year of Tutanota Premium for around $14. You only have a limited amount of time to search your messages back in Tutanota's free version. Purchasing a premium account increases this cap. A premium feature of ProtonMail entails building and maintaining an encrypted local index on your device in order to search the content of messages. 
Is ProtonMail any good?
Anyone looking for a private and secure email service should strongly consider ProtonMail. It distinguishes itself from other email providers by its focus on security and privacy, including end-to-end encryption, two-factor authentication, and devotion to customer privacy.  
ProtonMail offers a user-friendly design and a number of features that improve the email experience. These consist of programmable email filters, the capacity to send self-destructing emails, and compatibility with widely used email programs like Thunderbird and Outlook. ProtonMail is also well known for its dedication to user privacy. They offer a free tier with a sizable amount of storage and capabilities, making it available to customers who might not want to shell out money for a premium email service. Finally, ProtonMail offers reasonably priced premium options with extra storage, unique domains, and sophisticated capabilities for those that need them.  
Which one is more secure, ProtonMail or Gmail?
ProtonMail and Gmail both use encryption to protect users' emails. What differs between both platforms is that emails sent with ProtonMail are end-to-end encrypted. This ensures that only the intended recipient can view them. Gmail, in contrast, encrypts emails at rest using a server-side program and emails in transit using Transport Layer Security (TLS). 
Additionally, Gmail is a US-based server. As a result, they have lower privacy rules, compared to ProtonMail, which follows Switzerland's strict privacy laws. 
For people who are particularly concerned about government spying or data breaches, ProtonMail may be a more secure option. It's also important to note that ProtonMail offers both a free version and a subscription version with extra features. All things considered, both ProtonMail and Gmail are secure solutions, and your particular needs and concerns will determine which one you choose. ProtonMail is a free email service with a premium version called G Suite that adds extra features like custom domains and more storage. 
How good is Protonmails customer support?
Customer service at ProtonMail has a reputation for being incredibly quick to respond. Their support services show their priority on the satisfaction and privacy of their users. ProtonMail's support staff is excellent at delivering quick and informed responses. They can answer questions on account features, technical problems, or security issues. They ensure that users can get in touch easily by providing a variety of contact options, including email and a specific support form. The ProtonMail support staff is well-trained and exhibits a thorough awareness of the platform's capabilities, encryption standards, and privacy ideals. They prioritize preserving user data and deploy effective encryption techniques, which demonstrates their dedication to consumer privacy and security.  
Additionally, ProtonMail's customer service is frequently praised for its openness and dedication to addressing concerns. They make sure users are well-informed by providing timely updates on the status of problem resolutions. In addition to being proactive in addressing common issues, the support team routinely posts educational articles and guides. This helps users troubleshoot issues and comprehend the functionality of the platform. ProtonMail's customer care has established itself as a dependable and trustworthy resource for its users, thanks to its focus on user pleasure, privacy, and quick response. This enhances the overall good experience of using their encrypted email services.  
Conclusion: How good is Protonmail?
In conclusion, ProtonMail is a great option for people and businesses looking for a safe and private email solution. ProtonMail guarantees that confidential information remains secure from unauthorized access. This is thanks to its strong end-to-end encryption and dedication to user privacy.  While ProtonMail's premium plans offer cutting-edge capabilities at reasonable costs, their free tier offers a substantial amount of storage and features, making it accessible to a wide spectrum of customers.  
Overall, ProtonMail is a well-known and trustworthy email service provider thanks to its focus on security, privacy, usability, and customer assistance. ProtonMail provides security and a wide range of capabilities for customers that prioritize privacy and data security, whether for personal or business use.