ProtonMail vs Gmail: Is Protonmail Safer Than Gmail?
Email is a dinosaur on the internet. However, despite its age, it is still the primary means of communication for many industries. It is the way that advertisers contact you, and the way to transfer a lot of private data efficiently. Additionally, there are more email services and apps available than ever before. Many users have already shifted to ProtonMail because of its superior security and privacy features. However many Gmail users don't understand the advantages. Even while ProtonMail is the safer of the two, some customers might say that the added protection isn't really necessary. 
In this article, we'll give an answer to the question: "Is ProtonMail safer than Gmail?" And is it worth it to change providers, or to stick to Gmail's functionality? 
ProtonMail vs. Gmail at a glance
In comparison to Gmail, which has billions of users and offers a better user experience and more integrations, ProtonMail is the underdog with better privacy and more security features. 
Pricing: ProtonMail offers an option for a free plan, while monthly memberships begin at $5. Gmail has a generous free plan. Google One or Google Workspace memberships are available 
Easy to use: Although intuitive, ProtonMail's security features have a learning curve. Gmail is completely easy to understand.
Integration with other apps:  Gmail strongly integrates with the Google software platform and, via Zapier, thousands more additional programs. ProtonMail, unfortunately, only integrates with Proton Drive.
Privacy:  ProtonMail is zero-knowledge, uses no IP monitoring, and abides by strict privacy laws under Swiss jurisdiction. Gmail uses user metadata for analytics, additional services, and monetization. 
Security: ProtonMail provides the option to have emails that self-destruct and require a password. It also uses end-to-end encryption (PGP). GMail stands by industry standards, including 128-bit AES encryption for inbox contents at rest and TLS for client-server connections.
Integration with email clients: Access to ProtonMail accounts via other email programs, such as Outlook, Thunderbird, Apple Mail, etc., requires a paid membership. Users can use almost any email client, including the Gmail mobile app, to access Gmail accounts. 
How to choose a good email provider
While some people only need an easy way to send emails, others could have more specific needs. Knowing your demands is essential to selecting the best supplier, whether your priority is complete anonymity, compatibility with current technologies, or something else entirely. There are, of course, additional elements to take into account, and no one service can offer them all. 
Assess Your Needs
Gmail is a fantastic option for personal correspondence, but it's probably not the best for emailing sensitive information like medical records. Additionally, content marketing has some specific requirements. Even though the majority of email marketing efforts use specialist software, they still depend on reliable email services for sending and receiving emails. 
More adaptable choices like Gmail and private email servers are typically better prepared to accommodate email marketing campaigns. In any case, the best method for selecting an email provider is to evaluate your demands. For instance, certain users might require an email service provider that supports enterprise-level deployments. 
ProtonMail includes a corporate edition, however, for some enterprises, it may not be scalable or functional enough. An organization might instead favor Gmail exclusively due to its usability and scalability. The need for a simpler, more adaptable provider trumps the concern that it wouldn't be as private or secure as ProtonMail.   
Prioritize Privacy and Security
The concern is an expectation for many users once they realize that email providers aren't always private in activity. When opening an email account, you frequently must give over some of your personal information. Most services only collect your name, phone number, and other contact details. However, Gmail and other services examine your emails' content as well. 
Another important consideration is security. This is particularly important if you use your email for banking or other critical duties. Secure email companies offer security many different options. This includes multi-factor authentication (MFA) or two-factor authentication (MFA), robust encryption, and other access control measures. Security and privacy are crucial no matter how you use email, of course.  While Gmail, ProtonMail, or any other significant service won't let you down, some are more secure than others.  
Ensure Ease of Use
Although most email systems are fairly simple to use, there are a variety of reasons why. The contrast between Gmail and ProtonMail is perfectly illustrated. Both provide a "simple" user interface, but the simplicity comes from distinct sources. ProtonMail is simpler than Gmail since there are almost no features, in contrast to Gmail's simplicity which stems from its intuitive design. 
Which do you believe would be simpler to employ? Enterprises should also take into account the usability requirements of other people. For instance, even though a supplier might offer particular benefits, they might not be worthwhile if it is challenging to onboard new employees. In this case, it's crucial to take into account how quickly the user will get used to a new interface. This includes how that can affect productivity, training expenses, etc.   
Check Compatibility with Existing Tools
You might want to look for a compatible email provider if you frequently use your email in conjunction with programs like word processors and other apps. Microsoft Outlook and Gmail are two excellent instances of this. Gmail is quite compatible with Google Workspace, as we already discussed, giving users a direct link to Google Docs, Google Sheets, and a variety of other tools. The same is true with Microsoft Outlook and Office 365.  
Consider the Cost
Although the majority of email providers offer free plans, these rarely satisfy the needs of business and professional customers. Since paid plans are the only choice that makes sense, the price soon takes center stage. Like with any program, price varies according to user count and application. For instance, while Gmail's basic plan starts at a monthly cost of $6 per user, its commercial plans increase this to almost $20. Email may easily turn into a significant expense for any firm, with enterprise services likely having considerably greater costs.  
Try The Free Version
No matter how you intend to use your email, there are instances when trying each provider is the best course of action. Comparing different providers is simple and inexpensive because the majority of them offer free programs. Trying the free version is still a wise move even though enterprise users might not be able to sample a full-scale deployment without a demo.  
Security Features: ProtonMail vs Gmail
ProtonMail does not gather any personal information, in contrast to many other email companies. ProtonMail is one of the few email providers that enables customers to experience complete privacy. This is in addition to anonymous sign-ups and no IP address monitoring. Paid plans allow even the usage of anonymous or decentralized payment systems like Bitcoin. Additionally, ProtonMail provides unusually robust security protections. They offer complete end-to-end encryption among other security features, rendering it impossible for anyone (including ProtonMail itself) to access your emails.    
They also provide address verification to ensure that you forward your email to the correct recipient. ProtonMail offers the highest levels of privacy and security among free email providers thanks to features like powerful cryptography and encryption techniques. ProtonMail will begin using Pretty Good Privacy (PGP) encryption in 2022 to protect emailed files and emails. Elliptic curve cryptography was also added in April 2019. This provides customers with the advantages of increased security and speed. 
The dynamic mail feature of Gmail is one of its main benefits. Users can save time by performing certain tasks inside the email itself thanks to this robust functionality. Through Google Workspace, dynamic mail allows additional apps and add-ons like Google Sheets and Google Docs. Naturally, there is a cost associated with all of this flexibility and ease, and that cost is privacy. 
Google monitors everything you do when using its apps, in addition to gathering your personal information. And it's not just with emails. Google is keeping an eye on everything you do, whether it's sending an email, replying to a comment on a Google Doc, or completing a Google Form. 
However, this does not imply that Google is abusing your data in any way. In fact, Google gathers your information primarily to customize your experience or, at worst, to show you advertising. Additionally, the majority of email providers, including Microsoft Outlook and Yahoo! Mail, routinely gather data. Even so, it's not a terrible compromise for a cost-free email that is simple to use and has excellent app compatibility. 
Other Features
Google places a lot of emphasis on usability, but it's not Apple. Check out the webpage for Material design if you're interested; Google has put so much effort into this area that it even provides its user experience guidelines. Both the web and mobile apps are simple to use, quick, and fast. All of your labels appear when you log in to a computer, and there is plenty of room on the screen for all of your emails, which you can arrange in conversation threads. The toolbar for performing all the activities you need to keep emails organized is always at the front of the list.  
With a collection of pre-made filters, Gmail also categorizes your emails. For instance, Google recognizes promotional emails and groups them all together in a dedicated Promotions tab. You may keep things distinct from your primary inbox by doing the same with emails from social networks. An email client is also included with the Gmail mobile app. You can still access and use your accounts from custom domains or accounts with other providers in the Gmail app.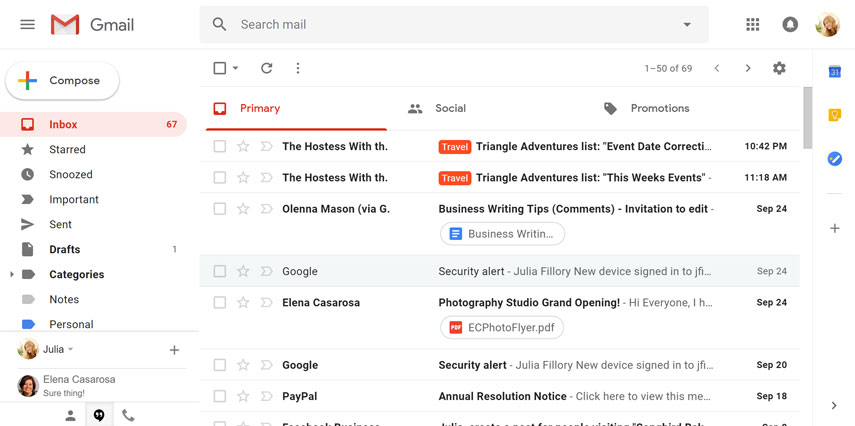 Although ProtonMail has made progress, it is still lagging behind Google in this area. The web app is simple to use, but taking advantage of all the security features requires some practice.   When opening emails and refreshing your inbox, there is a minor lag. You must click to display photos in order to maintain a professional-looking email layout because it also prohibits graphics from appearing in the emails you receive (for example, to prevent them from tracking your open rates).  
ProtonMail vs Gmail: Pros and Cons
ProtonMail's Pros:
Total confidentiality and anonymity. Users of ProtonMail are able to sign up without disclosing any personal information, allowing them to stay entirely anonymous. ProtonMail also doesn't monitor customers' IP addresses or examine the emails they send, enabling entirely anonymous communication. 

Paid users have the option of paying via anonymous ways like Bitcoin, strong security, and encryption. ProtonMail adds encryption to its privacy features by doing so for each email. ProtonMail will begin using Pretty Good Privacy (PGP) encryption in 2022 to protect emailed files and emails. Elliptic curve cryptography was also added in April 2019, providing customers with the advantages of increased security and speed. 

Private messaging. Although technically included in the aforementioned advantages, this merits a separate note. No one can read your emails thanks to ProtonMail's encryption capabilities. Additionally, the service provider offers address confirmation so that you may always be certain of the recipients of your emails. 
ProtonMail isn't really the most adaptable email service provider, despite the fact that it offers several security advantages.
Protonmail's cons:
Limit of 150 messages. Users of ProtonMail are only permitted to send 150 emails daily. Even if some people may find it to be a relatively high limit, enterprise users will need to either pay for a subscription or utilize another service provider for mass messaging. This cap rises to 1,000 emails daily for paying customers. 

Limited amount of space. ProtonMail only provides 500 MB of safe cloud storage, compared to the enormous (if not "unlimited") data caps offered by Gmail and other email providers. But people who value their privacy and security typically don't care to store their information offsite.

Bare-bones organizational tools. ProtonMail provides the very lowest amount of organizing tools, if not even less. It's not a great option for people who want to stay organized because there are no filters or flags. However, customers may still access ProtonMail in Outlook and other programs by using the provider's free SMTP server.
Gmail's pros:
Gmail's interface is simple and clear. Emailing is simple with Gmail because of its simple UI. Even new users can get around thanks to powerful features like dynamic mail that make the majority of activities obvious.

Strong compatibility. Google Workspace, which contains applications like Google Docs and Google Forms, and Gmail work together very well. Gmail is a great option for anyone utilizing these services as a result. Outlook and other third-party email applications can connect to the Gmail SMTP server to send and receive emails.

Clutter-free inbox. Gmail inboxes have a reputation for being clutter-free, in part due to Google's sophisticated spam screening. Users who have switched from other spam-filled services like Yahoo! Mail frequently find this to be a relief.
Gmail's cons:
Gmail has a few shortcomings that may not be as enticing to some users while being an excellent option in terms of usability. 
Uncertain privacy. Google and Gmail gather your data, whether you want them to or not. That covers your private information, how you use apps, and the information in any communications you send. While some users may not care, people seeking ultimate anonymity and privacy should think about using ProtonMail.

No special folders. The absence of folders in Gmail's user interface is the sole negative aspect. Gmail employs a labeling method to classify emails as opposed to other email providers that enable unique folders. It takes some getting accustomed to it, even though many people prefer it. expensive premium levels. 

The most basic subscription plan for Gmail starts at $6 per month, making it slightly more expensive than the competitors. Even if it's still not a lot, the cost for enterprise-level subscriptions that are compatible with Google Workspace increases. Of course, the majority of people are content with the free alternative. 
Can a Gmail account send an email to a ProtonMail account?
Yes, you can send emails from a Gmail account to a ProtonMail account. You can send emails using Gmail or ProtonMail, and as long as the recipient's email address is valid, the message will reach their inbox.  
Our Verdict: Is ProtonMail safer than Gmail?
Gmail and ProtonMail are obviously two completely distinct email providers. Although each has advantages and disadvantages of its own, privacy and flexibility stand out as their primary contrasts. Although less flexible, ProtonMail is more private, and therefore, more secure
Users of ProtonMail have complete anonymity and privacy, however, they can experience limitations in the messages they can send. Gmail is more flexible but less private. Gmail is simple to use and has excellent app compatibility, but it is not nearly as private. It is obvious that one isn't always "better" than the other. Which one, nevertheless, is best for you?