What is a Private Email Address? Email Privacy Questions Answered
With technology today, one of the most important things we should prioritize is privacy and security. Especially in online communications like sending and receiving emails. When it comes to emails, you can use a private email address to add security to your personal information. In this article, we will answer your question, "What is a private email address?"
We will not only answer this question for you. This article will recommend you the best private email providers you can use. As well as discuss the benefits of having a private email address, and compare it to having a regular email account.
What is a private email address?
Essentially, a private email address is a kind of email address that a user uses for personal use. Usually, users would not use private email addresses in connection to a particular company or organization. They often utilize it for personal interactions like messaging friends and family or pursuing personal hobbies. People typically create private email accounts utilizing well-known email service providers like Gmail, Yahoo Mail, Outlook.com, or other comparable platforms. Private email accounts are different from professional or corporate email accounts, which commonly include a company's domain name (for example, [email protected]). 
This is simply one kind of definition for private emails, however. There is another definition, which focuses more on security and safety.  To make sure that only you and the recipients of your messages see them, private email services employ encryption and other cutting-edge security techniques. No one other than the recipient of a secure message can read it. Being anonymous online, which involves masking your identity, is different from being private online.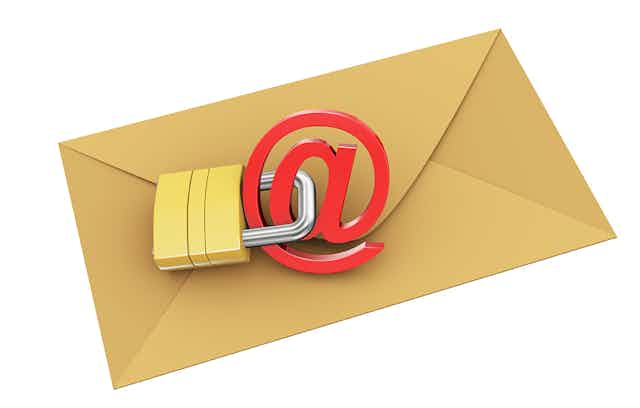 For instance, your doctor will know who you are if you write them a private email. Security and privacy are two aspects of the same thing, yet they are also different. For the majority of users, a typical "free" email service like Gmail might be secure enough. If you use two-factor authentication and strong passwords, it can be hard to hack your account. Even so, it still isn't private.  
You might also like: Why is Gmail the Best? Gmail's Secret Revealed
Does GMail provide private email services?
Gmail isn't secure since it gathers a ton of data on you to support Google's surveillance-based advertising business model (new window). Gmail, like other Google services, uses a variety of methods to gather your personal information. It might first access your emails directly. Despite the fact that Google stopped scanning emails to deliver tailored ads in 2017, Gmail appears to still provide access to user data to third-party developers(new window) a year later. Even though you can turn this off, Gmail nevertheless reads emails to enable smart features (new window). Second, Google keeps track of practically all of your interactions with your Gmail account, including who you email, when you send them, and what's within.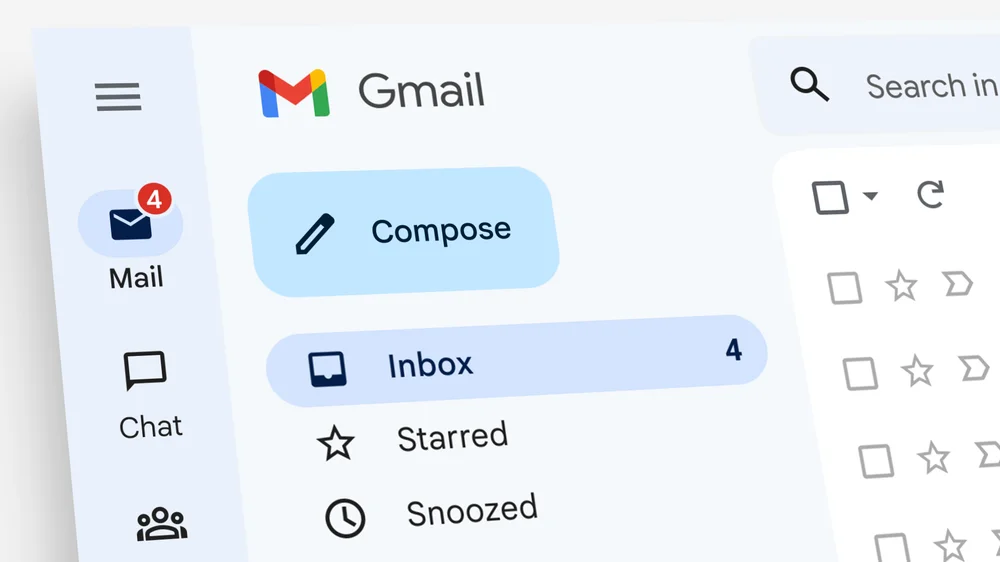 Why do you need a private email?
You may regain control of your data and safeguard yourself online by using a private email account. You control your personal information with a private email account, not large tech companies. That's crucial in order to prevent Big Tech from following you online. Big data personal profiling has the potential to negatively affect your prospects for the future and widen societal disparities. The majority of contemporary, large email providers, including Gmail and Outlook, encrypt your emails in transit using TLS (new window). 
However, the service provider keeps the encryption key so they may read your messages. While the hacker targets Yahoo, your personal information is still at risk, as demonstrated by the 2021 Microsoft Exchange Server data breach
End-to-end encryption is a feature found in the top private email services to safeguard your data while it is in transit and on the server. Your email provider, hackers, or anybody else you don't want to have access to it cannot see your emails. While the majority of large email providers have anti-spam and anti-phishing measures in place, private email providers might provide more robust security. 
The best secure business email services provide a variety of defenses against phishing and other attack vectors. Additionally, even if your company's network is ever compromised, our zero-access encryption should keep your sensitive information safe.  
You might also like: Asoftclick Answers: Which Email Provider Reigns as Number One?
What are the features of a private email service?
Regardless of what industry, field, or business you are in, whether you are a little firm or a global corporation, all it takes to choose the best email address to show under your name is to have a private domain name. While you can count on your hosting provider to send your emails on time and ensure that they reach their intended recipients in a matter of seconds, security is another crucial aspect of private email services. While relying on massive businesses like Microsoft (YahooMail) or Google (Gmail), which are getting slower every day, would only make your day tougher, having a private email account helps you to avoid all the junk during hectic working hours.
Private email account providers you can use
One of the best free services for anonymous email is ProtonMail. Your email traffic is entirely encrypted. The recipient of your message is the only person who has access to view your email. Your messages will stay in an encrypted state and are therefore inaccessible to ProtonMail. The best part is that opening an email account doesn't need you to divulge any personal information. Start with ProtonMail, which gives you 500MB of storage and a free daily email cap of 150. The free basic plan is decent, but you get 5GB storage, 1000 daily emails, a custom domain name, email aliases, and more when you upgrade to the Plus plan.  If you need extra storage, aliases, support for multiple users, or even beta access to new features for your email, you can choose the Visionary plan. 
In order to give consumers a high level of privacy and security for their conversations, CounterMail is a secure email service. Users know it for its emphasis on user data security and thwarting illegal access. To safeguard email content, CounterMail uses robust end-to-end encryption. The server also makes use of diskless servers, which implies that none of the hard drives store data. This method assists in preventing data breaches and guarantees that the stored data is secure even if the servers experience hacking.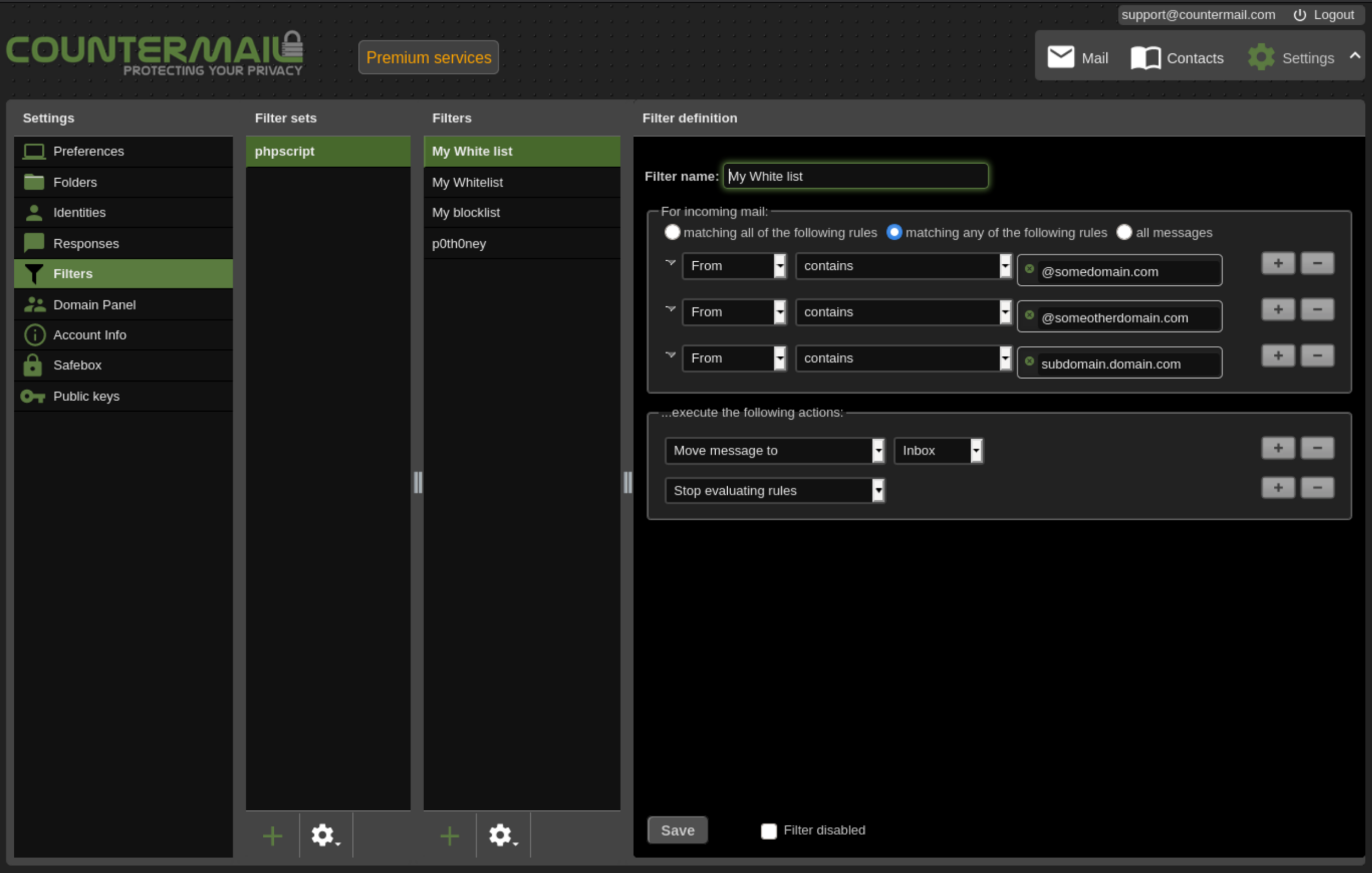 Another free anonymous email service with some excellent premium features is Mailfence. You can filter your emails any way you like and establish aliases. Furthermore, Mailfence encrypts its mailing system. Because its servers are in Belgium, Mailfence can abide by its guarantee to preserve your privacy. Nobody can forcefully grab your data because European Union law is on your side. You may use Mailfence's free plan to get started, which offers 500MB of storage, email support, and end-to-end encryption. Upgrade to one of the premium plans if you require additional storage, priority support, and bespoke email domain names. For your emails, you can get up to 50GB of storage space.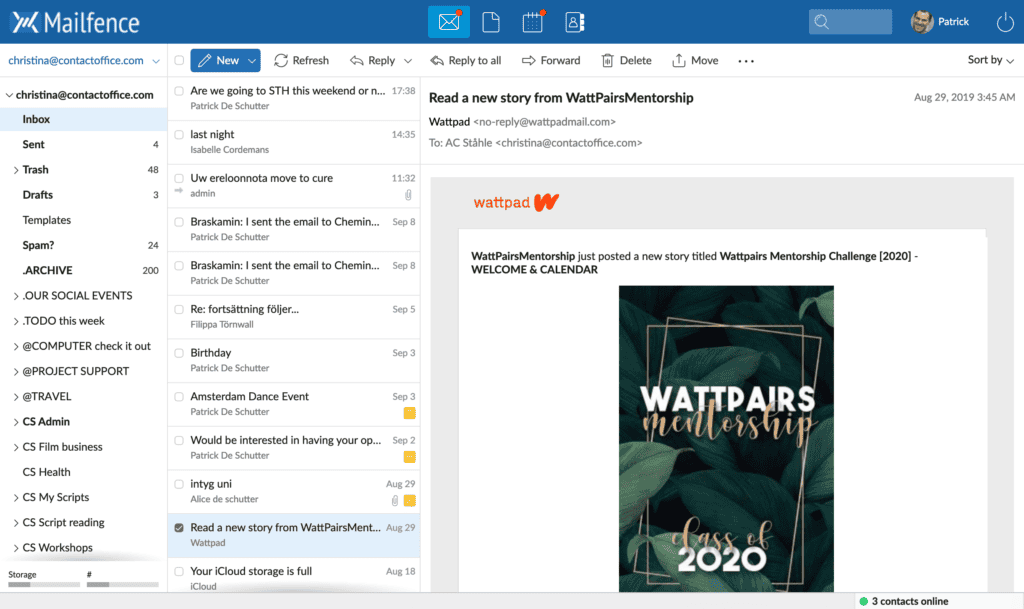 Email accounts with encryption are available from Private-Mail starting at $8.95/month. Although it is not free, it is worth looking into because it is privacy and security-focused. It uses the same 256-bit AES encryption technique as CyberGhost VPN, and only you can decrypt the files. Due to client-side encryption, not even Private-Mail can access your data. Sharing files is made easy with Private-Mail. The standard account comes with 10GB of local storage and 10GB of cloud storage; for $15.95, you can double that by upgrading to their Pro account. For added security, you can enable the self-destruct option for your emails.  
You truly can't go wrong with Tutanota; it ranks right up there with ProtonMail in many aspects. Tutanota encrypts your emails so that no one, not even the developers, can read what's in your mailbox. Additionally, it conceals your IP address so that even if someone were to decrypt your mail, they couldn't determine where you are. The majority of users will find that Tutanota's 1GB of storage capacity is sufficient. In order to acquire your own custom domain, 5 alias addresses, and email support, you may also upgrade to the premium paid plan. You can upgrade to the Teams plan, which comes with 10GB of capacity if you require more space. As an alternative, Tutanota provides add-on storage solutions with capacities as high as 1TB.  
You might also like: Double the Power: Unlock the Potential of Two Gmail Accounts!
Choosing and creating a private email for your needs
As usual, larger companies (still much smaller than Google) do provide more comprehensive packages in which the provider will handle all aspects of your security, while smaller teams receive the same level of care but with less storage capacity. There are a few considerations you should make when creating your personal email address. The first step in creating an email is for you to select a mail client software program. Many of these, such as Outlook Express, Mozilla Thunderbird, Windows Live Mail, eM Client, Opera Mail, Postbox, and others, are presumably already familiar to you. 
How to set up your private email account
The general steps to create a private email account are as follows: 
Select a trustworthy Email Service Provider with Private Email Accounts. Pick a trustworthy email service provider with private email accounts. Gmail, Yahoo Mail, Outlook.com, ProtonMail, and Zoho Mail are a few of the more well-liked choices. 
Visit the website of the email service provider. Navigate to the website of the email service provider you've selected. To begin the registration process, look for a "Sign Up" or "Create Account" button or link. 
Create an account by clicking the "Sign Up" or "Create Account" button or link and entering the necessary details. This normally consists of your preferred email address, a password, and private information like your name, birthdate, and contact information. To finish the account creation procedure, adhere to the directions given by the email service provider.  You may set forwarding emails, outgoing messages, the level or type of protection for your emails, and everything else using the private email control panel, but without adverts and banners. 
Set a Secure Password. Make sure the password you use for your email account is secure. Uppercase and lowercase letters, numerals, and special characters are the recommendations to create strong passwords. Avoid using well-known passwords or information, such as your name or birthdate. 
Configure Security Settings. Enable any additional security measures, such as two-factor authentication (2FA) or login alerts, made available by the email service provider. These steps aid in boosting account security and safeguarding your personal data. 
Learn the User Interface. After setting up your account, spend some time getting acquainted with the user interface and functionality of the email service. Learn how to use all of the given functions, including how to manage your inbox, create folders, set up filters, and compose and send emails.
You might also like: Gmail: The Professional's Choice – Is It Truly Office-Ready?
Conclusion
Without a strong VPN, it's practically hard to defend yourself as the internet gets increasingly hostile and constrained. Google and other companies follow everything you do online in order to collect your data. They access the files you send and receive, as well as your private email inbox. Use CyberGhost VPN and anonymous email services to put an end to these practices and safeguard your property.
Services like Tutanota and ProtonMail don't follow you, don't ask for your personal information, and encrypt your emails. Additionally, you can set up aliases or have your emails self-destruct. It is nearly impossible for someone to find you and steal your data. You have a right to privacy, anonymity, and data control. 
To sum up, email services have revolutionized communication, and private email accounts give users a chance to have a dedicated email address for personal usage. Users can benefit from the freedom and convenience of email communication with a private email account while maintaining their privacy and efficiently managing their personal correspondence. 
You might also like: Gmail vs Google Mail: What's the Difference?