Asoftclick Answers: Which Email Provider Reigns as Number One?
Platforms called email service providers (ESPs) let people, companies, and organizations host and manage their emails. Through their platforms, they give users the ability to generate, send, receive, and organize emails. Email service providers, which provide a variety of features and functionalities to improve the email experience, are crucial in facilitating both personal and professional communication. The "best" email service provider might vary depending on the needs and interests of each person. On the basis of their features, dependability, security, and user happiness, a number of email service providers have established themselves as major rivals.  
There are many tech software lovers that are divided on what the best ESP really is. Both casual and professional email users love Gmail, but others vouch for Protonmail or Zoho. What is the number one email provider?  We'll be answering that question today. 
Types of Email Accounts
Email clients and webmail are the two primary categories of email service providers. Let's quickly look over these various providers.  
What are email clients?
You install email clients as software programs on your computer to control the emails you send and receive. The client communicates with a distant email server in order to access this email. You've probably heard of Microsoft Outlook, Mozilla Thunderbird, and Apple Mail as email clients.
What is webmail?
Webmail is a type of email that you can only access online; as a result, it mostly resides on the cloud rather than on your computer. You may access and control your inbox directly from your web browser rather than through a downloaded application. Gmail, Yahoo Mail, and Hotmail are a few webmail service providers as examples. Now, look at the top free email services you can find today, including webmail and email clients, as well as the best email accounts for privacy. To assist you in selecting the best option, we've highlighted a special feature for each email service provider. 
What makes the best email provider?
Depending on a person's needs and tastes, different email providers might be the best choice. A top-tier email service provider ought to give a dependable product with less downtime. Users should constantly and uninterruptedly have access to their emails. The privacy and security of customer data are a top priority by the best email services. They use strong encryption protocols, efficient spam and malware-blocking tools, and safeguards against unwanted account access. Users need enough storage space to keep their emails, attachments, and files. The finest email services have ample storage capabilities or, if necessary, alternatives for storage expansion. 
What is the number one email provider?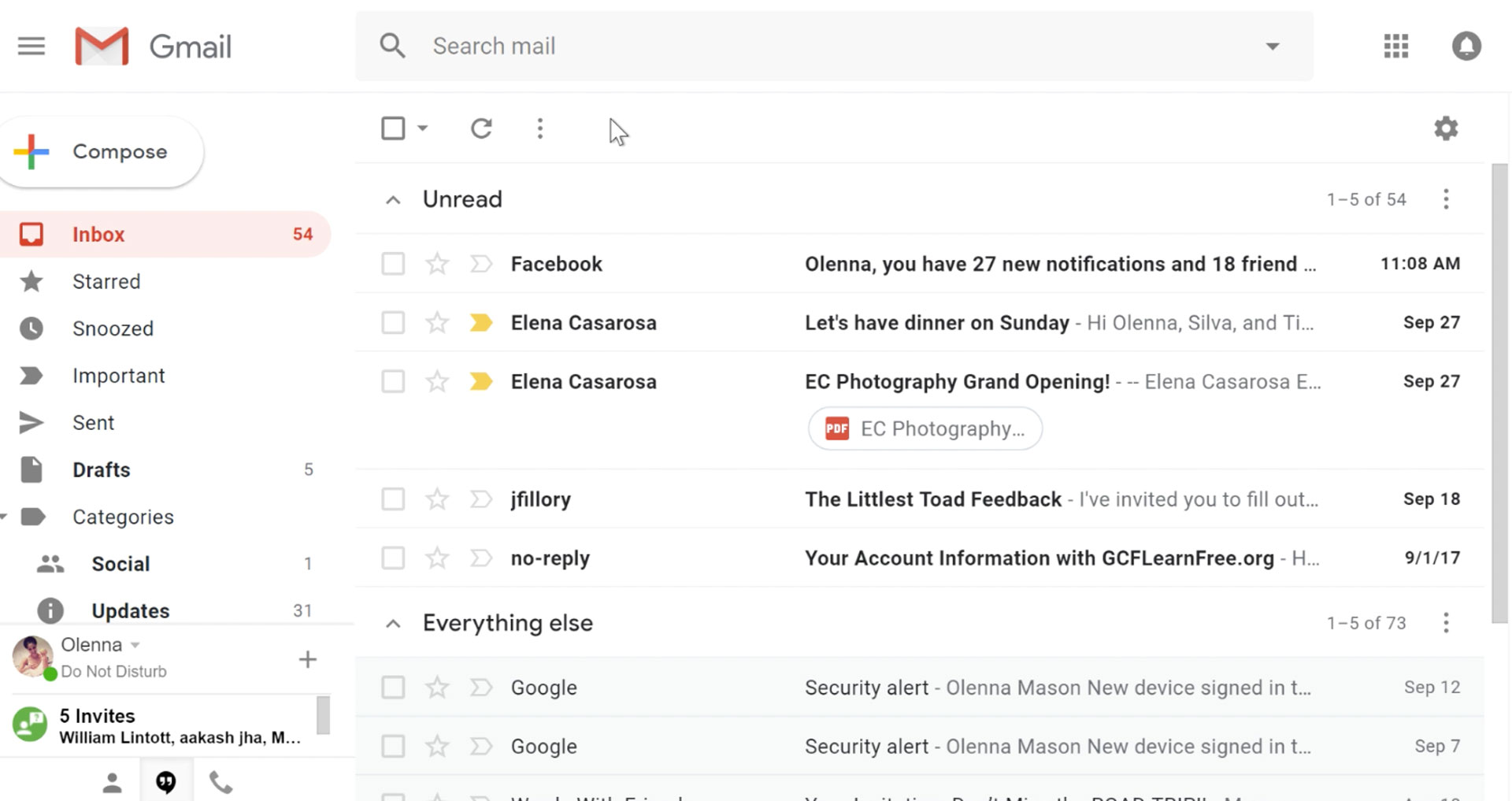 Since 2004, Gmail has quickly risen to become the most widely used email service worldwide. Over 1.8 billion users enjoy its ease, security, and connectivity with the larger Google ecosystem. More than a billion people use Google's Gmail, a powerful free email service. And it's simple to understand why with its substantial 15GB data allowance, state-of-the-art anti-spam and phishing protection, great integration with Google's other productivity services – Chat, Meet, Calendar, Docs, Drive, and more – and support for email clients like Outlook, Apple Mail, and Thunderbird. 
There is a ton of power available. By enabling you to complete tasks from within the email, such as responding to a Google Docs remark or filling out a survey, dynamic mail helps you save time. The messages in a confidential mode can have an expiration date and be password-protected. Even better, you can use Gmail and compose messages when not connected to the internet thanks to the offline mode. Although Gmail's free plan has restrictions, they are rather lenient, offering 15GB of storage and the capacity to send 500 emails each day, for example. Though it's likely to perform admirably for personal use, business users may prefer Google Workspace.  
A Swiss-based email service called Proton Mail provides unparalleled privacy right away. There is no need to provide personal information to create a free account—not even another email address—and end-to-end encryption and optional password security ensure that neither Proton Mail nor anyone else can access your messages. The free plan does have some restrictions, as you might anticipate. It doesn't have Proton's IMAP or SMTP functionality, so there's no way to use Proton Mail from your standard email program. You receive a single email address and, initially, a limited 500MB mailbox (you can raise this to 1GB, but only if you hand over your email address or phone number). 
We discovered Proton Mail to be logical, simple to use, and full of practical tools. With choices to import your Gmail, Outlook, Yahoo, and other Inboxes, an Importer gets you started quickly. Overall, if you're happy to use Proton Mail for your most sensitive messages only, and switch back to Gmail (or whoever) for anything not-so-privacy-sensitive, the plan should serve you very well. Users can enable two-factor authentication via apps or physical keys, and there's even a dual password mode (one to log into your account, another to decrypt emails). 
With a business-friendly free plan and a wide range of affordable to enterprise-level subscription choices, Zoho Mail is a surprisingly capable email service. For families and small enterprises, the free option offers up to five users on the same account, which saves time. D Every user gets their own 5GB inbox, for a better-than-most 25GB maximum storage, and you can use Zoho Mail with a single custom domain ([email protected]), a feature most providers reserve for their paid plans (if they offer it at all). 
 To facilitate access from different email clients, Zoho Mail Lite now adds support for IMAP and POP. It syncs emails, contacts, and calendar information across all of your devices, supports sending 250MB attachments (through links), and lets you use numerous custom domains. You can also encrypt confidential information and password-protected for added security. That's a respectable feature set, and you can have it all for just $12 a year (sadly, there is no monthly payment, but given the cheap rates, we're not too worried). 
With its massive free 15GB Inbox, additional 5GB of Onedrive cloud storage, and access to the web and mobile versions of Word, Excel, and PowerPoint, Outlook's potent web app is a formidable rival to Gmail. Outlook's web interface is a tiny bit more cluttered than Gmail's, but it's also quite recognizable and similar to many other email applications and the Outlook desktop version. If you've ever used another email client, you'll quickly feel at home. There are folders and organizing tools on the left, the contents of the current folder in the center, and a simple preview window on the right (with advertisements in the case of the free account). 
Even while it seems straightforward, there is a lot going on in the background. In order to keep distractions out of sight, the service automatically recognizes important emails and stores them in a Focused Inbox. You can add reservations for supper and flights to your calendar automatically. It is simple to share that calendar with other Microsoft 365 or Outlook.com users, or you may save your activities to a Family calendar that is available to everyone. There are also some intriguing capabilities, such as the capability to immediately add polls to Outlook emails. Direct sharing of OneDrive files as copies or links is a feature of excellent attachment support. 
You may easily configure Outlook to use your previous keyboard shortcuts if you're more accustomed to using desktop versions of Outlook, Gmail, or Yahoo. Outlook's free plan falls short of the competition in many respects. Outlook's message encryption is more basic and only available to paying customers. However, in general, this is an excellent email service that is simple to use, has a ton of functionality, and includes some quite helpful supplemental tools in its Office apps. 
If you use a Mac, you might want to think about switching to iCloud Mail as your email service. You may use the 5GB of storage included in their free email account to sync your files, images, and email. It's crucial to keep in mind you will share that capacity among all of your apps and devices, so if you use your iPhone frequently, your monthly email storage limit may go over the free allotment provided. Upgraded plans range in price from $0.99 to $9.99 per month. The simplicity of integration is one of the biggest benefits of using iCloud over the other email providers on this list. 
10 Minute Mail isn't your ordinary provider of free email accounts. Instead, it was purposefully created by its designers to help people avoid spam. The basic idea is that you utilize this fictitious email anytime a service requests it. You won't need to concern yourself about suspicious people tracking you or getting added to another mailing list in this way. The email you receive will vanish permanently after ten minutes unless you extend the timer. Your emails will no longer exist, and the address will no longer function. 
Despite having a lower profile than it previously had, Yahoo Mail is still a slick and professional service that can hold its own against the best rivals. Yahoo's web interface automatically sorts and organizes your emails, providing you instant views of your attachments, mailing lists, and more. For example, storage options range from 1TB to 5 TB. If you like how this all works, you can add your Gmail, Outlook, and other email accounts and access them from the same online interface. Customizable notifications raise alerts for the emails you care about most.   
Over time, demanding users may discover problems. For example, Gmail's labeling system is not quite as flexible as Proton Mail's, and unlike Outlook or Proton Mail, there is no message encryption. Overall, though, Yahoo Mail's free plan is a useful one that should be on your email shortlist.  
AOL, a pioneering corporation in the early days of the Internet, offers an email service called AOL Mail, short for America Online Mail. This ESP has been around since 1993 and continues to serve millions of users by offering email services. AOL's email service offers a variety of features and functionality for both personal and professional communication. It has changed throughout the years, but it still remains a major component of the company. AOL Mail provides a simple user interface, reliable anti-virus, and spam protection, lots of storage space, and connection with other AOL services. Whether you've been using AOL for a while or are just starting out, AOL Mail offers a dependable and feature-rich email experience. 
Thunderbird, a free email program from Mozilla, provides an immediate email inbox setup and a straightforward, user-friendly user interface. To enhance your email experience, the app provides configurable options including theme settings and app extensions. The email program likewise enables you to open multiple emails in tabs.  
 Trustifi brings together the main features of an efficient and safe email provider in one location. With the whitelisting and blacklisting options that are accessible, you may select those who can send you messages with ease. You don't have to concern yourself about your account disappearing overnight because Trustifi complies with numerous regulations, including HIPAA/HITECH, PII, GDPR, FSA, FINRA, LGPD, CCPA, and more. Even your Gmail or Outlook mailbox can benefit from an additional layer of protection by using the Trustifi add-on.  
Our Verdict: What is the number one email provider?
The free service offered by Gmail is the best free choice available and for good reason. Along with a respectable 15GB of storage, it also lets you quickly manage other email accounts from within the Gmail interface and organize messages into categories for future reference. Gmail is a serious contender for the title of top email service provider because it has won widespread praise and admiration for a number of compelling reasons. Gmail is a prominent contender in the field of email services thanks to its user-friendly design, generous storage, strong security, seamless integration, organizational tools, mobile accessibility, reliability, and ongoing innovation.  
ProtonMail is the greatest email service provider when it comes to paid solutions because of its high level of privacy and security, as well as its intuitive user interface. Few rival it as far as secure email services go. ProtonMail provides four unique usage plans with prices that vary depending on the features, each of which includes built-in end-to-end encryption and cutting-edge security features. With ProtonMail, you can manage several email addresses under one account. You can set an autoresponder, make your own spam filter, and more. You have the option to send self-destructing emails. Doing this deletes themselves from the recipient's inbox after a predetermined period of time.