Secure and Free: Unveiling the Safest Email Provider for You
As more and more users decide to quit unsecured email providers like Outlook, Yahoo, and Gmail, secure email solutions are becoming more and more popular. There is evidence that these services search user emails for advertising information. Additionally, the public exposed them for giving NSA snoops access to email content. You might be wondering if it's possible to start receiving better email security for nothing if you're tired of having your privacy compromised. Multiple secure email service providers offer a no-cost, basic, single-address service – a promising development! We'll give great answers on what is the safest email provider that is free. In this article, we'll show you all of our favorites.
What Is Secure Email and How It Works?
Numerous secure email services have advanced, ensuring heightened levels of privacy and security. Email providers have developed new ways to provide technical solutions and improved privacy for communication. Modern leading email service providers employ TLS encryption. TLS is a cryptographic standard that offers communications security over a computer network. It works to perform transport-level encryption. Without TLS, email server communication displays itself as plain text, making it accessible to anyone. The majority of secure email providers, on the other hand, go a step further and provide complete end-to-end encryption. Doing this ensures that the data is only encrypted and decrypted at the endpoints. 
End-to-end encryption enables you to encrypt emails at your end and send them to recipients using secure email services. Doing this eliminates the chance of the secure email provider being able to decrypt the emails. OpenPGP is the most widely used data encryption protocol. It enables end-to-end encryption of email messages. End-to-end encryption is simple with the abundance of free secure email services by using an easy-to-use user interface.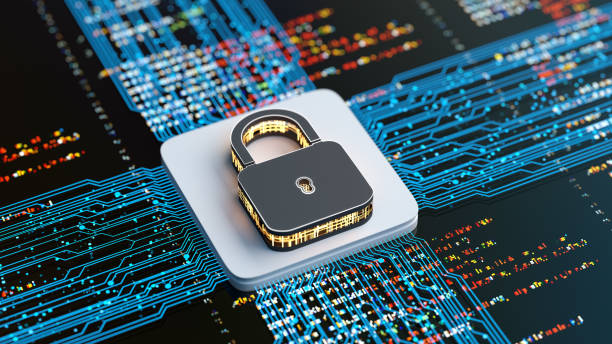 What is the safest email provider that is free?
An email service called ProtonMail uses end-to-end encryption to offer security. Any device can use it without the need to install any software. ProtonMail is a Swiss-based company. This makes it less intrusive than countries like the US and the UK when it comes to privacy laws. Although it has recently been under criticism because of the BÜPF law, which requires telecommunications firms to preserve user information. 
With end-to-end encryption, ProtonMail makes it impossible to access your emails themselves. You don't need to provide any personal information to set up a safe email account with ProtonMail, and the service doesn't even log your IP address. This is important because your address which might have associations with your anonymous email account. 
Mailfence, a Belgian company, provides an extremely amazing free service. For those who sign up for a free account, for your one email address, you get 500 MB worth of storage. The benefits of using this service quickly add up when the abundance of you takes the number of accessible features into account. Strong PGP compatibility enables end-to-end encryption. However, employing a "shared secret" password method is an alternative for beginners to securely encrypt emails. This suggests that individuals can immediately send secure emails without the need to master intricate PGP keys. With amazing add-on features like a calendar, contacts, and document storage, Mailfence helps you stay organized to the fullest extent possible without incurring additional costs.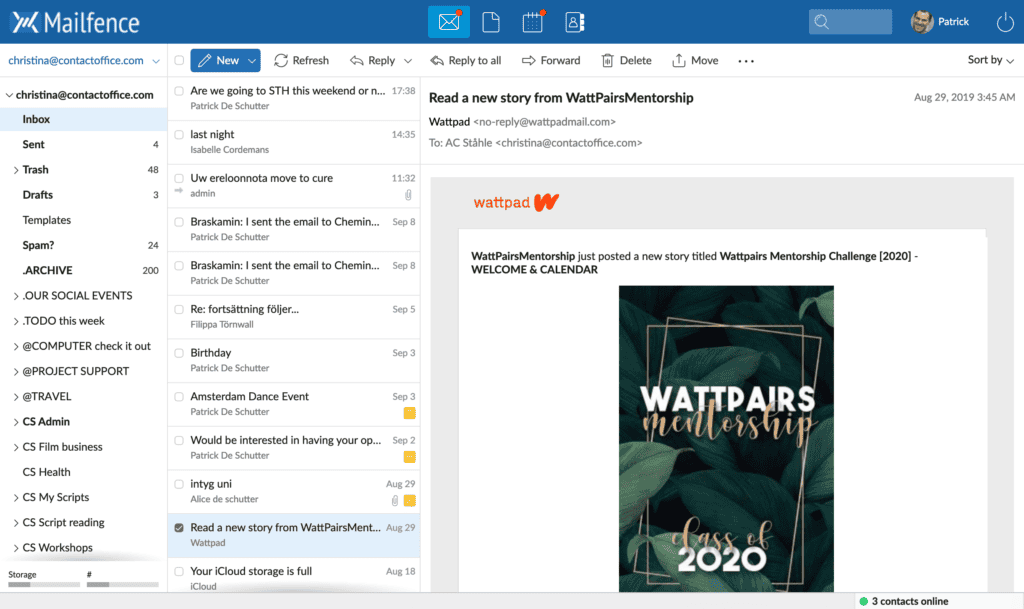 Mailfence does save some user logs, including user IP addresses and metadata, but only as necessary to abide by Belgian legal requirements. Additionally, it offers a thorough transparency report that specifies the number of requests from the authorities it gets. However, due to the robust end-to-end encryption it offers, it can never grant access to the contents of emails, regardless of the warrants it receives. 
With its main office in Canada, Cliff Baltzley launched Hushmail in 1999 as a PGP-encrypted web-based email service provider using OpenPGP standards. Today, Hushmail provides both corporate and personal email services to users. An iPhone app for Hushmail was just made available. Its features make it one of the most secure email clients for iOS, including two-step authentication, Touch ID, numerous accounts, and aliases. Due to its emphasis on HIPAA compliance, Hushmail is well-liked in the medical industry. You can encrypt emails including private health information with the Hushmail for Healthcare plan. It generates a separate archive account to keep track of all emails sent or received by each user on your domain, which can be useful during an audit.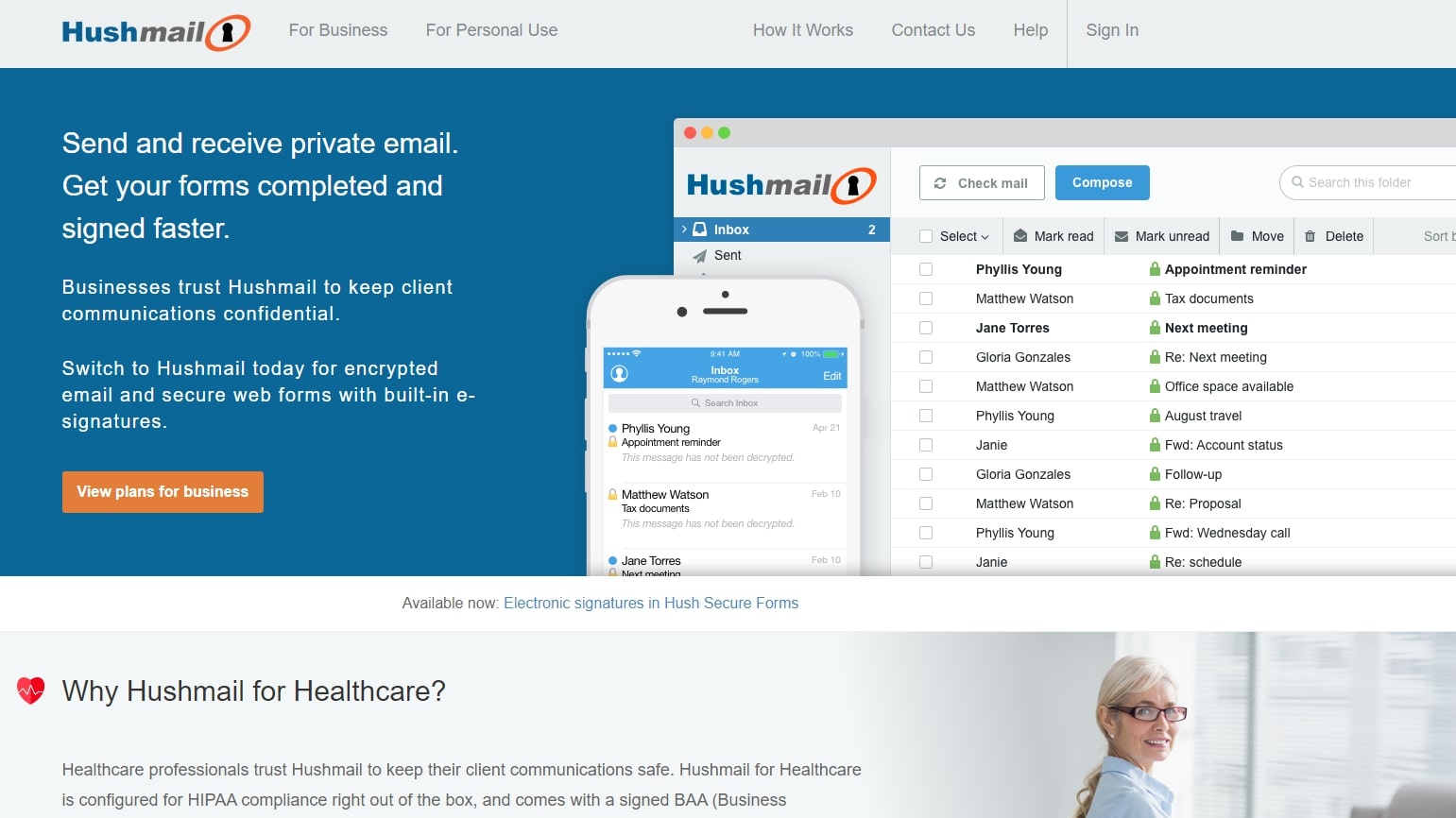 With over 2 billion active users worldwide, Gmail for Business stands out as the most user-friendly, practical, and efficient emailing program. Gmail offers smart answers together with a secure, ad-free experience provided by Google Workspace. Gmail offers grammar and spellcheck capabilities. You can use the application to access Gmail while using the Google Chrome web browser.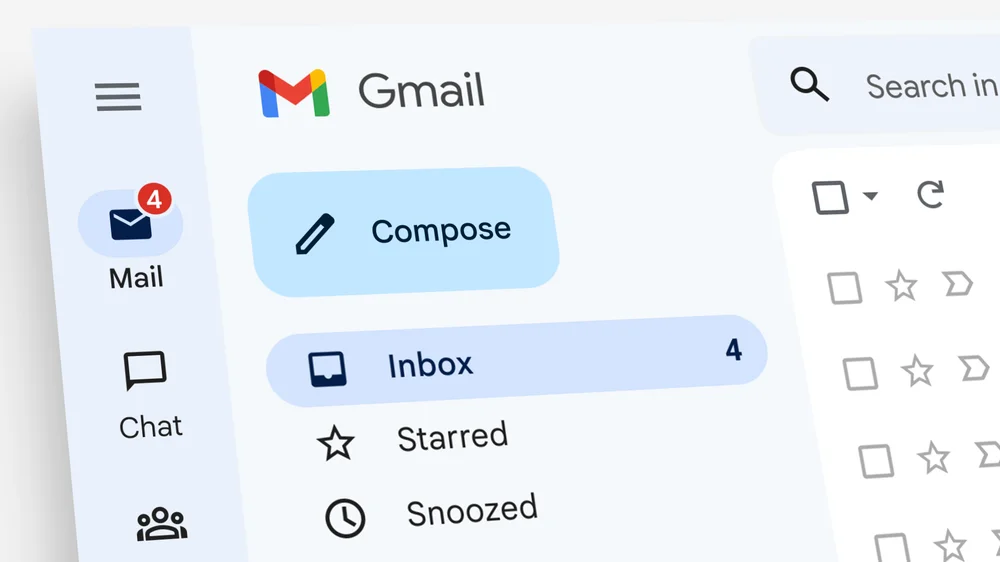 SecureMyEmail promises an intuitive service that makes email security stress-free. You can use the platform without changing your email address or switching to a new service. SecureMyEmailIt works with well-known services like Yahoo, Outlook, and Gmail rather than replacing them. You don't need to be a tech expert to be set up and increase the security of your emails, unlike other secure email providers like Startmail or Tutanota. To get started, you don't even need to provide any personal information or payment details. You only need to provide the email address you want to secure as payment.   
You will need to sign up for a paid membership if the free tier isn't nearly enough for you or if your account is with another service, such as BT, Verizon, Virgin, etc. If you want to secure more than one email account, you'll also need to sign up for a subscription. The subscription covers up to eight email addresses, which should be more than enough for most people. The cost of a subscription is $3.99 a month, $29.99 per year, or $99.99 all at once. However, we are still not sure that these options represent good value for money, so we advise sticking with monthly or annual payments.  
German-based Tutanota is a web application for transmitting end-to-end encrypted emails. It is one of the best free secure email services that you can use on any platform, including desktop clients, mobile apps, and email clients. Users can have one email address and 1GB of storage for free with Tutanota, a great email service. For those new to secure email who don't want to learn about PGP keys (because PGP encrypted email can have a steep learning curve), this service is fantastic. This combined with calendar and contact integration gives you a powerful platform that has many capabilities.  
You can send and receive emails securely without PGP keys with Tutanota. Strong AES encryption with Perfect Forward Secrecy is used for this. What does this entail, then? With Tutanota, you may send end-to-end encrypted emails to anyone, regardless of the service they currently use. You can do this by using a specific link system and a password. The company's decision to record some limited metadata logs regarding messages sent using the service for 5 days may be the lone drawback. However, this isn't something to be fully concerned with. You might want to think about paying the €1 per month upgrade to the premium edition when you consider this plus the restriction that free users can only interact with other Tutanota domains.  
Startmail is a straightforward email service that enables you to send secure emails to anyone. Dutch privacy regulations safeguard it to keep mail secure. The same individuals who run the private search engine Startpage also run StartMail, a secure email service. Startmail supports various PGP clients and employs PGP encryption. Non-PGP users can receive encrypted messages if they are aware of the solution to a secret question. Startmail offers a 30-day free trial even though it doesn't have a free plan.
CounterMail takes security very seriously. CounterMail utilizes PGP encryption, just like many of the service providers on this list. It also uses the AES and RSA algorithms to strengthen that encryption. Using a USB key set up for two-factor authentication will help you protect your data even more. The servers run by CounterMail in Sweden are unique in that they don't have hard drives; instead, they boot from a CD-ROM for further protection. CounterMail's password manager is Safebox. One master password serves as the security for all the usernames and passwords in the Safebox; it is unrecoverable in the event that you forget it. If you already know someone who uses CounterMail, you can sign up for a ten-day free trial. 
 One of the greatest business email service providers is Outlook, which offers Office 365, Exchange Server, and Exchange Online. You can use it to access shared calendars, contacts, and email from any location. 
The most recent addition to Purism's Libre One, a growing collection of privacy-respecting services, is Librem Mail. The platform bears many similarities to K-9 Mail. It is a well-liked email program for Android. It was also Free/Open Source Android Software under the Apache License version 2.0. K-9 Mail's fairly sparse user interface is a common feature with Librem Mail, which combines it with OpenPGP to produce a new secure email service. 
Unfortunately, Librem Mail still makes it clear that it's the new kid on the block because it frequently and disastrously crashes. We advise you to wait until the creators fix some of the most annoying bugs in the Libre One bundle's development unless you are already using it.  
Anyone can use the free edition of Zoho Mail, but business users value the service greatly. A word processor, spreadsheet program, webinar platform, chat feature, and other collaboration tools are all included in the Workplace package. S/MIME is a type of asymmetric cryptography that encrypts your emails while they are in transit and stored on the Zoho servers. The email can't be false because each user has a unique digital signature. Zoho boasts excellent reviews for its usability. You can adjust all of your organization's mailbox settings from one location using its control panel.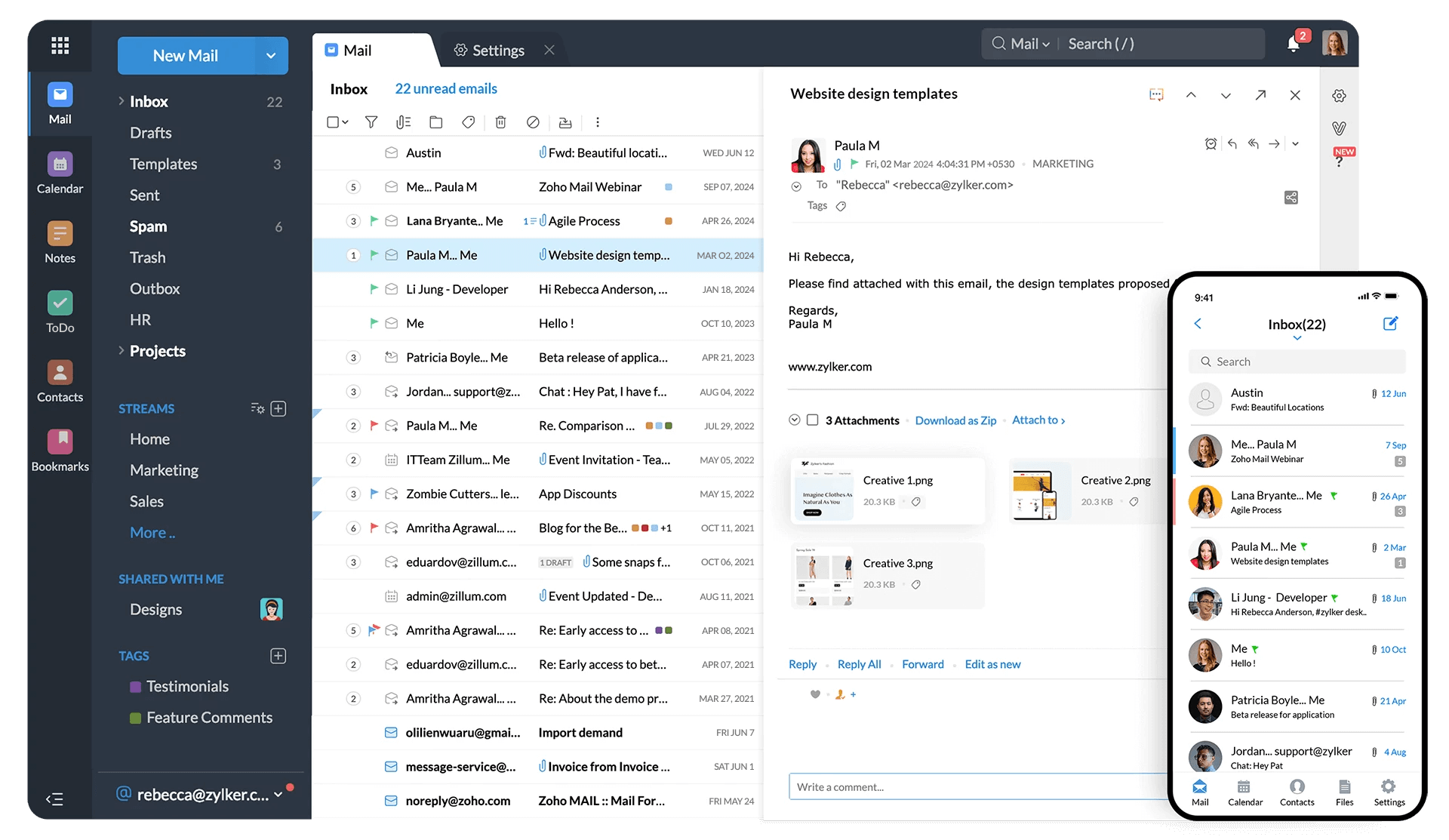 A secure mail portal is available from LuxSci. It makes it simple for you to manage all of your emails across all online browsers. This website is accessible via a tablet, computer, or smartphone. With SecureLine VPN, it encrypts email. When sending, receiving, and responding to emails on LuxSci, you can use electronic protected health information (ePHI).  
FAQs
How do secure email providers protect your email?
The best secure email companies use End-to-end encryption to safeguard your emails. That indicates that nobody has access to your emails, not even the email provider. The recipient, who has authentication, is the only person who can read the encrypted emails. Providers may also use the Sender Policy Framework (SPF) to authenticate emails and further secure you. With SPF, the recipient will know when someone else sends an email on your behalf by a non-authorized user. They will therefore have the option to reject it if it is not from a recognized IP address.  
Why do you need a secure email provider?
Let's take a look at what happens when you send emails from a common service like Gmail to better appreciate why encrypted email is crucial. Gmail does not lack security features. It uses Transport Layer Security (TLS) encryption to encrypt emails sent between your machine and the server. Google encrypts the data at the network level once it reaches the server. However, Google has access. Unlike before 2017, it no longer reads your emails to serve you adverts. However, Google continues to read your emails in order to offer features like Smart Reply. Additionally, giving access to your emails to outside parties is simple for Gmail and other services.  
What are the best free non-US email providers?
The most well-known secure email provider is ProtonMail. It offers end-to-end asymmetric encryption and is open source and is based in Switzerland. If you send fewer than 150 messages daily and don't require a lot of storage, ProtonMail is free to use. Another German company that offers end-to-end encryption and robust privacy protections is Tutanota. It strives to protect user data and is open-source.  
Is ProtonMail safer than Gmail?
ProtonMail is more secure than Gmail. ProtonMail uses end-to-end encryption to automatically safeguard your email communications. ProtonMail uses a set of RSA keys that are unique to your ProtonMail account, unlike Gmail, which merely uses the TLS cryptographic standard. No one, not even ProtonMail, can access your communications with this kind of encryption.  
Our take: What is the safest email provider that is free?
Despite the fact that end-to-end encryption was not a priority when email was first developed, there are several secure email providers available. The most secure free email account service is ProtonMail. End-to-end encryption provided by the service provider and the actual presence of ProtonMail's offices in Switzerland both contributes to this security. This is significant since Switzerland has very tight privacy rules. Therefore, customers have protection from both American and European hackers through privacy regulations in addition to ProtonMail's incredibly exact encryption.