Our Top Picks: 15 Most Secure Email Providers
In today's digital landscape, ensuring the security of our emails has become a top priority. But with numerous email providers available, it's crucial to identify which email is most secure. In this article, we will examine various email services, comparing their security features, encryption protocols, and privacy measures, to determine which email provider stands out as the most secure choice for safeguarding your sensitive information.
What is secure email and how it works?
Security wasn't everyone's top concern in the 1960s and 1970s when email first saw limited use. Email hasn't changed all that much, despite the fact that our security needs have drastically changed in the modern day. The RFC 5322-defined internet email message format. It specifies a syntax for text messages communicated between computer users, but it makes no mention of encryption or any other methods of preventing unauthorized access to personal information exchanged via email. 
Several secure email services have evolved, offering high degrees of privacy and security. Many people also developed several technical solutions to provide improved privacy in email communication.  Today's top email service providers all use TLS, a cryptographic standard that offers communications security over a computer network, to perform transport-level encryption. Without TLS, email server communication is simply plain text. This makes it accessible to anyone with even a basic understanding of computer networks. The majority of secure email providers go a step further and provide complete end-to-end encryption. 
Doing this ensures that the data is only encrypted and decrypted at the endpoints. End-to-end encryption enables you to encrypt emails at your end and send them to recipients using secure email services without any chance of the secure email provider being able to decrypt the emails.  
List of the features offered by the most secure email providers
Here are some of the characteristics that you should look for when choosing a trusted email provider:
Encryption for end-to-end email

Web monitoring prevention services

Tools for secure cooperation

Spam/virus filtering and detection

Support for desktops and mobile devices securing cloud storage

Services without ads 
The most secure email providers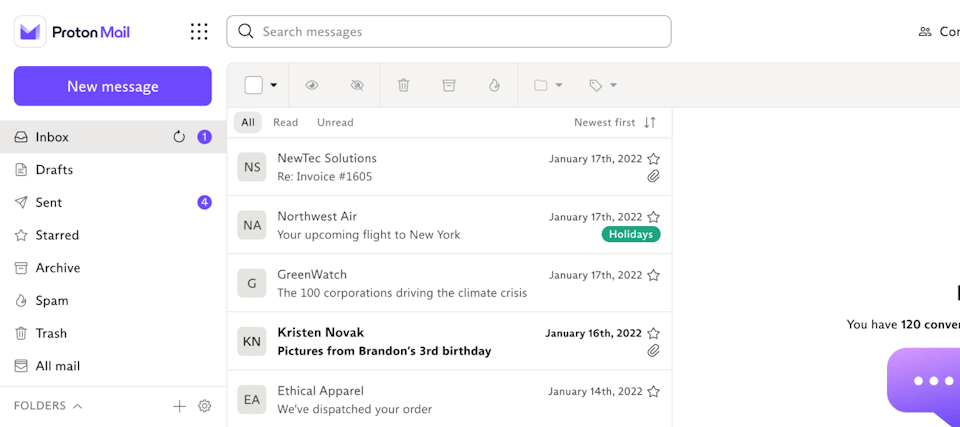 One of the best secure email services with a Swiss base is ProtonMail. Mobile apps for iOS and Android are compatible with it. End-to-end encryption is a feature of the software. Currently, it is the best secure email provider. It offers customers the capacity for simple setup, secure email messaging, and protection from email scammers, phishing, and other risks. 
ProtonMail's sign-up process is comparable to that of other well-known email providers like Outlook or Gmail, but it also comes with built-in security to safeguard users from scammers and prying eyes. The service, specifically Forbes, became popular with US media as "The Only Email System The NSA Can't Access." 
ProtonMail's free version allows for 500 MB of email storage and has a daily message cap of 150. That is undoubtedly sufficient for lone users. To get extra capacity, email aliases, priority support, tags, and personalized filtering options, you can purchase the Plus service. In addition to built-in VPN security, the Plus subscription gives you the option to set up automatic responses and send more emails each day. Additional plans (Professional and Visionary) are also offered. 
2. Securemyemail
Compared to the other services on that list, SecureMyEmail offers something unique. It offers end-to-end encryption with zero knowledge and encryption while in transit for ANY email address. Even better, you can free encrypt your personal email (available just for Gmail, Yahoo, and Microsoft). No secure email provider has yet to provide this special feature.
Apps specifically designed for iOS, Android, and PC are available. With a 30-day risk-free trial and simple export for encrypted files, it's a risk-free email provider. Zero-knowledge encryption is as good as it gets for customers who are very worried about security, even if the majority of email providers do offer secure email services. Every SecureMyEmail account allows you to include and handle eight different email addresses.
Small firms, independent contractors, and innovators can enjoy a highly secure platform for confidential business interactions thanks to Neo's secure business email suite. Neo provides enterprise-grade security with its robust features. It can defend all accounts from potential assaults, while its cutting-edge anti-spam technology greatly lowers the volume of spam and vulnerability to viruses. 
Neo also offers free domains with the co.site extension to subscribers who do not already have a domain name as part of its corporate email services. Neo goes above and above by providing customers with a free one-page website, helping them to create their brand identity and build credibility. 
German-based Tutanota is a secure email service that respects the privacy of its customers. Their service attempts to provide the highest level of email security, yet it is still user-friendly and has good features. Tutanota employs RSA and AES encryption protocols. Tutanota encrypts all of the emails sent from their platform which are immediately decrypted upon receipt. 
Therefore, nobody else can access the private encryption key. You only need an email account to communicate securely with other Tutanota users via email. while sending emails outside of the system, you can just provide the recipients a password to enter while viewing the email in their browser. They can answer securely because of the interface itself.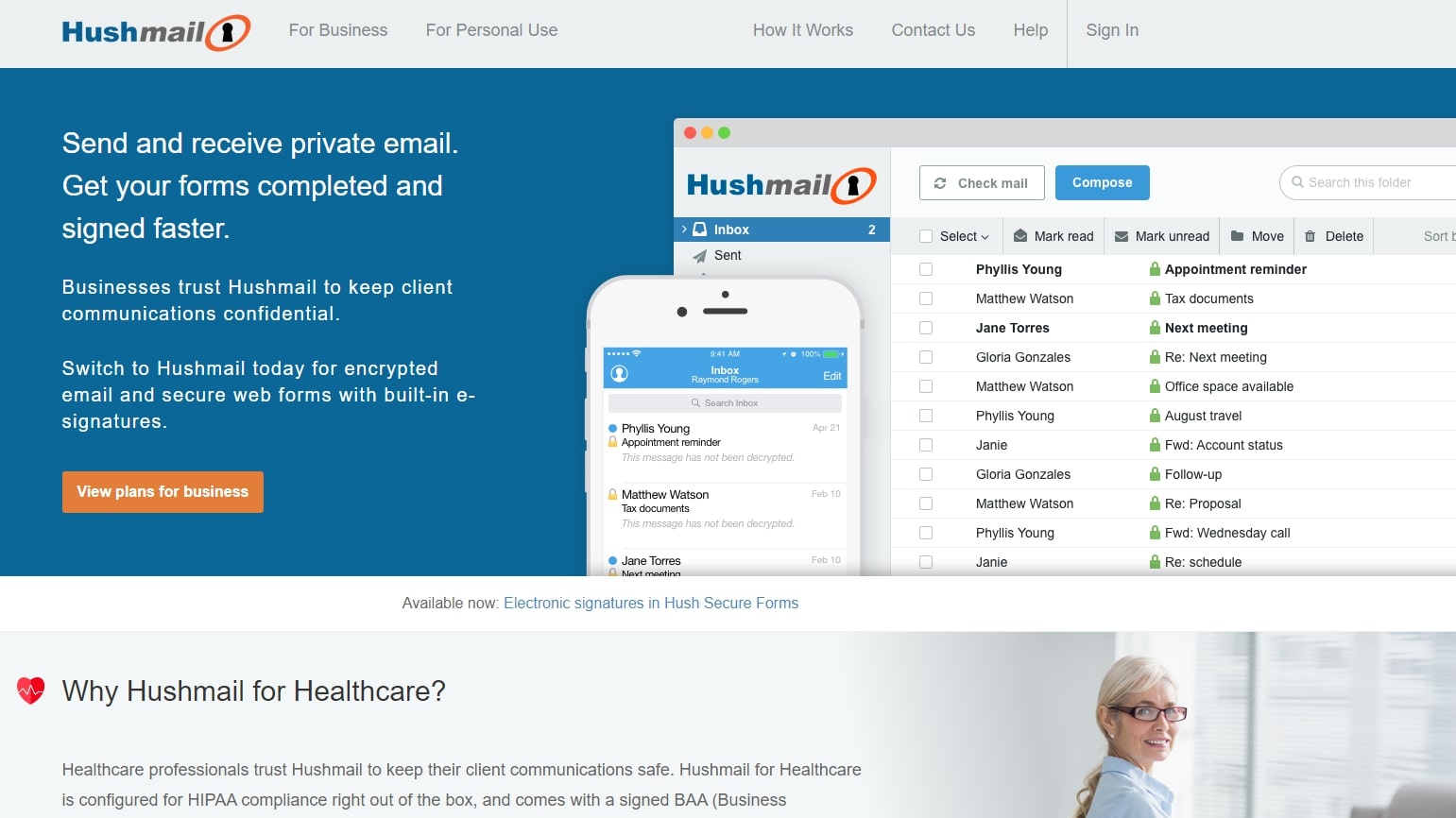 Hushmail is an encrypted email service created for people who desire a straightforward tool to protect the privacy of their correspondence. The service provider encrypts the content of your emails using the OpenPGP protocol. It accomplishes this by using SSL/TLS to secure communications. 
Since Hushmail is a Canadian service, Canadian law protects your privacy and email activity. Hushmail provides both personal and business plans. Without even revealing your credit card information, you may try any plan for a full 14 days for free. The yearly price is $ 49.98.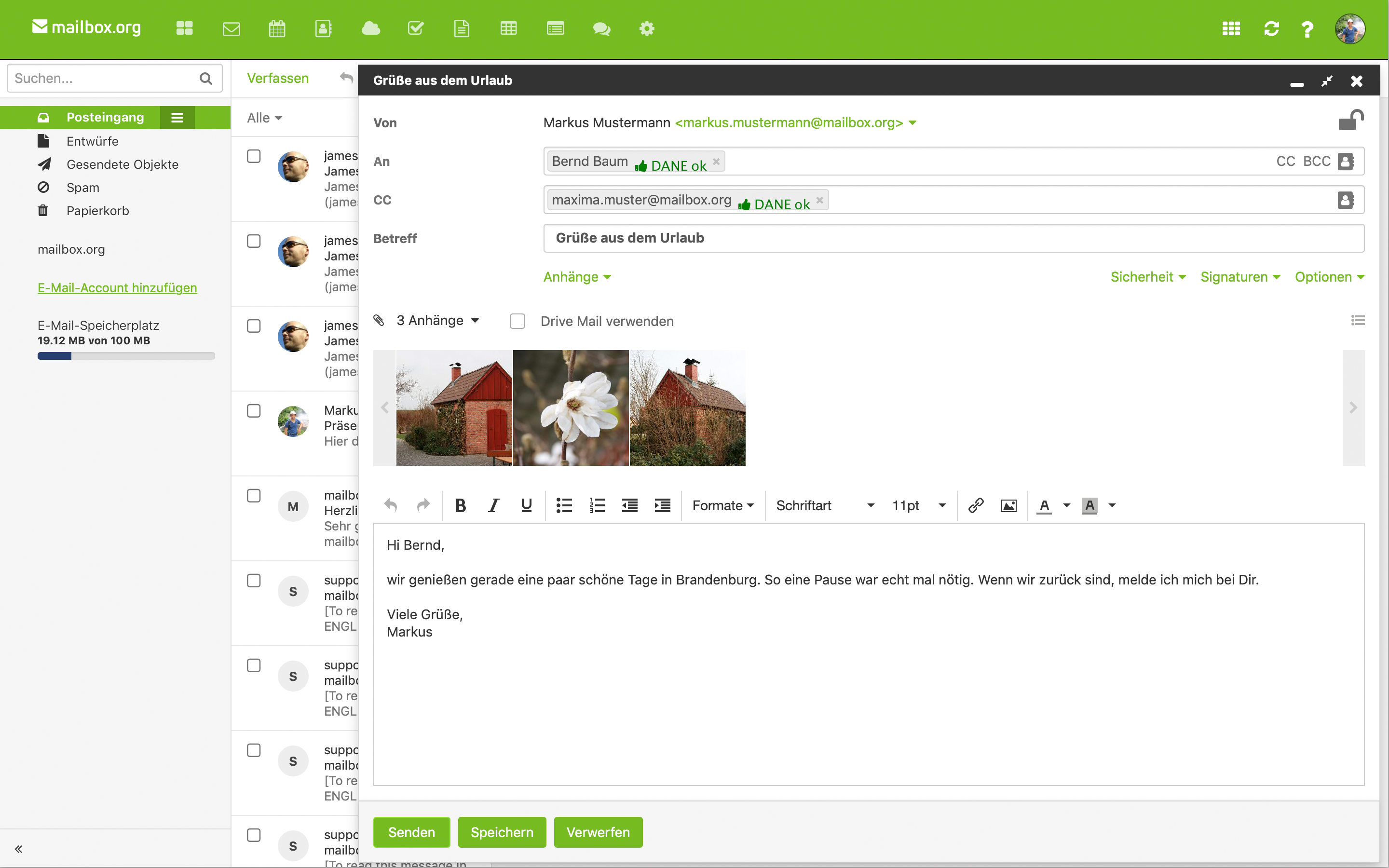 Mailbox.org, a secure email provider with robust features based in Germany, is another great email service. Because of its incredibly user-friendly design, you may say that it's also the finest for novices. 
It aims to provide business users with stringent security requirements. Mailbox.org is compatible with mobile devices and third-party clients and has a very user-friendly interface. The platform also offers protected cloud storage, video conferencing capabilities, a useful address book, a calendar, and a task planner. For companies searching for a secure workflow alternative to Google or Microsoft, it offers a complete solution. 
Additionally, it works with third-party email clients and mobile apps. With its encryption feature, which enables you to encrypt all of your data on German servers, there is much more that you can benefit from. There is no free plan, but the three premium-category options, which all come with email storage, cloud storage, email addresses, and video conferencing features, are all quite reasonable. 
 Sweden-based CounterMail has been offering secure email services for more than ten years. CounterMail enables the secure execution of OpenPGP-encrypted email in a browser using 4096-bit encryption keys. This platform only stores encrypted emails on its servers. Your emails are not kept on hard disks on the Sweden servers. 
Instead, Countermail simply uses CD-ROM to store all data. The data will likely delete itself if a time comes that someone tries to change the server. This lessens the risk of data leaking. Configuring a USB key to further encrypt your emails is another thing you can do with CounterMail.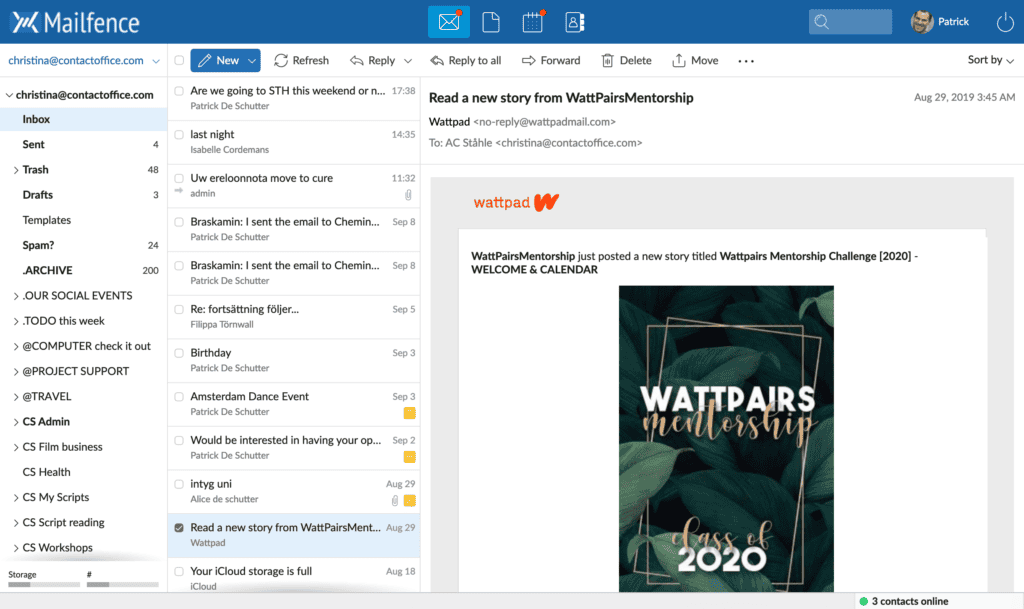 Mailfence is an encrypted email service that provides end-to-end encryption and digital signing. ContactOffice Group, which since 1999 has run an online collaborative suite for professionals, academic institutions, and other groups, released it in November 2013. 
Mailfence does not confine users to a "digital island," unlike other private and secure messaging services that are available online. It gives users complete freedom to securely interact with anyone, including other Mailfence users and users of any other email service that complies with the OpenPGP protocol.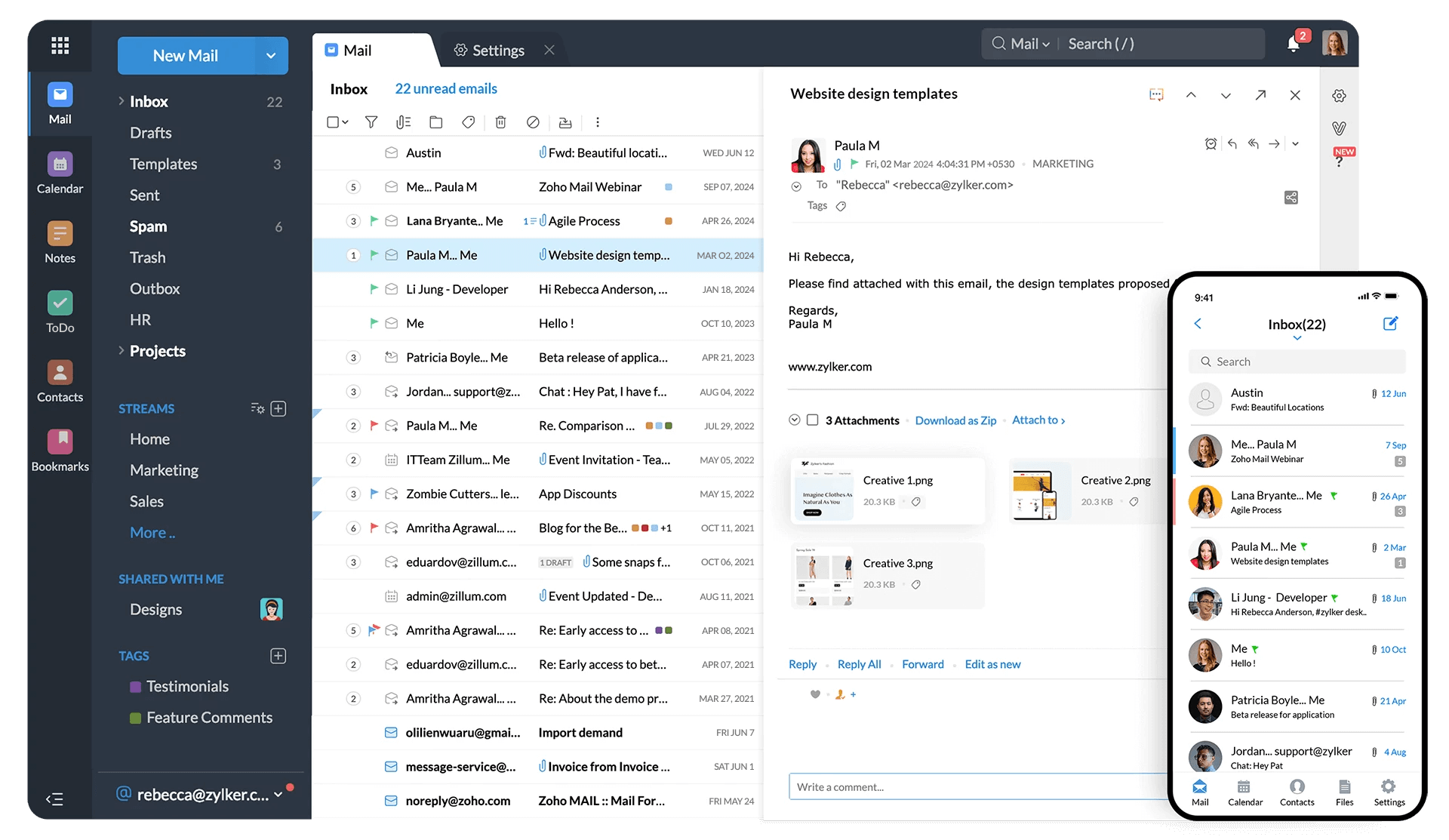 The safe email hosting service Zoho Mail has servers all around the world. It focuses on data encryption and user-friendliness. Furthermore, Zoho Mail strives to strike a delicate balance between features and privacy, unlike other secure email services. Zoho Message offers extra features like a calendar, a task organizer, and a contact site in addition to the standard email service with effective spam and message filters. When it comes to security, Zoho provides an encrypted setting where data is secure both while it's stationary and when it's in motion. Although there is a very precise protocol to follow in either situation, the corporation can still access the data kept on its servers and respond to subpoenas from governmental bodies.  
There are three paid options available for Zoho Mail: Mail Lite offers 5GB or 10GB of storage capacity per user. Mail Premium, which provides 50GB of capacity per user, comes next. Users who would also like access to the company's other solutions, such as web-based word processing and presentation software, can choose from an additional package.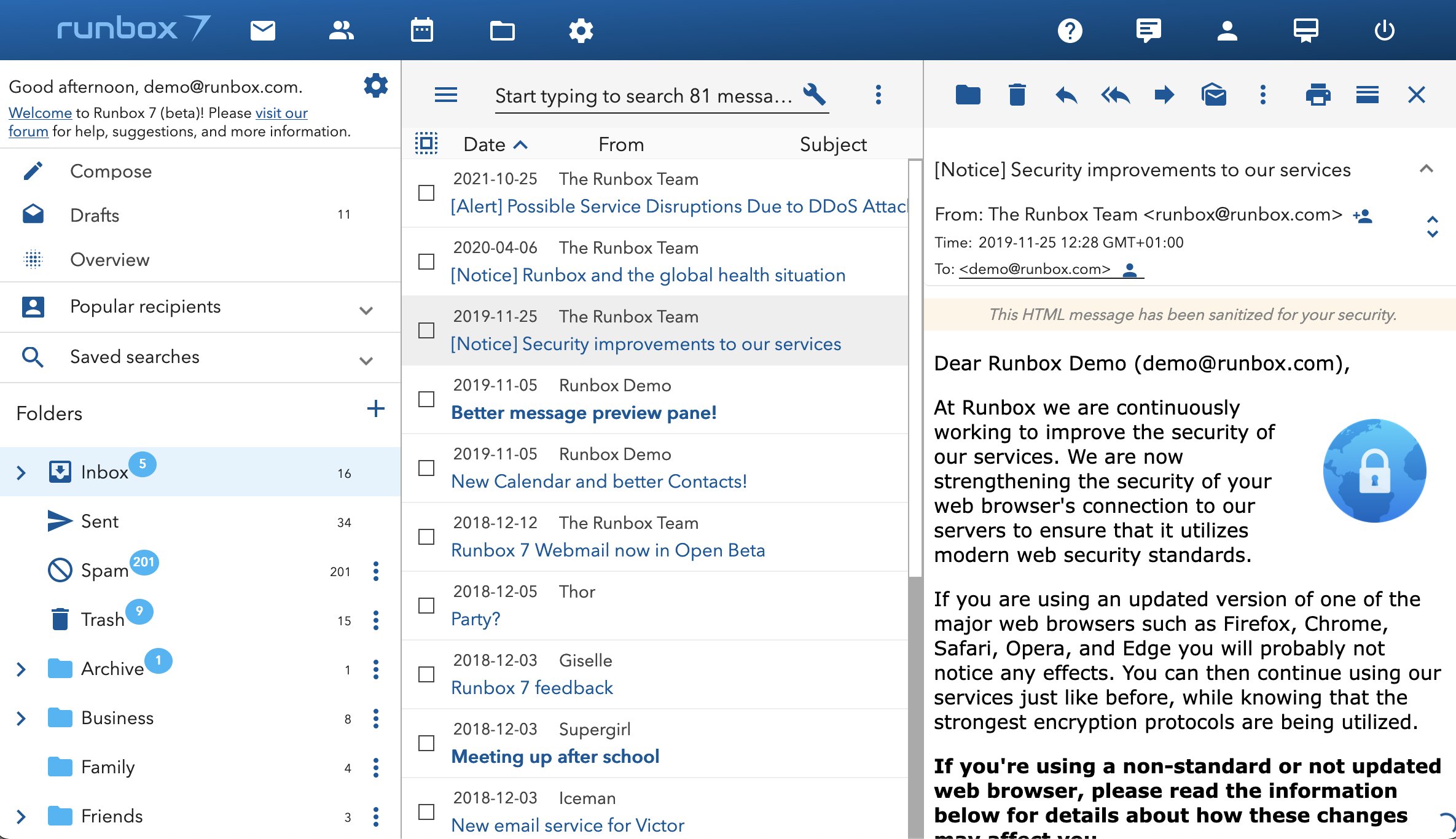 Since 2000, Runbox, a Norwegian business, has provided secure email solutions. It implements strong privacy and consumer protection regulations. The primary offering of the business is Runbox Mail Manager. Your data will never end up in the hands of a third party without your consent unless a Norwegian court issues a request for it. 
They do not scan your emails and instead employ encryption for server-to-server communication. Even using cookies to monitor service usage is not done by the provider. Additionally, the service does not keep records of your traffic. In its place, it makes use of SSL security certificates to confirm the legitimacy of website links.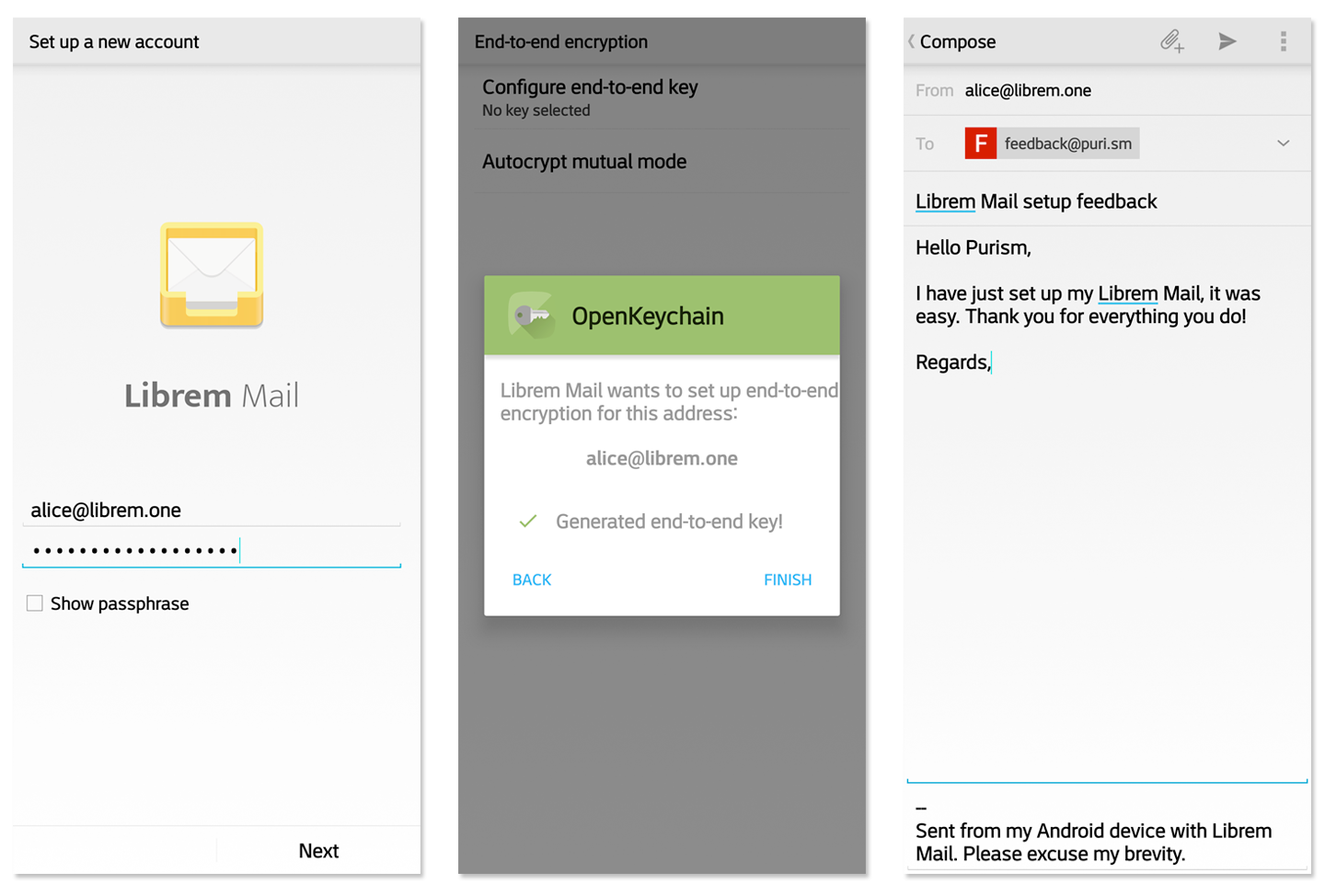 The social networking software Librem One includes an end-to-end encrypted email service called Librem Mail. The provider of the service is the American technology company Purism, which also looks after the PureOS Linux distribution. Using K-9 Mail and OpenKeychain, it is one of the most secure email systems available. The use of encrypted mail is easy because of this combination.
Anyone can exchange encrypted emails with Librem Mail users. The service provides a free plan in addition to two premium options. Unfortunately, the free plan provided by the company won't help if you want to use its secure email solution. Its free subscription, known as the basic bundle, only provides users with social and chat capabilities.  
Digital activists and crusaders favor Posteo, a supplier of email with data facilities in Germany. Since outside parties can read emails in plain text, it does not provide end-to-end encryption per se. However, whether it is in motion or not, all data on its servers is secure. Additionally, 
Posteo employs a system known as DNS-based Authentication of Named Entities (DANE), which guards against hackers who attempt to impersonate the sender or recipient in order to access confidential data. Additionally, Posteo doesn't keep any personally identifiable information about its users and regularly engages in legal disputes to protect their privacy. 
StartMail is another great option for an email service. This service is the lovechild of privacy lovers who also run the private search engine "Startpage.com". Due to its integrated use of PGP, it is fully compatible with other PGP clients. As a result, users can send encrypted emails to anyone who knows the answer to a secret question and is not a PGP user. 
You are possible to generate an infinite number of temporary email accounts (aliases) with StartMail. There are no specific mobile applications for it. However, full SMTP and IMAP compatibility enables you to use any third-party email client with the service on practically any platform, including Windows, Android, iOS, Linux, and macOS. 
This private email service provider is an established one in the USA. A group of individuals who were totally committed to security and offered the highest level of encryption developed it. It permitted sending encrypted communications to any online user before it stopped down. Like other secure email services, it operated. By encrypting metadata on its servers, SCRYPTMail would provide a barrier between hackers' (or governments') access to user data. 
Disroot, a company based in Amsterdam, the Netherlands, offers secure email accounts that you can access using a web interface or through your desktop client. The mail server and you communicate via SSL encryption. That offers the finest amount of privacy conceivable. 
Assuming the recipient's email server supports it, all emails sent from your server have encryption. It basically means that emails are being transmitted in "envelopes" rather than the more conventional "postcard" format. 
How secure are most email services?
The level of security offered by email services depends on both the service provider and the user. Email is generally considered to be secure because much of it uses TLS to encrypt the path between the sender's and recipient's computers to their server. However, since there is an open path between the email servers of the sender and the recipient, they are not. ISPs and the government snoop on your emails there. 
Regardless of whether you delete the emails from your email client, they will stay on the servers of the email providers for the sender and the recipient until their retention period has passed. At that point, they can and will scan the content to feed its AI, probably numerous times, so you can decide whether the content is secure or not. 
So how to secure email accounts?
The most straightforward solution is a cloud password manager like Bitwarden. Their server houses your password database, which your master password on your device decrypts. Use a passphrase made randomly and contains six or more words (a diceware wordlist and actual dice work well). 
What is the most secure way to mail?
End-to-end encryption is the safest method for mailing sensitive data. The sending device encrypts the message, and the decoding processes can only happen with a special key on the receiving device. ProtonMail, Tutanota, and Hushmail are three end-to-end encrypted email service providers as examples. To further safeguard your online actions from tracking, it is also advised to utilize a virtual private network (VPN) or Tor when sending or viewing your email.  
Which email system is most efficient and least hacked?
There are a number of email platforms that are effective and secure. FastMail, Tutanota, and ProtonMail are a few well-liked alternatives. To assist prevent your emails from hack attempts, these email companies provide end-to-end encryption, two-factor authentication, and other security measures. 
Furthermore, because they are all open-source, independent security experts can examine and confirm the security of their systems. No system is totally secure, so it's crucial to use strong passwords that are both unique and difficult to guess. You should also be cautious when following links in emails from unknown senders, even if they look to be from people you know.