Why is Gmail the Best? Gmail's Secret Revealed
When it comes to selecting software that can handle your customer care emails, businesses have a plethora of possibilities. You could have trouble settling on a solution that perfectly satisfies your demands after considering anything from basic email inbox solutions to enterprise-level support desks.  Finding the ideal email service provider (ESP) is similar to looking for the ideal pair of shoes. If the shoe is too big or tiny, you can still wear it, but you won't get the best comfort and performance unless it fits perfectly.  
One of the top email service providers out there is Gmail, created by Google. For a number of reasons, it has grown incredibly popular and has a sizable user base. Gmail used to only be accessible by invitation, but nowadays anyone can open an account whenever they want. You'll join a user base of more than 1.8 billion when you accomplish so. The procedure is quick and easy.  However, there may still be many questions that users want answers to. Can I have 2 Gmail accounts? What is Gmail's storage capacity? Today, we'll answer them all.
What makes a good email provider?
An excellent email provider will exist because of a number of variables. A good email service should be dependable and have little downtime. Users should constantly and uninterruptedly have access to their emails. A decent email provider should provide dependable and feature-rich mobile applications for numerous platforms in the mobile-centric world of today. 
In today's world, data security is a major problem. "Users send 150 billion emails every day, and of those 150 billion, each one has about 15 attachments every day," according to a Hotspot study. 53% of people report having lost files with critical information. It is something to consider while selecting an ESP even though there are steps you can do to make sure it doesn't happen. 
Users can handle their emails on smartphones and tablets thanks to mobile accessibility, keeping them connected even while they're on the road. Data security and privacy for users should be a priority for service providers. This entails putting in place strong encryption techniques, spam, and virus screening, and safeguards against unwanted account access. 
Customers value the option to customize their email experience. Users can alter the look and feel of their email interface to match their preferences and brand identity by using customization features including themes, layouts, and email signature settings. For users to be able to resolve any technical issues or complaints they may have, customer support must be responsive and helpful. A competent email service provider should give timely support and contact options to customers.
Why is Gmail the best?
Users can send and receive emails online with Gmail, a free email service offered by Google. Google released it in 2004 and immediately became well-known because of its cutting-edge capabilities, approachable user interface, and strong security measures. Millions of users rely on Gmail for both personal and business communication, making it one of the most popular email platforms in the world.  
Because Google doesn't take its success for granted, Gmail will continue to dominate competing email providers. They come up with another set of explosive features just when you thought they had published enough features to make users like their emailing experience. 
For instance, Google released Gmail's voice-to-text (VoIP) technologies, allowing users to compose their emails through the voice bar, while other email providers were still only dependent on text-based emailing services. Not only that, but Gmail also outshines the competition with its user-friendliness for iOS and Android users, 2.7 gigabytes of free storage, desktop voice notification, Auto-saving, email attachments to Drive, and free services.  
User-Friendly Interface and Features
The UI of Gmail is simple and uncluttered, making it simple to use and navigate. The interface is set up with a toolbar at the top for basic operations, a sidebar on the left for accessing various folders and labels, and a central pane for showing emails. Even the idea of threaded chats, which combines linked emails into a single conversation, is a new feature that Gmail added. Users may browse, read, and respond to emails in a more simplified and structured way thanks to this functionality, which streamlines email chains.  
The search features in Gmail are extensive and sophisticated. You can easily identify specific emails by using keywords, operators, and filters, which help you focus your search results on elements like sender, subject, date range, and more. Additionally, Gmail's search function is quick and produces reliable results.
Google, a provider of search engines, is aware of how crucial time is to everyone. They are aware that individuals no longer want to idle away their time writing lengthy paragraphs. What did they do then? On Gmail, Google introduced the "Smart Compose" feature.  As you enter your email, their Smart Compose tool suggests and autocompletes it using artificial intelligence. It picks up on your writing habits and makes ideas for how to finish sentences, speed up typing, and be more productive. Users can write emails more quickly with the aid of Smart Compose, which over time can even learn your writing style. 
Integration with Google Suite
Google Suite, a collection of productivity and collaboration tools offered by Google, incorporates Gmail with ease. Through this integration, consumers may harness the strength of other Google services inside of Gmail to improve their email experience. Users may plan meetings, make reminders, and monitor their agenda without ever leaving Gmail by just navigating to their Google Calendar. Additionally, Google integrated Gmail and Google Drive, allowing users to quickly add files to emails from their Drive storage. 
They can also save email attachments directly to Drive for effective file management. By sharing links or providing access directly from Gmail, users may also work together in real-time on documents, spreadsheets, and presentations using Google Docs, Sheets, and Slides, respectively.  The Google Suite and Gmail are seamlessly integrated, which boosts productivity, improves workflows, and fosters effective communication and teamwork.
Ample Storage Space
 Gmail's customers have access to a lot of storage space, so they can save a lot of emails and files without having to worry about running out of room. Their huge storage limit does away with the requirement for ongoing email cleansing or archiving in order to make room. 
Users may easily search, recover, and refer to previous conversations or vital information by keeping their emails and attachments in their inboxes. Users may save and organize huge attachments like documents, photos, and multimedia files without the usage of additional storage solutions because of Gmail's substantial storage capacity. 
All of your Google Docs, Sheets, Slides, Drawings, Forms, and Jamboard files will surely fit within the 15 GB of storage space that Gmail gives. This 15 GB of storage is shared with Google Photos and Google Drive. If you need more room for storage, you can purchase it.   
Powerful Spam Filtering
Nowadays, most email systems provide some kind of spam filtering, and Google has become popular for being very good at it. The service makes an effort to screen out malware, phishing attacks, and spam advertising. Gmail's spam filter also actively detects and blocks phishing attempts, going beyond conventional spam detection. 
To shield users from potential security risks, it examines suspicious links and attachments in emails. Gmail protects users from falling for phishing attacks by displaying warning messages or preventing access to potentially hazardous content if it finds a phishing attempt. The spam filtering tools in Gmail are quite good at reducing spam and guarding users' inboxes from unwanted and potentially hazardous emails thanks to the use of cutting-edge algorithms, machine learning, and real-time analysis. 
Excellent Security Measures
When it comes to cybersecurity and email privacy online, Gmail is far and away the best email service. Gmail is the greatest email service available because of its two-factor authentication, which is not meant to belittle the privacy policies of other email companies. How committed Google is to providing a perfectly secure mailing system is evident by the fact that they continue to spend thousands of dollars on employing ethical hackers to examine the holes in their products. 
Advanced spam and malware filters are a part of Gmail to further increase security. These filters actively examine incoming emails and attachments for potential risks including dangerous URLs, malware, and phishing attempts before identifying and blocking them. Gmail assists users in avoiding cyberattacks and safeguards their systems and data by identifying and filtering out hazardous content.
Seamless Cross-Platform Access
Users may view their emails and manage their accounts using a variety of devices and platforms thanks to Gmail's seamless cross-platform access. Gmail offers a uniform and synchronized email experience across several devices, whether you prefer using a web browser, a mobile app, or a desktop client. The online interface provides complete functionality and enables users to easily access their inboxes and carry out actions including creating, responding to, and sorting emails. Gmail offers specialized apps for Android and iOS mobile devices. These apps offer a user-friendly UI, push alerts, and offline access while still remaining its optimization for their respective platforms. Users may easily check and reply to emails while on the road, ensuring that they remain connected and productive wherever they are. 
Customization and Personalization
Gmail users may customize and personalize their email experience to meet their interests and needs thanks to a variety of customization and personalization options. The ability to design unique email filters and rules is a major customizing capability. Users can configure particular criteria to automatically classify incoming emails into folders or apply labels based on sender, subject, keywords, or other factors. Users benefit from maintaining an ordered inbox and easy access to critical emails thanks to this. Additionally, Gmail offers possibilities for customizing how the email interface looks. Users can customize the look and feel of their inbox by selecting from a number of pre-designed themes.  
Gmail users may also design unique email signatures, which gives their outgoing messages a more personalized touch. Professionals who want to incorporate their name, contact information, or company logo in their email signatures will find this option to be especially helpful. Email notifications, auto-archiving, email forwarding, and vacation responders all have settings that users can change. Users can customize their email management workflow using these customization options, ensuring that they receive crucial notifications, properly arrange their emails, and deploy automatic answers as required. Gmail gives customers the ability to customize and customize their email experience in order to meet their specific needs thanks to a variety of customization and personalization capabilities.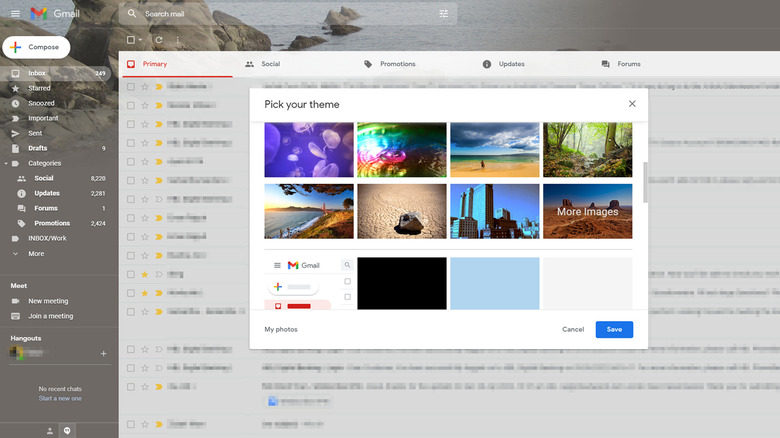 Reliable and Stable Service
The limited service outages and downtime that Gmail experiences demonstrate its dependability. Google prioritizes system updates and maintenance so that there is little disruption to users, frequently planning them for off-peak times. Users may check their emails and do necessary work with no hassle thanks to this strategy. In the extremely unlikely event that there are any service interruptions, Google rapidly notifies users, offering clear information and working to find solutions quickly. The service can easily handle heavy email traffic and user activity without sacrificing reliability or performance. The distribution of Gmail's servers across various data centers ensures redundancy and lessens the impact of any localized outages or disruptions.  
Our Final Verdict: Why is Gmail the best?
The "best" email service provider might vary based on the needs and interests of each user, but Gmail has become one of the most well-liked and commonly used email services for a number of convincing reasons. Here's a summary that emphasizes how unique Gmail is: The combination of Gmail's user-friendly features, strong security, connectivity with other Google services, and ongoing innovation is what has made it the industry leader in email services. 
Its vast storage space, effective search capabilities, and first-rate organizational features make it easy for users to keep organized and locate information quickly. Collaboration and productivity are great because of the seamless connection with Google's suite of productivity tools, including Google Drive and Google Calendar.
Through its sophisticated spam filters, malware scanning, and support for two-factor authentication, Gmail's dedication to security is clear, safeguarding the privacy and safety of user data. Users may easily check their emails while on the road thanks to the availability of dedicated mobile apps for both iOS and Android platforms. Additionally, Gmail's user-friendly interface, customizable features, and dependable infrastructure support its users' pleasure. Gmail consistently adapts to suit the changing needs of its users, staying at the forefront of email service providers with regular upgrades and enhancements.
Even while alternative email services might offer comparable functionality, Gmail's seamless integration, ample storage, robust security safeguards, and user-friendly layout make it an appealing option for both people and organizations.